The Mighty's Gift Guide for Giving Back to the Mental Health Community
---
Tis the season to be giving gifts, but just because you're shopping for your family and friends doesn't mean you can't support the mental health community too. Here are 10 companies which feature either products created by people living with mental illnesses or use part of their proceeds to support mental health causes.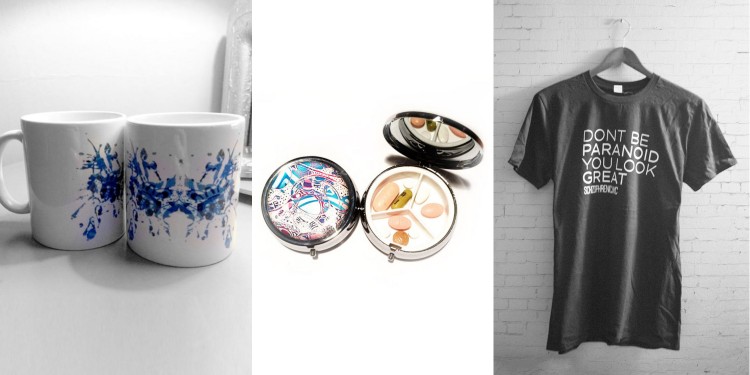 Schizophrenic.NYC is a line of mental-illness-themed clothing, accessories and artwork, designed by the line's founder Michelle Hammer, who lives with schizophrenia. Hammer donates a percentage of Schizophrenic.NYC's proceeds to mental health charities such as Fountain House, NYS Health Foundation, MHA-NYC and the New York chapter of the National Alliance on Mental Illness (NAMI) – so not only will you look good, you'll be supporting some great causes too.
Perfect for: Fashionable family members, friends living with a mental illness, your therapist, and art aficionados.
Our picks: "Bleach" PillBox, Don't Be Paranoid Tote Bag, Don't Be Paranoid T-Shirt. Products ship nationwide throughout the U.S.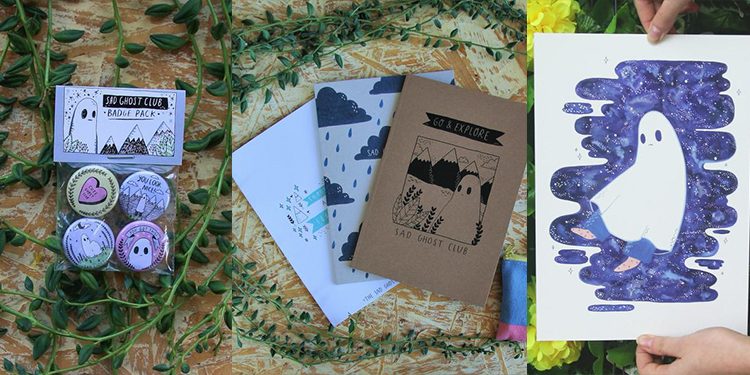 Sad Ghost Club, started by Lize Meddings and Laura Cox, is a club for anyone who feels sad, lost or like they don't fit in. The club started several years ago with a series of mental health inspired comics, and has since branched out to include accessories, stationary and clothing items. Proceeds from the Sad Ghost store help fund mental health workshops around Bristol, U.K. where Meddings and Cox are from. With wonderfully designed products like these, the recipient of your gift is sure to be the raddest ghost in town.
Perfect for: Friends managing depression or anxiety, your very hip niece, ghost enthusiasts and that friend who loves Snapchat a little too much.
Our picks: Cute Badges, Hopeful Postcard Pack. Products ship throughout the U.K. and internationally.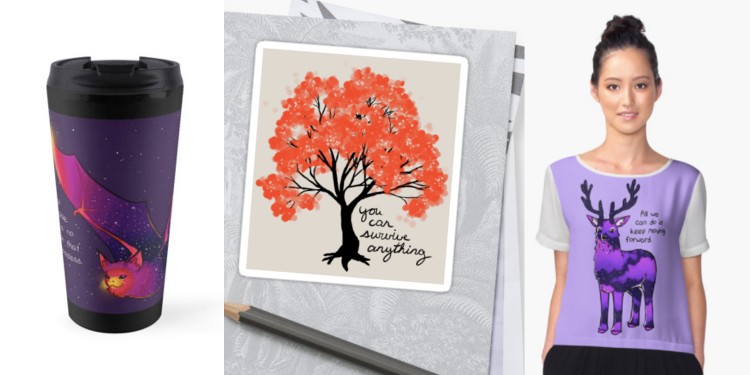 Missing that holiday cheer? Look no further than Kate Allan and her brightly colored animal designs. Allan draws motivational comics for people living with depression and anxiety. The majority of her designs feature brightly colored images with motivational quotes that contrast the negative thoughts many people with anxiety and depression experience.
Perfect for: Animal lovers, the grandkids and that friend who needs a little extra love and encouragement.
Our picks: "Depression Lies" Galaxy Bat Travel Mug,"You Can Survive Anything" Tree Sticker, "All We Can Do is Move Forward" Night Sky Stag Shirt. Products ship nationwide throughout the U.S.

To Write Love on Her Arms is a non-profit movement dedicated to spreading hope and finding help for people struggling with depression, addiction, self-injury and suicide. Known for their trendy apparel, you'll find t-shirts and sweatshirts featuring strong messages in bold lettering. "Every piece of merchandise has a much bigger purpose. It's a conversation starter. It's something that ties supporters together as a community," they write on their site.
Perfect for: Your teenage daughter or son, your friend who's nostalgic for Warped Tour, anyone who can never have enough t-shirts.
Our picks: Bloom Shirt, Hope Is Real Dove Shirt, Camp Mug. All products ship internationally.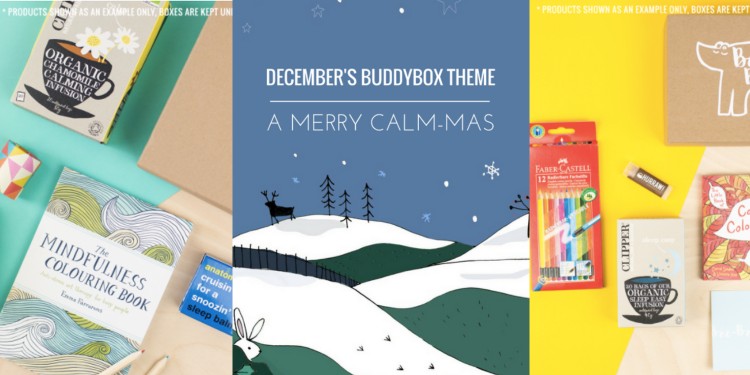 If you can't see your loved ones this holiday season, consider sending them a hug in a box. Blurt, a U.K. nonprofit organization that works to increase awareness and understanding of depression, offers BuddyBoxes, which they describe as a "hug in a box." Boxes can be purchased as either a one-time order or recurring subscription. The boxes are designed to promote self-care and are inclusive, gender neutral and ageless. In addition to sending a hug, you'll also be helping Blurt fund their peer support program.
Perfect for: Your secret Santa, friends and family who live out of town, college students and anyone who could use less stress in their life.
Our picks: BuddyBox or BuddyBox Lite. Products ship throughout Europe and internationally.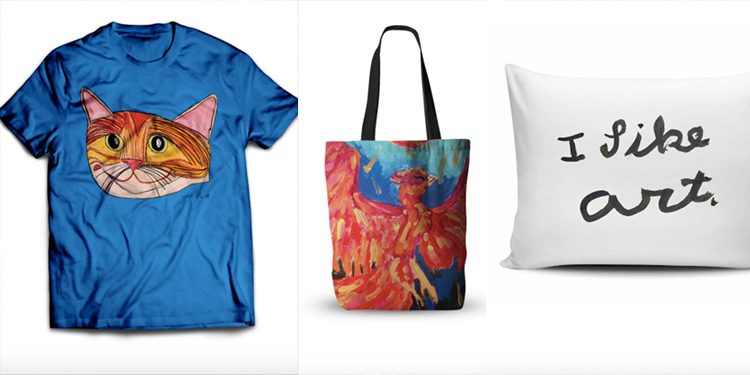 Looking for a gift for the person who has everything? Buy them something from the We Are Lions store, which features the work of artists living with mental illnesses and disabilities. Original artwork is printed on men and women's apparel as well as household items. We Are Lions shares 50 percent of its profits with its artist and nonprofit partners. Rather than supporting big businesses, you're shopping small and supporting individual artists – that's an original gift worth giving.
Perfect for: Vegans, tough to buy for family and friends, your child's teacher, new homeowners and your partner.
Our picks: Windy City Pussy T-Shirt, Dog Tote Bag, I Like Art Pillow. All products ship internationally.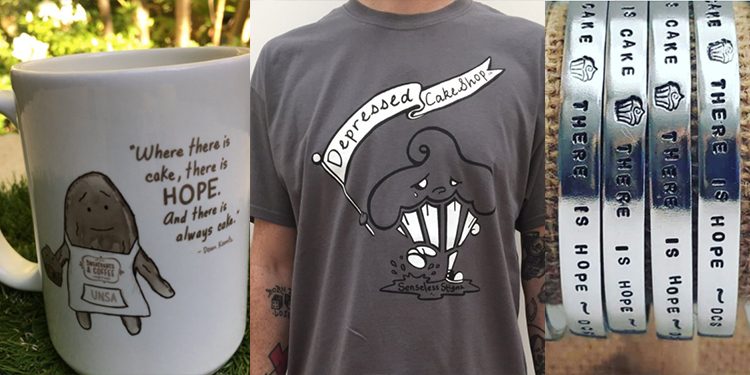 You might know the Depressed Cake Shop from their pop up shops that sell delicious (and sad) baked goods all across the country. The merchandise they sell on their website is just as sweet. Buy a cupcake t-shirt to satisfy your sweet tooth for the time being, and sign up to get updates about when a shop pops up near you. All proceeds go to different mental health charities.
Perfect for: Your friend who has a sweet tooth, anyone who needs a big mug for coffee, the co-worker who always brings baked goods into the office.
8. A Donation to a Mental Health Nonprofit
A donation to a nonprofit organization is the ultimate gift that keeps on giving. Whether it's a local nonprofit or one that operates nationwide, every donation –no matter how big or small – is appreciated. And, with a donation, you don't have to worry about ordering the wrong size.
Perfect for: Everyone. 
Our picks: National Alliance on Mental Illness, Mental Health America, American Foundation for Suicide Prevention, International Bipolar Foundation and Depression and Bipolar Support Alliance.
This list was originally published on November 26, 2016 and was updated on November 17, 2021.
Originally published: December 12, 2017