The Powerful Meaning Behind Last Night's 'Grey's Anatomy' Episode Title
---
Thursday's episode of "Grey's Anatomy" broke its tradition of song-inspired episode titles for an important reason.
During the episode, Jo Wilson (Camilla Luddington) comes face-to-face with her abusive ex-husband, Paul (Matthew Morrison). Due to the sensitive nature of the episode, the show took a page from rapper Logic's book (who has a song named after the National Suicide Prevention Lifeline), and titled the episode "1-800-799-7233," the number for the National Domestic Violence Hotline.
The episode continues a plotline started in the winter finale. Jo's abusive ex-husband, who she both moved and changed her name to get away from, confronts her at the hospital. The episode in which she has to face him was originally going to be called, "Four Seasons in One Day," but ABC announced it was changing the episode's name last week.
The title change was pitched by actor Giacomo Gianniotti, who plays Dr. Andrew DeLuca on the show, Krista Vernoff, a "Grey's Anatomy" showrunner, tweeted.
Giving credit where it's due: this title change was pitched to me by @GiacomoKG

Brilliant idea. Important. Thank you! https://t.co/lXQwARf1ZS

— Krista Vernoff (@KristaVernoff) January 12, 2018
Fans took to Twitter to share how much they appreciated the resources provided in the title.
Logic got the ball rolling with his song "1-800-273-8255" to spread awareness of the Suicide Prevention Lifeline

Grey's Anatomy followed suit with their newest episode "1-800-799-7233" which is the National Domestic Violence Hotline

Incredible way of using their platform

— Mom (@LibWeezey) January 19, 2018
Did anyone notice that the most recent episode of Grey's Anatomy is titled as the phone number for the National Domestic Violence Hotline??? This is sooooo important

— morgan (@morgannoelredd) January 19, 2018
I watched the episode of Grey's Anatomy from last night and I just want to say first of all. Not only was it a great episode, but they made the title of the episode the domestic violence hotline number. Which I think is fantastic. Thank you @shondarhimes

— Squidnee ???? (@sydnee_hanshaw) January 19, 2018
I would like to take a moment to appreciate the fact that today's episode of Grey's Anatomy about domestic violence is entitled 1800-799-7233, the US national hotline for domestic violence. THIS is how you use your platform to spread awareness ????????????

— Farina (@baelorrr) January 19, 2018
In a preview of the episode, Camilla Luddington told Entertainment Weekly, "When [Jo] initially runs into him, she feels like everything is completely turned upside down. It picks up exactly with that same beat walking out of the elevator, and you see her paralyzed. Jo is honestly trying to get ahead of the situation and do any damage control that she knows he will try and do."
On Friday, the National Domestic Violence Hotline said it was experiencing a wave of unsolicited automated calls, which impacted their ability to serve survivors. For now, if you call from an unknown or blocked number, you will receive a message saying the helpline is not accepting calls at this time.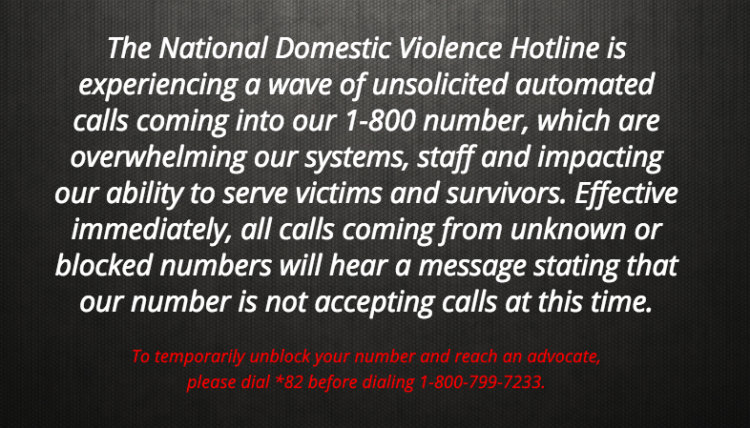 It is not clear whether or not this is connected to last night's Grey's Anatomy episode, and the National Domestic Violence Hotline has not yet returned The Mighty's request for comment.
If you or a loved one is affected by domestic violence or emotional abuse and need help, call The National Domestic Violence Hotline at 1-800-799-7233.
Lead image via Grey's Anatomy's Facebook page
Originally published: January 19, 2018