Happy Chrisoween! Our Holiday for Mental Illness Management
---
Today is the day!
Today my daughter and I celebrate a holiday we created a few years ago. We call it "Chrisoween" because it is a hybrid of Christmas and Halloween. It is loosely inspired by the Tim Burton film "The Nightmare Before Christmas." But the movie was not the reason we started to do what they do in the film (make Christmas). The reason we started to make Christmas early and start a new holiday is we both have mental illnesses.
I was diagnosed with complex post-traumatic stress disorder almost three years ago, but the symptoms of that disease have been present in my life since childhood.  I simply did not have adequate psychiatric care in the rural, small town where I grew up, so I wasn't properly diagnosed for many years.
My daughter has had anxiety and depression since childhood. Her first extreme struggle came at age 9, and after she managed things relatively well for several years.  But she has struggled much in the past four years to maintain balance and remain in a positive space.
Because of our mental health challenges, we both have lists of coping strategies we utilize when we need help staying positive or coping with depression. Those lists contain all sorts of things, and my list is different from hers. I use yoga, mindfulness, coloring mandalas, writing, baking, and more. She uses Morita therapy, going out with friends, composing songs, and more. We usually use different strategies to get to the same sort of balance.
One of the things that we agreed on four years ago, when Chrisoween came into being, was that we both needed some joy. We needed a reason to celebrate, and one of our favorite celebrations involves the twinkle of lights and the love of giving.
We don't love presents because we want things for ourselves. We love them because we each cannot wait to bring joy to the other. In fact, even though we exchange gifts a full two months before anyone else, we still sometimes don't wait for the calendar to reach October 25. My daughter opened some of her presents on Sunday because I just couldn't wait to see how excited she was to receive them (despite the money I needed to borrow to give those gifts). And we love to give in other ways and to other people as well.
We are generous to a fault. We unfortunately at times get stomped on by narcissists. But we would rather have big but wounded hearts than have tiny well-protected hearts, I suppose.
Anyway… the point was not and is not the presents.
The point is we created what we needed when it did not exist. And doing so changed us and the way we look at life and at need and at ways to cope with our mental illnesses.
Depression, anxiety, hypervigilance, self-deprecation or self-harm, perfectionism, and the like are extremely good at stealing hope and joy. No matter how you try, there are times when you cannot consider rationally the way your illness is affecting your patterns of thought. You might know you are in the pit of despair, but you still can't find the strength to climb out because the pit tricks you into doubting whether you are even in it or convinces you staying down there would be easier or better somehow than attempting life outside of it. These symptoms of illness make it unimaginably difficult to find hope or feel joy.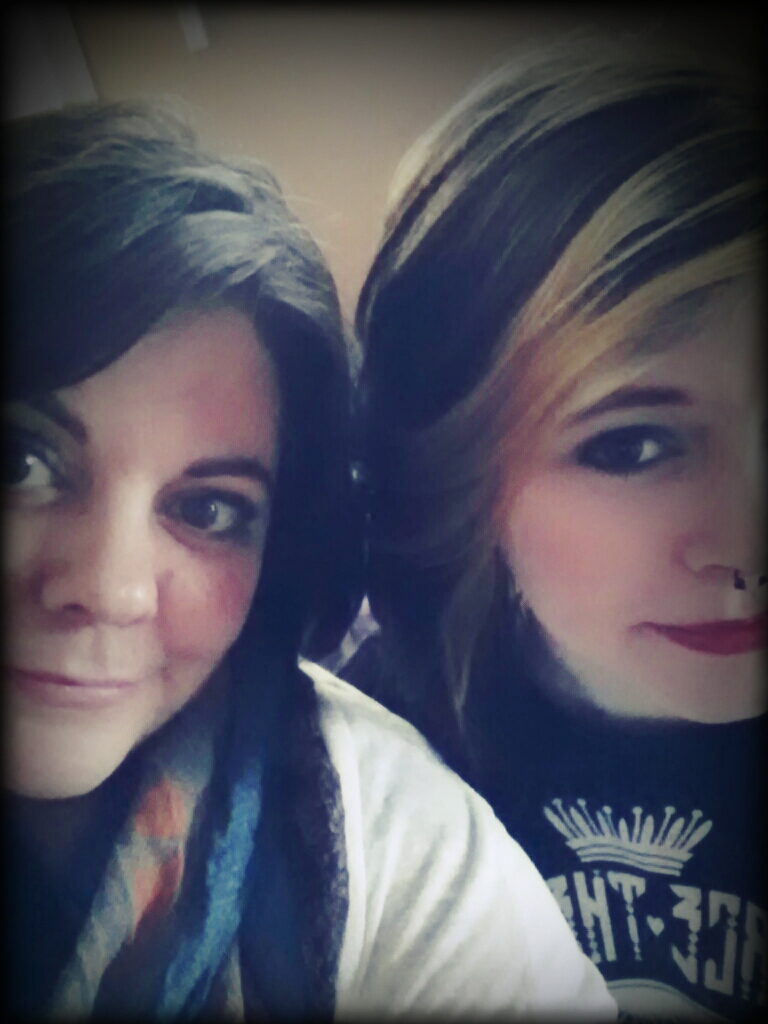 With Chrisoween, we created a reason for hope and joy. Even though people question or mock when our tree goes up and is decorated long before Christmas, we feel so much joy. Even when salespersons give us strange looks as we ask for holiday gift-wrapping in mid-October, we look forward with hope to the day when the recipient opens their gift and is ecstatic about the contents. We start being excited for the
holiday season by the end of September. And you might think starting the celebrations so early makes the season drag on or seem less significant, but that simply is not so.
We love Chrisoween, and Halloween, and Sinterklaas Day (the Dutch version of Christmas), and Christmas, and New Year's Eve and Day. We keep on feeling joy through each tradition of the winter season. And when it is all over, we even keep our trees and decorations out for a few extra weeks in January, just to bask in the twinkling lights a bit longer. (And the twinkling lights are everywhere — even
in the bathroom.)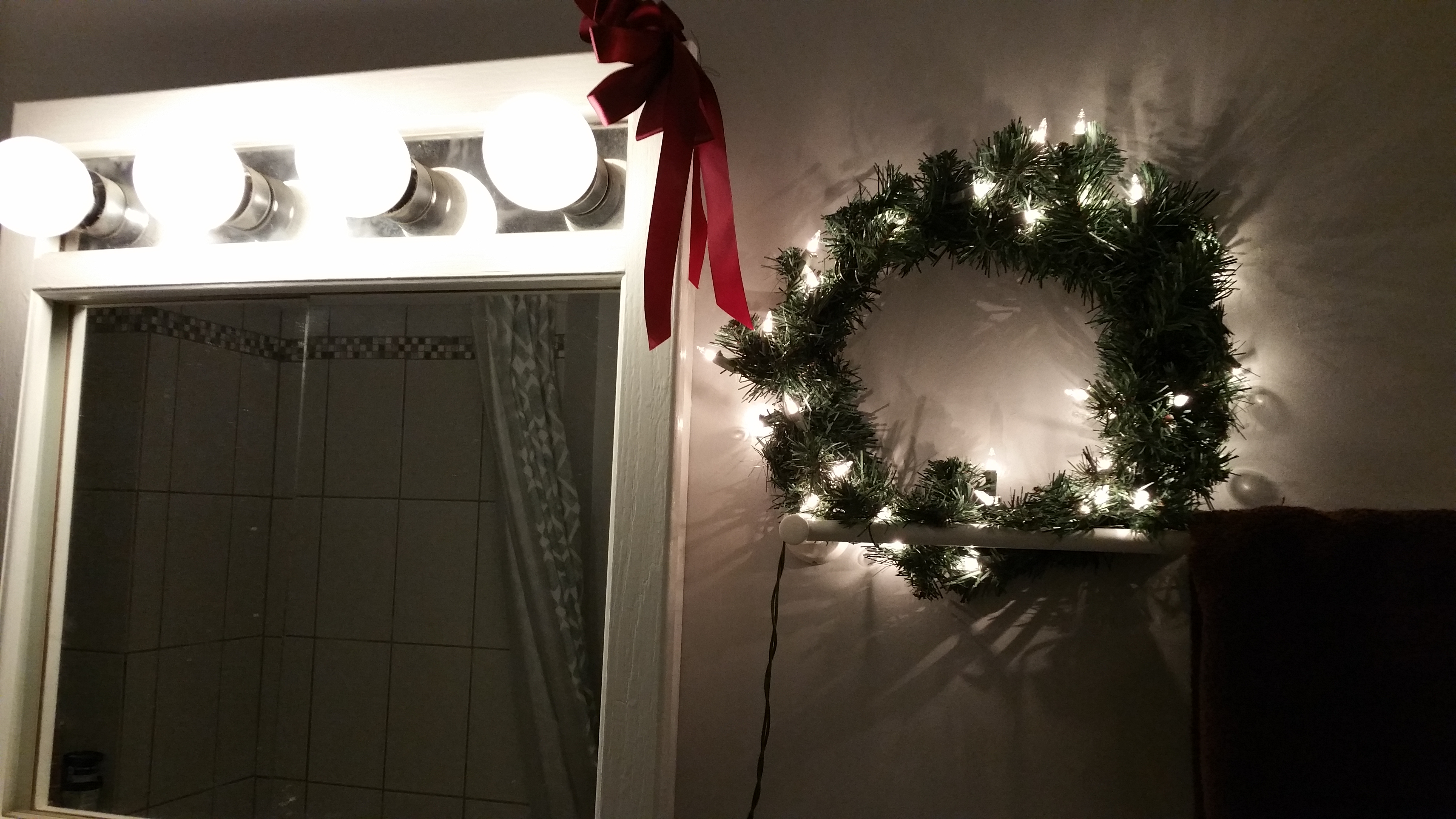 We focus on all the hope and all the joy that begins on Chrisoween. We sit by the tree and drink cocoa. We watch favorite movies. We wear our Santa hats and take all the selfies until we have the perfect one to share. We chase the cat and dog around the open boxes as we decorate. We ooze happiness.
Now, we don't become magically cured by the "magic" of the season. That isn't how these things work. We still have mental illness. Thinking our illnesses will disappear because we brought extra joy into our home is unrealistic. That would be like thinking that your diabetes would disappear because you ate a plate of vegetables.  Ridiculous.
We know we don't cease to be sick because of Chrisoween. We know the holidays also bring huge challenges and many struggles, with grief and flashbacks and all sorts of ilk we cannot avoid without escaping to Barbados or Greece. (And one of these years, we may just escape to Barbados or Greece.) We know I still can't work, and she still works hard without adequate compensation. We know my physical illness is more affecting in winter, so I might flare and struggle. We know any event can trigger her and put her into a dark place.
We know we still need to keep fighting for our mental health and keep using strategies and coping skills to manage our minds and bodies in the best possible ways. We know we won't always fight and won't always cope, even though we know we should. We know there will be pain and challenge.
But because of Chrisoween, we know we can work together to create a space we need— a space that helps us heal and find hope and feel joy.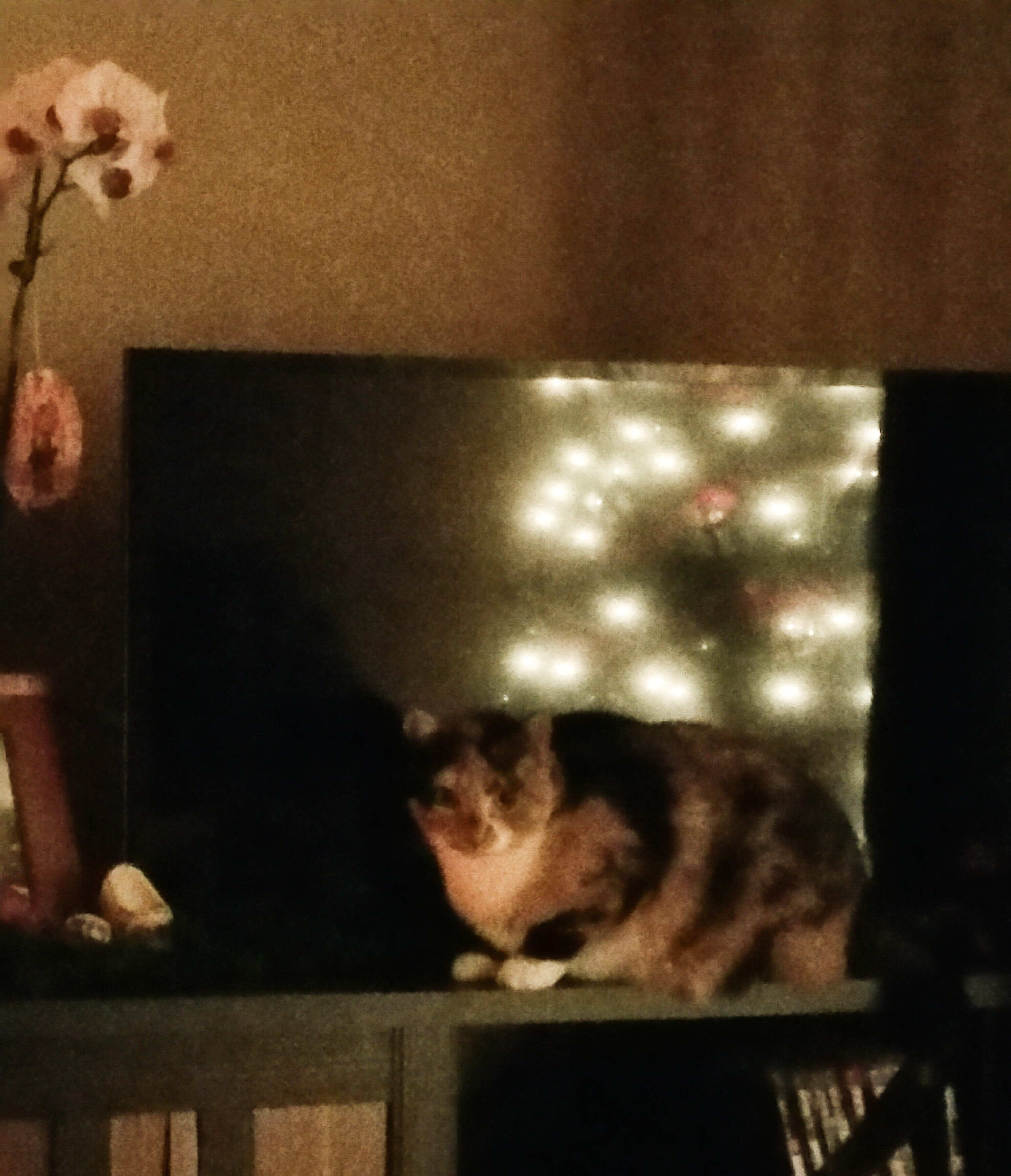 The tradition of Chrisoween hasn't caught on much as of this moment. We now have a couple of friends who come to celebrate with us. Some of the salespersons we tell about the holiday comment with, "I love that!" rather than giving us questioning looks. I don't know if we will pass on this tradition through generations. I don't know that it will become as popular as Hanukkah or Christmas or Kwanzaa because it doesn't have a particular faith or culture with which to associate.
Maybe it will catch on with others who, as we do, experience a lack of hope and joy as the skies gray and the leaves fall.  Maybe it will catch on with others who find, as we do, that seeing relatives on Christmas is one of the most stressful and difficult times of our year because we feel pressure to meet expectations or think ourselves being judged unfairly. Maybe other families or groups will determine they need to create their own holiday as well — not a Chrisoween celebration, but a March 12 Day, or a Good Tuesday, or a Pretend We Are French Natives Day, or whatever the heck they want to invent.
Because owning a time and space that offers you the health and the happiness you need, even amid the chaos and struggle of mental illness, is a beautiful, empowering, enlightening, and inspiring thing.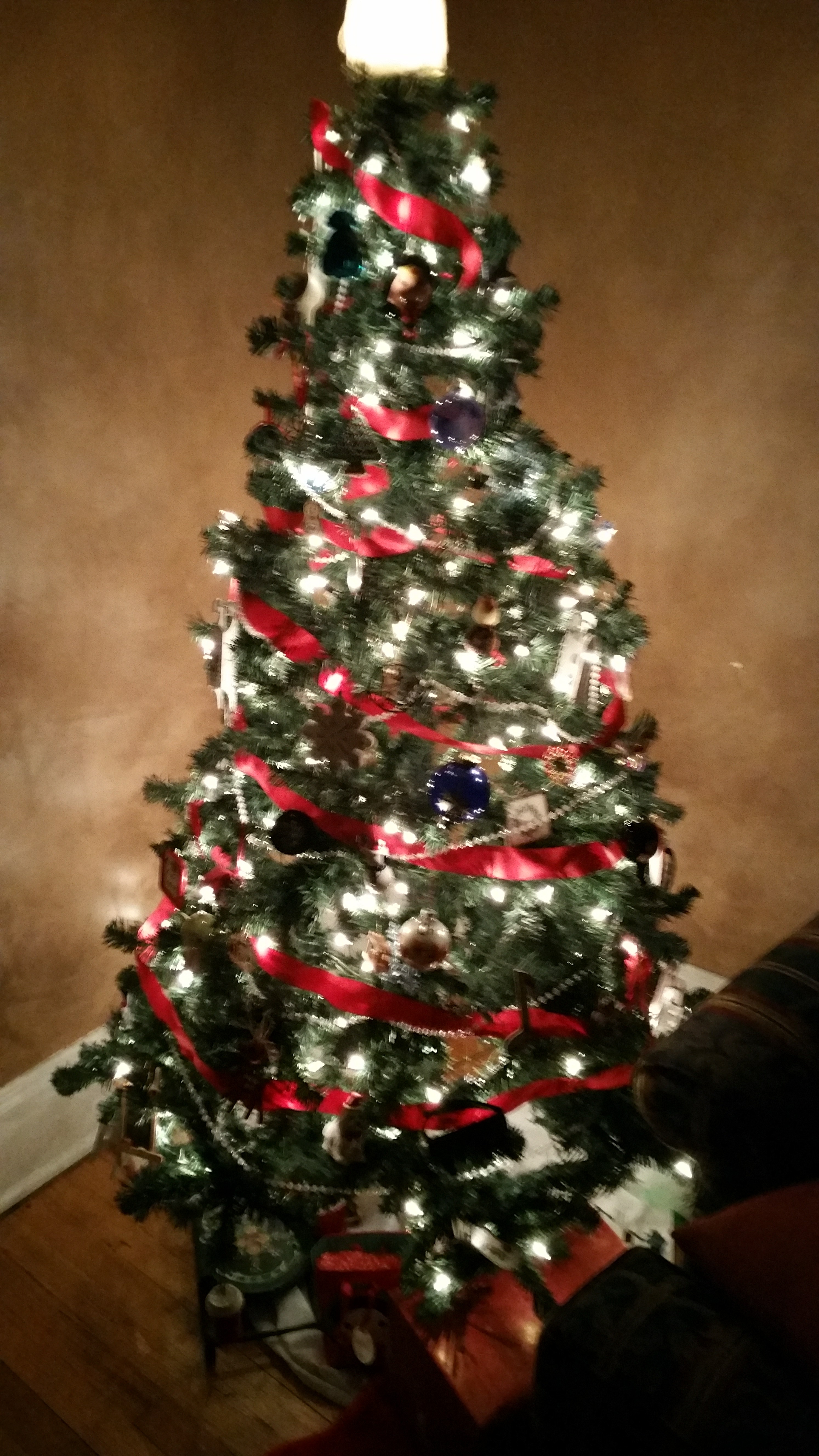 It doesn't need to be a holiday. It could be a corner of the house that has scented candles and poufs and favorite stories. It could be a yoga or meditation space.  It could be an altar at which you worship. It could be a coffee corner with hot beverages and little chairs where you engage in conversation. It could be a hallway you cover in inspiring quotations and images. But having that time and space is so necessary to our mental health.
Having Chrisoween means having a time and a space where we commit ourselves to joy and hope, no matter what else is going on around us, and that inspires so much that is good.
Today is that day.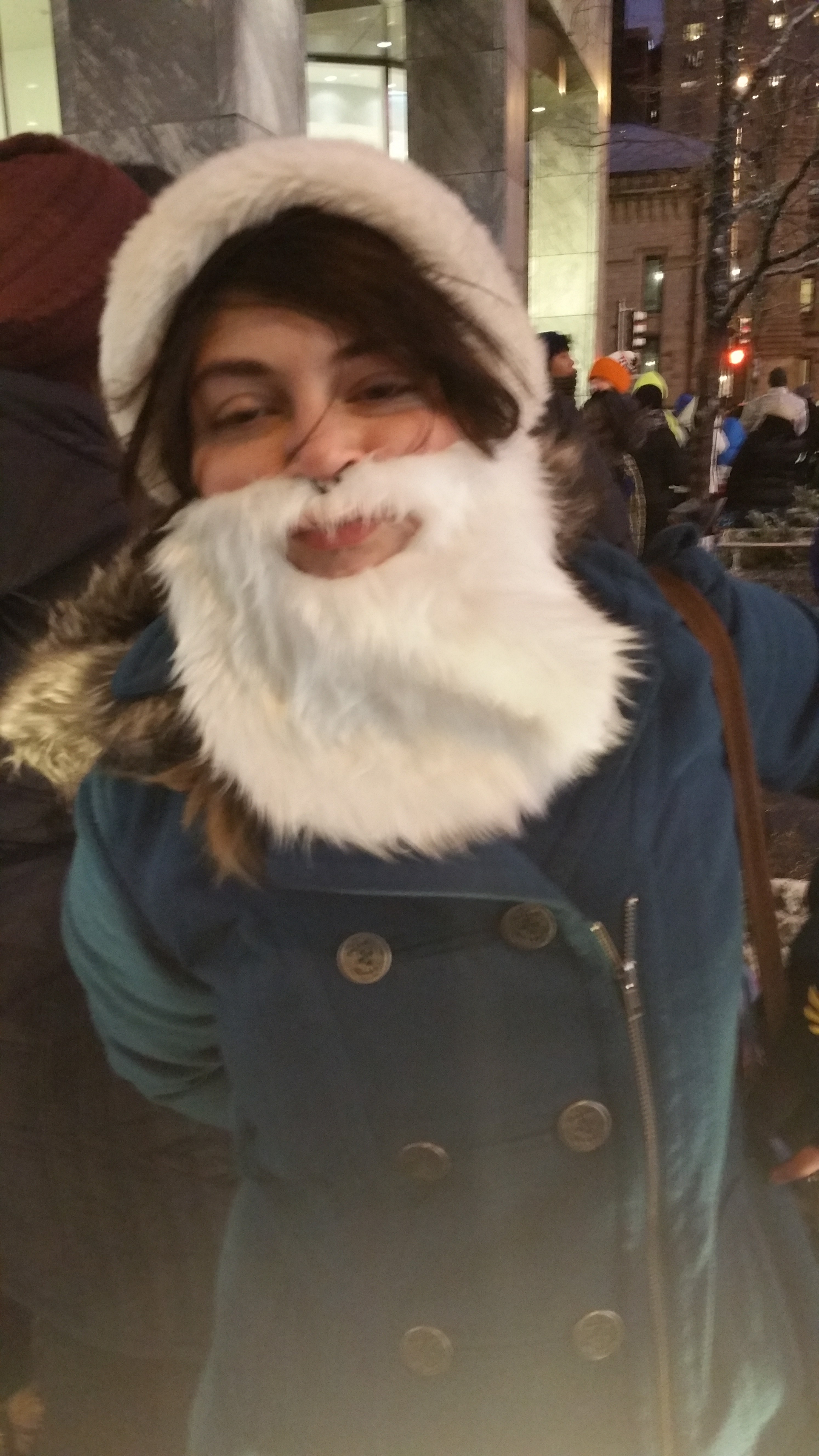 That joy and hope fills our home and our hearts. And as we share with others what this day means for us, that joy and hope can be multiplied. Others hear the excitement and elation in our voices. Our giddy jumping and clapping and laughing makes others laugh — whether in sarcasm or not. Our dancing to pop carols and punk covers of songs from Nightmare Before Christmas, with Santa hats and fake beards and sparkling garlands wrapped like boas or much-too-long necklaces around our necks, begs you to attempt being a Scrooge. It's impossible not to be infected with something akin to joy as we twirl and sing and sip cocktails and smile.
Today that is ours, if only for a little while. Today we own hope and joy.
Happy Chrisoween!
We want to hear your story. Become a Mighty contributor here.
Originally published: October 28, 2016