A Q&A With the Founder of Saddie Baddies, a Digital Safe Space for People of Color
---
Late February 2020, I sat down with Priscilla Agyeman from Saddie Baddies, a mental health resource for Black women. I remember that day I was feeling particularly burnt out. The more Priscilla and I spoke, the more renewed I felt. As a mentally ill Black woman myself, I immediately resonated with the essence, vibes and mission that Priscilla has been cultivating with this brand since 2019. 
I asked her to sit down with me (virtually, of course) to discuss Saddie Baddies more in-depth, and also to discuss the role of community care in self-care. Community care as a survival tactic is something the Black community has used since enslaved days to survive the throws of white supremacy. In today's current age of digital community organizing and mutual aid, community care is as important as ever, not just for the Black community. 
Here's what we spoke about. Some answers have been edited for length and clarity.
* * *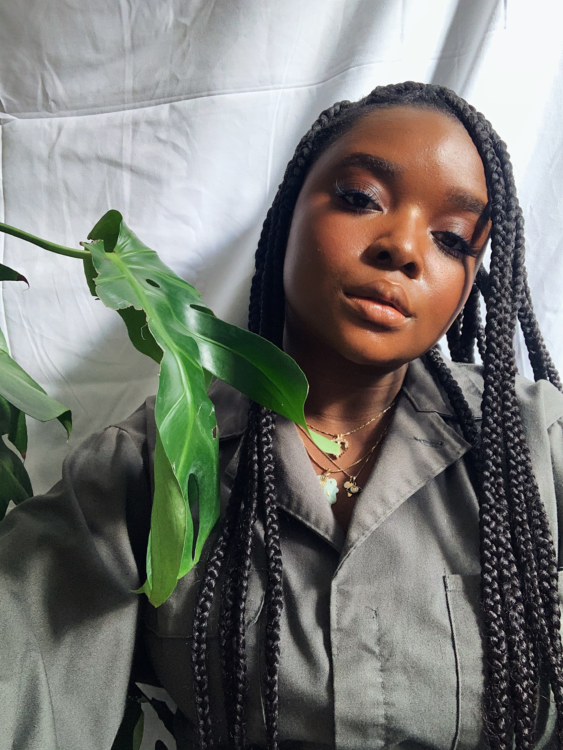 Priscilla Agyeman, founder of Saddie Baddies
Brittany: Who are you and what is your organization?
Priscilla: My name is Priscilla Agyeman and I am a mental health activist, a digital content creator and I am the founder and creator of Saddie Baddies. Saddie Baddies is a digital safe space for people of color to come together in community and destigmatize mental health. 
Mental health is extremely stigmatized in our community. Although there have been strides recently to make it more comfortable and more accessible, there are so many layers to what makes someone or something mentally well. Saddie Baddies works to deconstruct that by taking research-based topics every other week, and breaking it down into bite-size pieces so that this dissemination of information can help when talking about mental health.
Brittany: Why did you create this organization?
Priscilla: I created Saddie Baddies while going through somewhat of an existential crisis myself a couple years ago. It started in March 2019 when I was at a job that was extremely unfair. It challenged me in a lot of ways and I was seeking fulfillment outside of my job. The creative outlet I developed is now Saddie Baddies. I just literally on a whim was like, I'm going to create this page. I want to create a space on the internet that feels really easy and approachable and visually stimulating, but not too stimulating. I wanted a place where people could learn and share ideas and thoughts, and that's what Saddie Buddies has developed into. I really started it because I needed it and I realized so many other people do too.
Brittany: Did you feel there was a gap in the health space?
Priscilla: Yeah! It's similar to how it is now, but I think it's changed so much. Specifically on Instagram, I was seeing a lot of wellness accounts, but I wasn't seeing Black-owned spaces in the digital realm. I saw there was a missing link of actually understanding. Like, we're talking about depression, we're talking about anxiety; there's more than two types of health disorders to know about and not all of them look great. Not all of them are attractive, and not to say depression is attractive, but I do think that it's depression and anxiety that get the spotlight when it comes to mental health disorders.
We're not talking about borderline personality disorder. We're not talking about bipolar disorder, and we're not talking about schizophrenia or suicide. I realize that because these topics are so heavy people may not want to talk about them, so I decided to make these topics as palatable as possible and break it down. Sometimes when things are scary to us or we don't understand them, it's because we haven't been given enough time to really pull it apart, look at it from different angles and ask questions while approaching from a place of curiosity. I'm sure you know somebody [who has one of these conditions], so that's why I started to solidify my space with Saddie Baddies.
"Sometimes when things are scary to us or we don't understand them, it's because we haven't been given enough time to really pull it apart, look at it from different angles and ask questions."
Brittany: What do you think contributes to the gap in the health space that you're filling? Why are women of color, especially Black women, ignored in these health conversations?
Priscilla: Growing up, I didn't really know the term mental health, but I understood mood swings. I understood what it meant to be angry or sad. But all the magazines I would read about health or wellness would cater to cishet white women. Honestly, it didn't even occur to me until my early 20s, "Wow! Why are there no Black women? Why are there no Black bodies in these conversations? Why are there no women doing yoga? Why do I never see somebody who is Caribbean who also struggles with anxiety?" There's a disconnect here.
For me, I think it's because the media we digest is coming from a very conditional place and a very conditional point of view. If you are only catering to a certain audience or demographic, and you're saying these are the people who need and deserve help when it comes to understanding and unpacking mental health, it's extremely detrimental, because all of us are then like, "Wait, but I have this!" 
I'm reading about and running into a lot of Black women who are underdiagnosed with attention-deficit hyperactivity disorder (ADHD) because it's written off as, you're rude, have an attitude or you're antisocial. If you know all these other racially rooted words that we throw at people, and specifically Black people, you know. There's such a gap, especially when it comes to Black men. There are very few spaces for Black men to be vulnerable in — to learn about mental health in. I always try to share those resources, but there's not enough. Black men have high rates of suicide as well, so what does that say exactly? Us being ignored is ultimately what's killing us at the end of the day. 
Brittany: In your eyes, what is community care? 
Priscilla: Community care is filling in the gaps where truly our government fails us. Where our legislation fails us. Where our infrastructure fails us. Where our society fails us. We saw this at its height last year. We've always known that there are gaps in accessibility. Community care is redistributing finances — if and when you are to provide resources and aid to other families and children is community care. Telling a Black woman to relax or put a face mask on and she has three kids and cannot do that while not offering to babysit or drop of food or diapers… how is that going to work? 
When I say self-care has to be tied into community care I mean we cannot do this alone. We are a part of an ecosystem. You have yourself, your friends, families and co-workers. When we forget that we are a part of a large ecosystem, start operating in silos and start thinking that everything is centered around the individual, it's a trap. That's why I emphasize community care and why sharing resources is so important.  
Brittany: Why do you feel that community care is so integral to our individualized self-care?
I believe community care is so integral because when one of us heals, we can pass that healing on. It's not a linear process. It's more so when you have the tools and resources to help yourself, to make yourself more safe and comfortable. I started Saddie Baddies because I needed a community to talk about these topics and not feel as if I was sharing too much. I wanted to have a more vulnerable space. I had to come to terms with, "What does that look like for me?" Honestly without community care, you aren't progressing. 
The collective cannot progress without pulling someone else along. It could be as simple as dropping off groceries or looking into mutual-aid groups that are growing more and more online. You know, people who are able to provide like, "Hey! I will pay for your gas this week because I know that you're in a rut." Being connected to grassroots organizations is so important because otherwise what is this work about? What is it for exactly?
I believe community care is so integral because when one of us heals, we can pass that healing on.
Brittany: What are the barriers for engaging in community care? Why do you think people don't do it?
Priscilla: In some way, shape or form, when we are conditioned to think that it's us versus them or me against the world, you feel like this is a competition. "Oh, well, if I help this person or if I share this person's information, I lose this. Then what about me? Who's going to see me?" That's not what it's about at all.
I think some people are also ignorant when it comes to what it means to support community organization or mutual-aid. I think some people think it's a "hand out" or a trend. Even on Twitter, if there's a GoFundMe going around people respond like, "Well, why do they need that much? Why do we need this? Why do they need that?" Sorry, but we've been in pandemic for a year now and we've only gotten two stimulus checks. That's wild to me! We're literally being robbed. If I have the extra means, I'm going to. I'm going to help somebody and there's nothing wrong with that. That's literally how a lot of other societies operate that are non-Western, anyways. We're the ones who are still hyper-individualistic. Not all of us are, but it's a huge factor of why we're still here.
Brittany: What are three ways we can more effectively engage in community care?
Priscilla: First is use your social media wisely. If you really are about Black Lives Matter or Black Trans Lives Matter beyond a social media tag, then do it. Literally step up. I'm sorry, do your damn research! I think one of the most frustrating things that occurred with me last year during the protest in June, specifically June 2020, was getting random DMs from people, "Do you know this?" Google is a free service, first of all. There's free information out there you can literally look up. Google "local organizations in my city" or "my town." You can go to your library if you live in a really small town. I guarantee there's going to be a bulletin board at a local library or some type of public building that will have organizations that do coat drives every month — that do food drives every Thanksgiving.
You have to also figure out what is your cause. If you're someone who's a pet lover or you have a pet, you are going to be more drawn to organizations that do work with animals and that's perfectly fine! That's great! If you're somebody who's passionate about children, find an organization to connect with kids. Do something and it doesn't always have to be money. Your time is the most valuable commodity you have, so give your time. Choose a day. Once a month or once every other couple months. It doesn't really matter the frequency, but just do it. Be committed to it. 
I think the thing is people feel like being on social media is a form of activism, and I think it's ableist to say that it's lazy activism because some people who are disabled aren't able to go do something that's physical. Find out what it is that you're passionate about and follow through with it. 
I would also say read more about why things are the way they are. Instead of just saying, "Oh well! They should be on their own feet," understand how broken our healthcare system is. Understand how broken our education system is. Our social justice system is. It'll really enlighten you as to why people even ask for help in the first place. Not everybody is trying to scam you. Not everybody is trying to take your money or your coins. Really educate yourself to why certain communities are more at risk than others. That's something that could be as simple as watching a PBS documentary.
Lastly, I would say to share what it is that you can, and as I said before, it's not just about your time or your money, but also share this information. So when you see a post going around that's asking for help, even if you cannot do it, just share. If you can't do it someone else can and someone else will. Amplifying other voices is super important too. Look on Facebook or Twitter to expand your scope of knowledge. It's extremely important.
I think we have to redefine and reshape the word "protest" or "activism" because it puts people in this box. If you're literally out there protesting with the sign then you "didn't do anything" or if you didn't send this much money to this organization you "didn't do enough." The optics of that need to literally be pushed to the side because in order for this to meet a collective effort people cannot be guilted into it. 
Brittany: How can we support you in your endeavors and mission?
Priscilla: If you're not already involved in the Saddie Baddies community please join! Please follow us on Instagram. That's the main "platform." It's where the most people are involved. Please sign up for a newsletter because we have monthly updates and kind of a recap in case you missed it! 
I have a lot of things planned for this year for Saddie Baddies and I would love for people to stay tuned and just be in the know. Check out the website! There's so many topics — over 70 topics I'm sure. Take some time and scroll through to see what resonates with you. Share them with your friends, family and your loved ones because that's how we can continue doing this work.
Images provided by Priscilla Agyeman
Originally published: April 6, 2021