Jimmy Kimmel Defends Roseanne -- Gets Shut Down By People With Mental Illnesses
---
On Tuesday, Roseanne Barr's racist tweet about former president Barack Obama's adviser Valerie Jarrett led to ABC canceling her comedy "Roseanne." Hours later, Barr tweeted that she made a mistake and was "Ambien-tweeting."
Barr's tweet sparked major backlash from others on social media, but one celebrity came to her defense. On Wednesday, Jimmy Kimmel, host of ABC's "Jimmy Kimmel Live," tweeted, "angrily attacking a woman who is obviously not well does no good for anyone. Please take a breath and remember that mental health issues are real."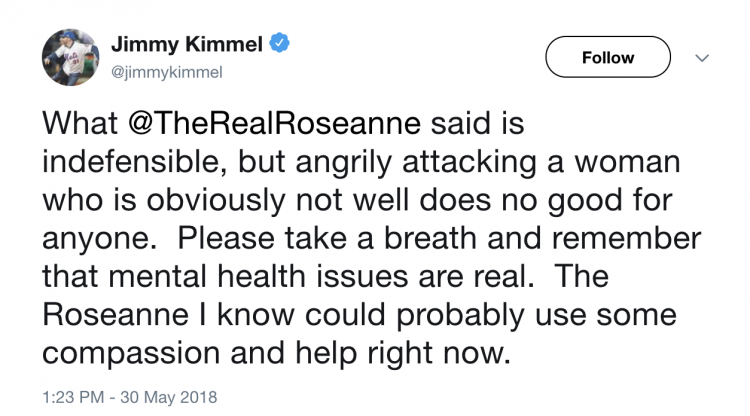 Barr has been open about her mental health in the past. She said she had multiple personality disorder, but she was now "healed," according to a tweet from her in April. Though Barr has not stated anything about her mental health since her tweet, Kimmel pointed out "mental health issues" following the tweet, implying there is a connection.
Twitter users are now calling Kimmel out for connecting mental health conditions to racism.
I have bipolar. I had a manic episode where I thought I was Jesus and almost killed myself because I thought I was invincible. It never once led to racism.

This tarnishes and creates suspicion atound people with mental illness. And excuses racism. Enough.

— Elad Nehorai (@PopChassid) May 30, 2018
Jimmy, we can't just go around labeling everyone that says outrageous and/or racist things "mentally ill". By doing that, we are doing a disservice to those who actually suffer. Mental illness doesn't make you racist. I won't hear it.

— brooke (@bXbyrne) May 30, 2018
Come on, Jimmy. Don't play the pity card, she has a long history of similar tweets. Mental illness doesn't cause or excuse racism.

— SnorkletsMom (@SnorkletsMom) May 30, 2018
What she said is indefensible but you're going to defend her anyway? Mental illness, if that's what this is, does not excuse racism. It is not synonymous with racism. And critique is not attack.

— roxane gay (@rgay) May 30, 2018
A person can be both mentally ill and … shitty. There's no mental illness that makes you racist.

— Gingersnap Jackson (@TheCheekyGinger) May 30, 2018
While few psychiatrists think that extreme racism could be a form of mental illness, this claim is not backed up by the American Psychiatric Association. Racism is a social problem that can harm the mental health of those targeted, according to the APA. It can lead to issues such as post-traumatic stress disorder, depression and anxiety.
Originally published: May 30, 2018