Why I Always Try to Make My Birthday the Ultimate Self-Care Day
---
I've always loved my birthday.
When I was growing up, my family always made the day special — letting the "birthday person" pick the day's meals and activities and preparing any type of cake they wanted. I have so many fond memories of spending my summer birthday at the beach, going bowling and getting frozen yogurt after, or eating dinner at my favorite restaurant and sharing a giant ice cream sundae with my entire family. And thanks to my family's propensity to photograph every moment of the day, as soon as I was old enough, I implemented a birthday routine: wake up early, do my hair and makeup, and slip on one of my favorite outfits before my family awoke. For years, my birthday was pure, unadulterated fun and happiness.
And then I became an adult.
My birthday was still a good time, but insecurity, mental illness, and unfortunate timing began to make the once-joyful day accumulate layer upon layer of difficult memories.
The day I turned 21, a complete stranger approached my friends and I and started scrutinizing my appearance — from my weight to my teeth to my makeup. I ignored her and ultimately enjoyed the rest of the day, but her words stayed with me for a long time after.
When I turned 22, I went swimming on my birthday — and I ended up seriously struggling with my body image. That night, I had a panic attack from going out in public, and it took me quite a while to de-escalate my mounting anxiety.
On my 24th birthday, plans for a romantic dinner turned into an unexpected night of friction, and I ultimately broke off my relationship. Although I was the one who initiated the breakup, the fight that preceded it and the anger my then-partner showed still haunt me.
Last year, on the morning of my 26th birthday, everything began to feel like "too much," and I commemorated my birthday with yet another panic attack. The day was ultimately full of fun and laughter, but it took some time for me to get into a celebratory mood.
My 20s have been a stark reminder that my birthday is not a vacation from my mental illnesses. As much as I wish I could have one day — especially the anniversary of the most defining day of my life — free from symptoms of my illnesses and potentially traumatizing events, I know that I should never take a day off from managing my health. 
In that spirit, I've come to believe that practicing self-care on my birthday isn't just a fun way to celebrate — it's also a necessity. I make birthday plans with my illnesses in mind, and instead of relying on my everyday self-care tactics, I try to up the ante. Whether I choose to celebrate with a manicure, soak in a warm birthday bubble bath, or go out for a special treat that strengthens my eating disorder recovery, I am always intentional about the activities I plan for my birthday. I also choose to wear whatever makes me feel the most confident — even if that means slipping on a floor-length gold dress for a quick photo shoot or wearing a party dress and a birthday sash to my favorite restaurant. Transforming my birthday into the ultimate "self-care day" helps me focus on how happy I am to be alive instead of dredging up years' worth of ghosts of birthdays past.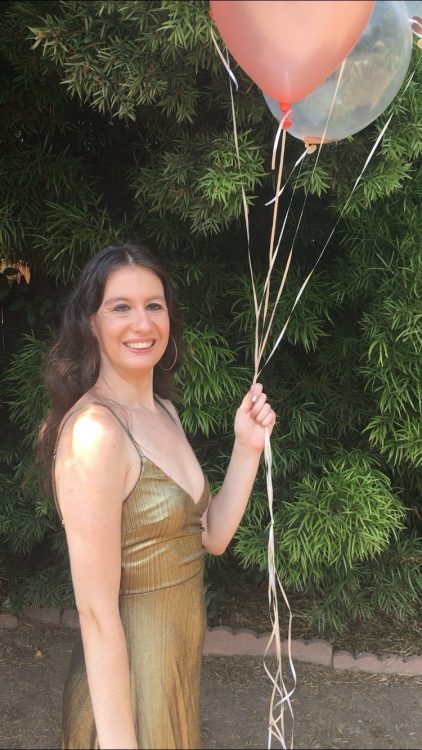 The way I choose to celebrate my birthdays may seem flashy, obnoxious, and more than a little bit extra, but I intentionally prioritize fun, fulfilling self-care so that I can accommodate for any challenges my mental illnesses may bring and have a good time regardless. As someone who has constantly questioned whether she'll be able to make it to her next birthday, I want each birthday to be a day of celebration on my own terms — a day to prioritize my mind's needs in an enjoyable, meaningful way.