Black Lives Matter Explained by Maslow's Hierarchy of Needs
---
I saw a post the other day in which someone began to explain the current Black Lives Matter movement and protests in the context of Abraham Maslow's Hierarchy of Needs, and I thought it was something worth some more thought and exploration. For those of you trying to understand why the protests have picked up such momentum and have even become violent at times, here is the psychology of it (briefly).
At the bottom of Maslow's pyramid are what Maslow, a 20th-century American psychologist, called "basic needs" — physiological needs and safety needs. Physiological needs include things like air, water and food, while safety needs encompass things such as personal security and "freedom from fear."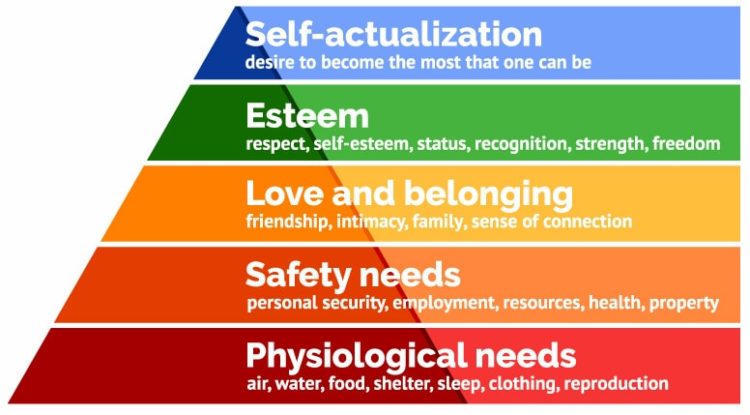 The first four levels of the pyramid are known as "deficiency needs." According to researcher Saul McLeod:
"Deficiency needs arise due to deprivation and are said to motivate people when they are unmet. Also, the motivation to fulfill such needs will become stronger the longer the duration they are denied. For example, the longer a person goes without food, the more hungry they will become."
Or… the longer someone (or a group of a people) goes without/is denied personal safety/security, the more motivated they will become to fulfill these needs.
One more time, in case you missed it: "The motivation to fulfill such needs will become stronger the longer the duration they are denied."
What we are seeing in America (and the world) right now is a response to a centuries-long deficit of humans' most basic needs. Many BIPOC (Black, Indigenous and People of Color) people do not feel personal safety on a daily basis. They do not feel protected by the law. And they do not feel freedom from fear.
Maslow further explained that it is difficult to achieve the next level(s) of needs on the pyramid without the needs of the previous level(s) being "mostly" satisfied.
If you've stayed with me this long, you see where I'm going with this; if your physiological needs and safety needs are not adequately met, you are immediately blocked from desiring and fulfilling those higher levels of need. You are blocked from love and belonging, and you are blocked from esteem (e.g., dignity and respect). You are even blocked from self-actualization, or as Maslow describes it, a desire "to become everything one is capable of becoming."
So, when you say "all lives matter"…of course! Of course all lives matter.
But are your basic needs not being met every day simply due to the color of your skin? Are you being prevented from reaching higher levels of functioning and success on a systemic level? Does your daily life lack stability and security just because of your race?
What we are seeing happen around us right now is both a human rights movement and a psychological awakening. Human beings can't function, let alone thrive and succeed, if our most basic needs are not met adequately and within an appropriate amount of time. Black people have been fighting this battle for years. The desire and motivation to fulfill basic human needs is the backbone of this whole movement.
And it should be our motivation, too.
Photo by Mike Von on Unsplash