How This One Author Changed the Way I View My 'Brokenness'
---
Disclaimer: I'm not being paid or forced to do a review. I just felt that this book could be of benefit to people.
Everyone's favorite author has a set of things they write about: J. K. Rowling's wizarding worlds, Agatha Christie and her mysteries. Mine writes of monsters and brokenness and rain and darkness that are all tormenting her brain.
And I love her for it.
Jenny Lawson is the author of three memoirs — soon four in April — depicting tales of mental illness, questionable packages and house fires, among many, many other things told in bizarre stories.
She tells these stories not from anger, but from joy and humor, and she has taught me time and time again how valuable it is to share pain — mental illness or otherwise — and to embrace my "crazy."
When Jenny's publisher contacted me to read her soon-to-come book "Broken," I may have shed a tear or two, mostly because it was probably the coolest thing to ever happen to me, but also because it brought to my attention how much Jenny has changed the way I choose to embrace my suffering and imperfections.
Jenny explains, "The world feels safer somehow if we share our pain. It becomes more manageable. And by sharing our pain, we inspire others to share theirs. We are so much less alone if we learn to wear our imperfections proudly, like tarnished jewelry that still shines just as brightly."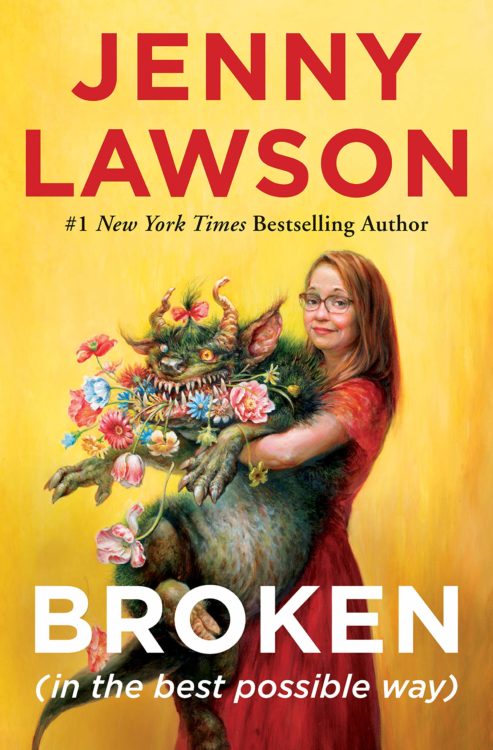 We are all broken. We all have imperfections that we hide from those around us. I'm not shy to say that I'm one broken, torn-apart person. After reading Jenny's past books, I've learned this skill of sharing my pain to inspire others to share theirs. It creates a sometimes scary space of vulnerability, but it also creates a safe nook for us to realize how human we are.
We are flawed. This world is flawed. Nobody is exempt from the pain that comes with it. Jenny can show you that firsthand; she's had a lot of hurt in her life, and it's not just her rheumatoid arthritis. It's woodpeckers to the brain, expensive medications, even yard rats.
Having this pain doesn't mean that we should turn from moments to share it. We must embrace that hurt because it's what makes us human. What makes us broken does not make us lesser than anyone else; we all have hurts we hide from the world. Jenny explores the monsters we all face — and how we should share them — in the end of "Broken," and I could never say it any better:
"And yet, there is something wonderful in embracing the peculiar and extraordinary monsters that make us unique … And there is an uncanny sort of fellowship that comes when you recognize the beasties that other people carry with them and the battles we are all fighting even when they seem invisible to the rest of the world … Embrace your beasties. Love your awkwardness. Enjoy yourself. Celebrate the bizarreness that is you because, I assure you, you are more wondrous than you can possibly imagine … monsters and all."
So thank you, Jenny, for showing readers that our brokenness and our monsters are worth embracing, that they're worth fighting for.
And thank you for showing us that we're worth fighting for, too.
Image via Twitter/Omar Rayyan.
Originally published: December 16, 2020