18 Mic Drop-Worthy Lessons People Learned in Therapy
---
If you've ever been in therapy, or even if you're considering it, you probably know how uncomfortable it can be. Allowing someone to help you, and to really see you, can put you in a vulnerable place. And learning to sit with and manage emotions is more than a little difficult.
There are many reasons why people keep going back for therapy, among them – insights. These are the moments of breakthrough and revelation that clear the clouds in your head. Sometimes they come in a flash, sometimes it's a slow dawning, but either way, the things we learn about ourselves and others through therapy insights can change our lives for the better.
These moments don't have to happen every session, and they can take a long time to get to. Some sessions you might even feel worse at the end than when you start. But once you arrive at a conclusion that illuminates a problem, it can feel like weight is lifted.
Here's a look at a few mic-drop therapy moments people have shared with the world:
1. Stop with the expectations.
One of many lessons learned in therapy was take that word "should" out of my vocabulary.

— Charmin Kelly (@CharminKelly) December 27, 2020
2. Put the focus where it belongs.
Forgiveness is not about them, it's about you. — Lessons learned in therapy

— Ciarán the Masked Shadow Sorcerer (@notagain127) August 25, 2019
3. You sometimes need an outside perspective.
An abnormal childhood seems normal until you speak about it out loud to an objective stranger. #therapylessons

— NikMaack (@NikMaack) January 21, 2011
4. Keep in mind you may be the more skillful one.
"The problem is you are thinking rational when you are dealing with somebody who is irrational."

— Danny Deraney (@DannyDeraney) November 25, 2019
5. Get comfortable in the gray area.
What if some things are just neutral? Neither black, nor white; neither good, nor bad, but just…neutral?
It was the first step in learning to be really kind to myself about my choices.

— Sarah Jane (@sjfaraway) November 25, 2019
6. Try not to 'feed' your emotions.
Every emotion, chemically-speaking, lasts 90 seconds. If you keep engaging, the emotion will continue to "fire" and reset this. If you distract yourself, you can deactivate the initial reaction. This is helpful in processing trauma, in particular/ why grounding techniques work.

— Rachel Zader (/Jessica Jones v2.0) (@RachelZader) November 26, 2019
7. People's perceptions of you are more about themselves.
8. We all have some basic needs for our lives.
as a therapist, i've learned two truths: everyone wants to be loved + everyone wants to engage in meaningful work. when those needs aren't met in healthy ways, they're going to be met in unhealthy ways. see people's/your own behavior in that light + aim towards healthy ways.

— ????????????captain foresight???????????? (@vanadiumzest) November 26, 2019
9. Your experiences are valid.
#1 thing a victim does is downplay their own assault 'it' s not that bad, others have it worse'
Your boundaries matter <3#therapylessons

— AllCatsAreJerks (@allcatsarejerks) October 16, 2017
10. The opposite of shame is connection.
Shame brings a feeling of inadequacy as a person. Build back starts w small steps -be with those who love listen & support you #thursdayvibes #therapylessons

— Rose Latino,PhD LCSW (@RoseLatino1) July 30, 2020
11. You're allowed to say an experience was hard, full stop.

12. 'Keep your eyes on your own paper.'
View this post on Instagram
13. Shift your perspective on meeting people.
When meeting new people, don't think about it as trying to get them to like you- think about it as trying to see if you like them / if you get along with them. Rather than focusing on what they must be thinking about you, focus on what you think about them. Changed my life.

— Sailor Nichols ???????????? (@sailboatsail) November 25, 2019
14. A little thank you that goes a long way.
View this post on Instagram
15. Start asking your anxious thoughts questions.
View this post on Instagram
16. Breaking a cycle takes courage.
View this post on Instagram
17. Change your perspective on 'healthy' family.
18. Everyone deserves to have their trauma healed.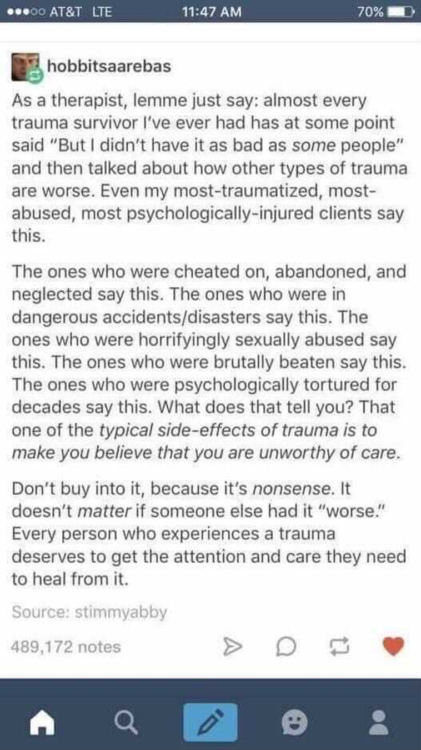 What lessons have you learned in therapy?
Header image via Olga Strelnikova/Getty Images
Originally published: January 28, 2021