What I've Learned About Love and Mental Illness
---
Love sometimes looks different when you live with a mental illness.
Growing up, my anxiety in many ways ruled the relationships around me, interfering with my first interpretations of love and accepting affection into my life. As I have journeyed through recovery and taken many strides in a more peaceful direction, I've realized much more about love. Loving another is different when your mind is not always in your complete control. Those lessons are as follows:
It is inevitable that people will leave you. This does not make you unlovable or more difficult to love than the average person. You are allowed to be angry when this happens, but please don't let it reflect your own worth. Love is a complicated emotion and truthfully, no two people love in the exact same way. Because of our conditions, whatever they may be, we sometimes require a more patient and understanding kind of care.
This doesn't make us difficult, but it does mean the people in our life may be required to love us louder on certain days. This is a volume not all people will feel comfortable reaching, and we must respect their boundaries. In addition, we can't expect the people surrounding us to read our minds or to assess a situation perfectly and love us exactly the way we need. Because of our sometimes complex emotions, we need to speak up and tell those in our life what we need directly. "I need reassurance." "My energy is depleted today, would you mind staying in and watching a movie with me instead?" These are just some examples of things we may need to ask for. 
Show some support by joining the conversation below.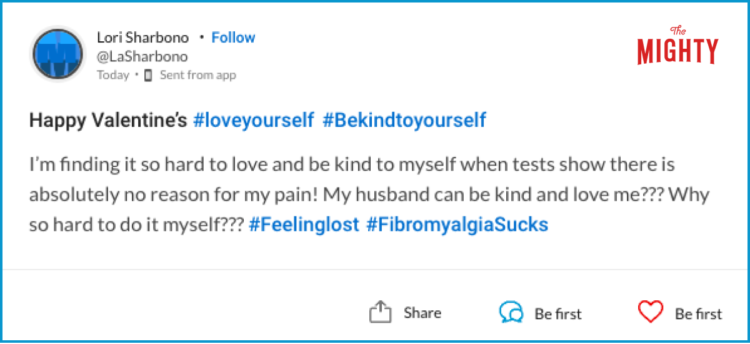 Please don't feel guilty for requiring love at the level that sustains you. If someone is committed to supporting you and you have established a safe space for you both, there is never too much love to ask for. But in saying that, co-dependency is toxic and can be easy to fall into. This term alludes to the fact that without this person's affection you cannot function and you may act "erratically" to receive it. Love does not enable a person to continue with toxic patterns. You must address this in yourself and work to avoid it, co-dependency benefits no one but with communication it can be avoided.
Communication is very important. As everyone gives and receives love uniquely, it is important you talk to those people committed to caring for you. While one person may benefit from a kind word, another may only benefit from a reassuring hug. Be clear about what you need. 
And perhaps most importantly, with Valentine's Day approaching, it is OK to be alone. Just because you are alone does not mean you are unloved. There is some strength to be found in solitude, but do not let your fears or boundaries keep you from letting people in. Those of us with mental illnesses often believe shutting people out protects them from our varying and sometimes scary realities. This isn't true. Just like everyone else on this earth, we deserve love regardless of our diagnosis. Regardless of the outcome, you will either accept someone into your life who will love you, or you will learn something from the time a person gives you. I can identify many relationships in my life that ended in heartbreak, but without them, I wouldn't be where I am today. Love invites vulnerability and that barrier breaking will give way to healing.
It is easy to count ourselves out, but we are still capable of love. Self-acceptance might be a daily struggle, but when we know ourselves, we can help others know us. Let love into your life, you deserve it.
Getty image via gpointstudio