Olympic Swimmer Michael Phelps Gets Real About Mental Health Impact of COVID-19
---
Editor's Note
Join The Mighty's Coronavirus group to connect with other Mighties living through the pandemic. Read the latest updates, share helpful tips, or give and receive virtual support.
What Happened: Michael Phelps, an Olympic swimmer with the most medals of all-time, took his mental health advocacy to another level in an honest interview with ESPN about COVID-19. "The pandemic has been a challenge I never expected," he said. "This is the most overwhelmed I've ever felt in my life. … My emotions are all over the place. I'm always on edge. I'm always defensive. I'm triggered so easily."
The Frontlines: Phelps isn't alone in finding the COVID-19 pandemic has taken a toll on his mental health. A mid-March Mighty survey found 92% of respondents said they were feeling anxious about COVID-19. More on the mental health impact by the numbers here.
A Mighty Voice: Our contributor, Alicen Ricard, explained what it's like living with multiple mental illnesses during the COVID-19 outbreak. "My routines are all over the place and every mental illness I have is being affected by the COVID-19 pandemic in a different way," she wrote. For her, journaling, reaching out to friends and playing with her pets has really helped. How has the pandemic affected your mental health? You can submit your first person story, too.
From Our Community: 
Add your voice: Join The Mighty's Coronavirus group by downloading our app or comment below. … Or Sign Up for our Weekly Mental Health newsletter.
Other ways to find relief: There are many ways that may help reduce your stress, especially during the pandemic. One option is Lief, wearable technology that tracks your stress levels in real time by measuring your heart rate and breathing. Learn more here.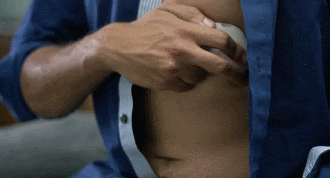 More Helpful Thinking: Everybody needs a little extra support right now. Take a look at some available resources that can help your mental health here.
Header image via Fernando Frazão/Agência Brasil
Originally published: May 18, 2020