These Mighty Pets Show How Healing the Human-Animal Bond Can Be
---
As people with health challenges enjoy the outdoors this summer, many of us are spending time in the sunshine with our beloved pets. On the days we can't get out because of illness, our companions are there too, stretching out beside us on the couch and showing off their funny antics to make us laugh.
Science has proven that pets can improve physical and mental health in numerous ways, from lowering blood pressure to reducing anxiety and depression. Service animals can assist people with disabilities with tasks such as retrieving dropped items, alerting to seizures or low blood sugar, and helping people with PTSD stay grounded.
We asked members of our Mighty community to share how their pets and service animals support them through the health challenges they face. Here are some of the amazing responses we received.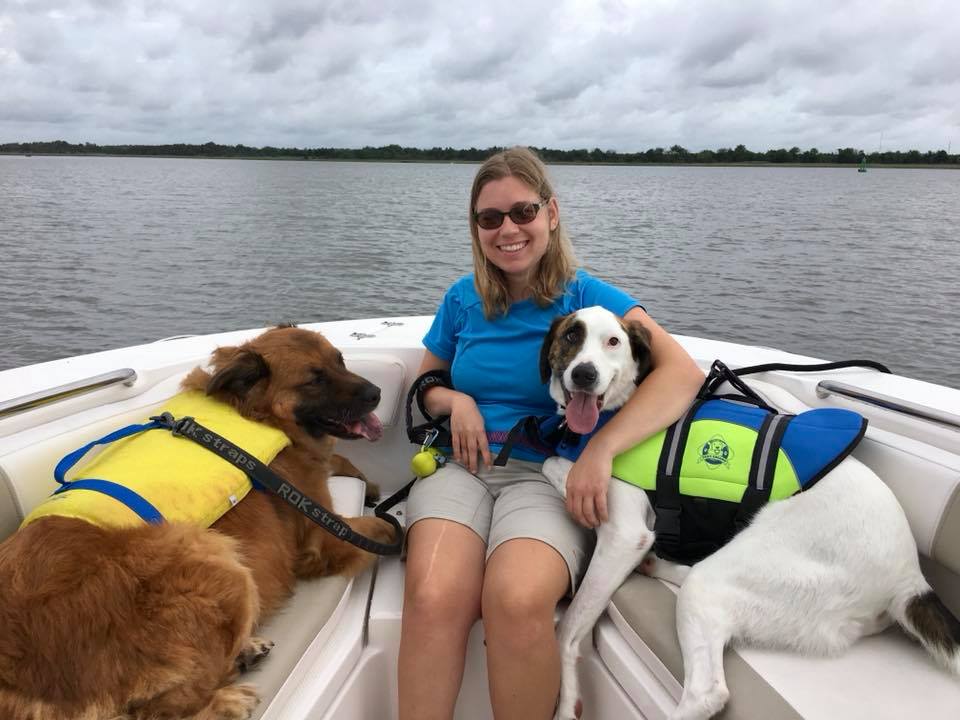 "I have cerebral palsy. Our two rescues Maxx and Fripp are there to help me through the tough times and are there to experience the great times." — Sarah S.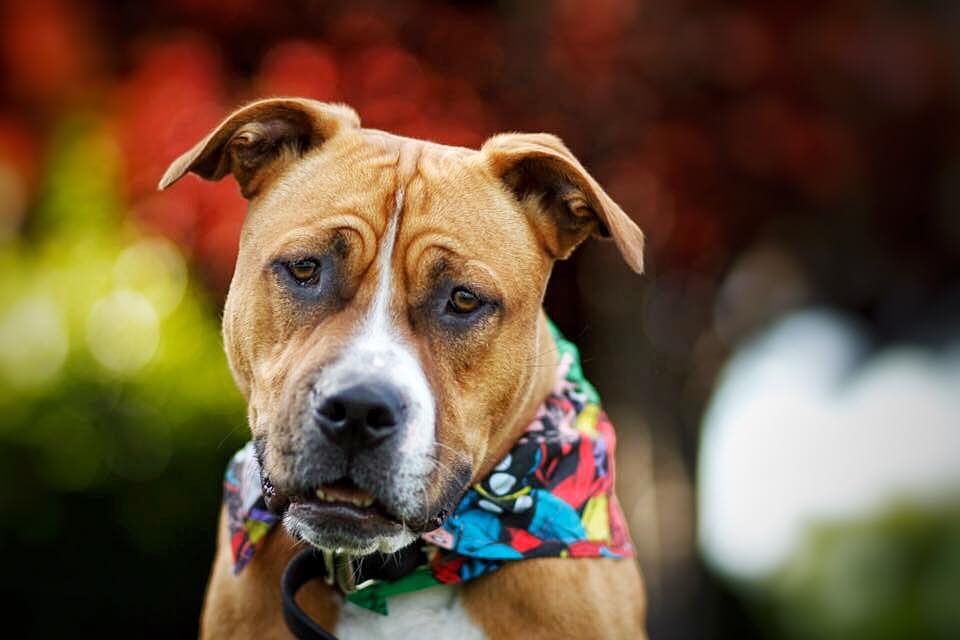 "This is my service dog, Malice! He is trained to detect anxiety and panic attacks as well as changes in heart rate. He also responds to physical behaviors I don't realize I'm doing or I can't control at the time. Now that he goes to school with me, I am able to function more normally. If I'm about to have a panic attack in class, he will provide deep pressure therapy until it either subsides or until I need to leave class for a little while to recoup. He's made my life so much easier; I'm finally able to leave my house without being terrified of everything around me. He's there for me when I'm having really good days, and he doesn't leave me when I'm having bad days. I'm very thankful for him and everything he does for me on a daily basis." — Cheyenne B.
"I have three therapy animals; two horses and a miniature schnauzer. My Appaloosa is totally blind, I've had him for 14 years and he is my life. My Paint is mine because she has said so; when I attempted suicide and survived I was claimed by this girl and we've built an unbreakable bond over the last year. And then there's the puppy, in the last eight weeks with him we've become each other's support. He knows when I'm upset and hugs me until I'm OK and I do the same for him. Animals are the best friends anyone could have." — Sarah H.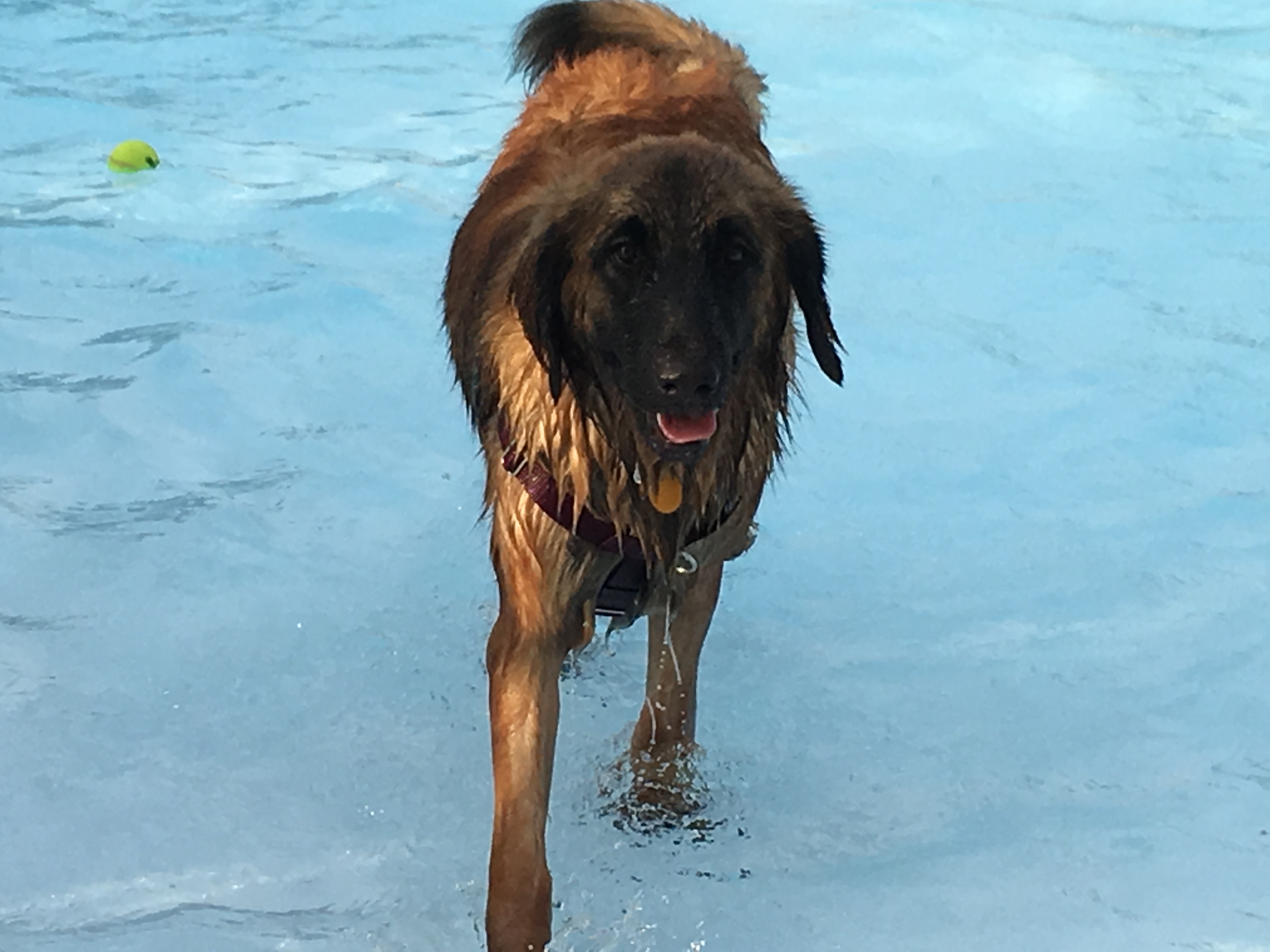 "This is my Leonberger, a very large breed of dog. I named her Brienne after the brave warrior woman in 'Game of Thrones.' I have another service dog too, but I'm training Brienne too because I developed PTSD after surviving a violent crime. Having a huge dog helps me feel safer." –Karin W.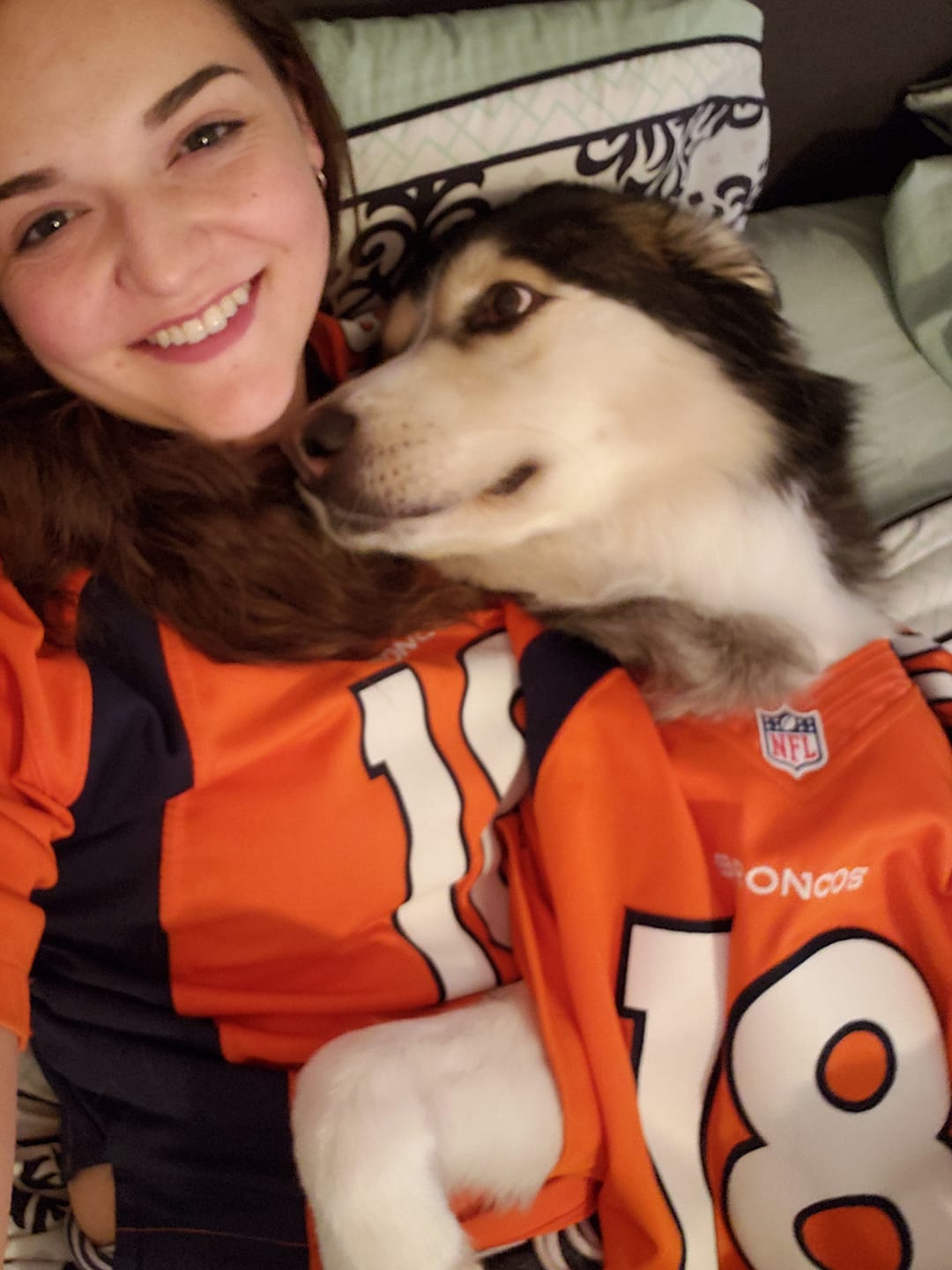 "I have an emotional support dog. When I cry he helps by using pressure therapy. He sits on my lap and hangs his head by my face. It grounds me from anxiety attacks. I love to feel all the little hairs on his body and focus on how his fur feels between my fingers. My anxiety almost entirely disappeared after I got him. He's the biggest help in the world." — Emily B.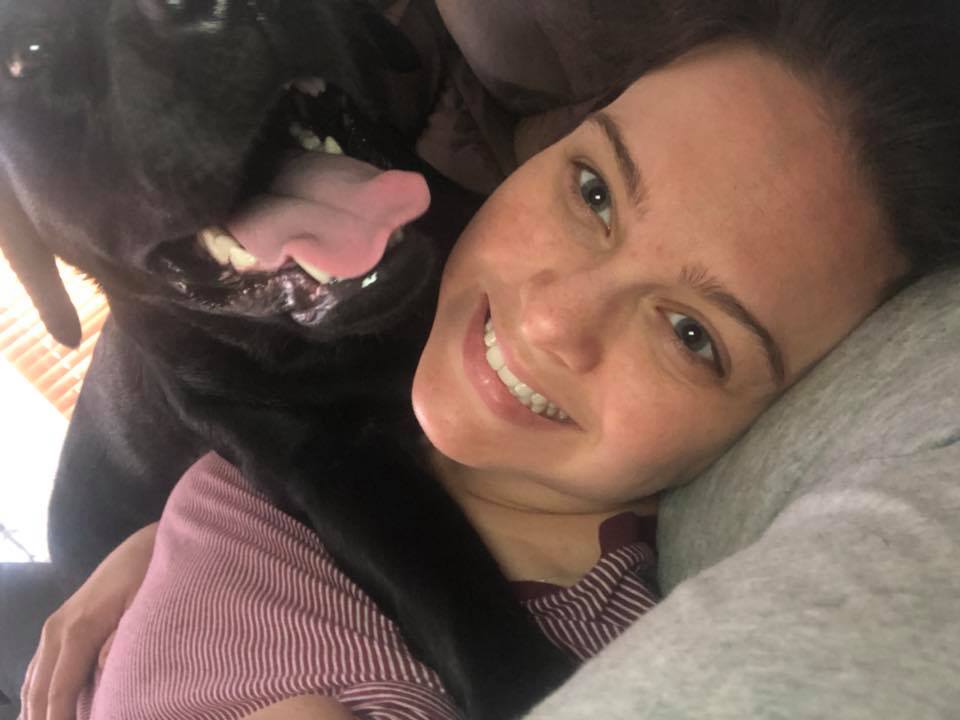 "Lucy helps me with my extreme PTSD from my 7 rare diseases by laying on me when my anxiety gets the best of me. We are still in training and hope eventually she will be able to come to the hospital with me during admissions." — Katie E.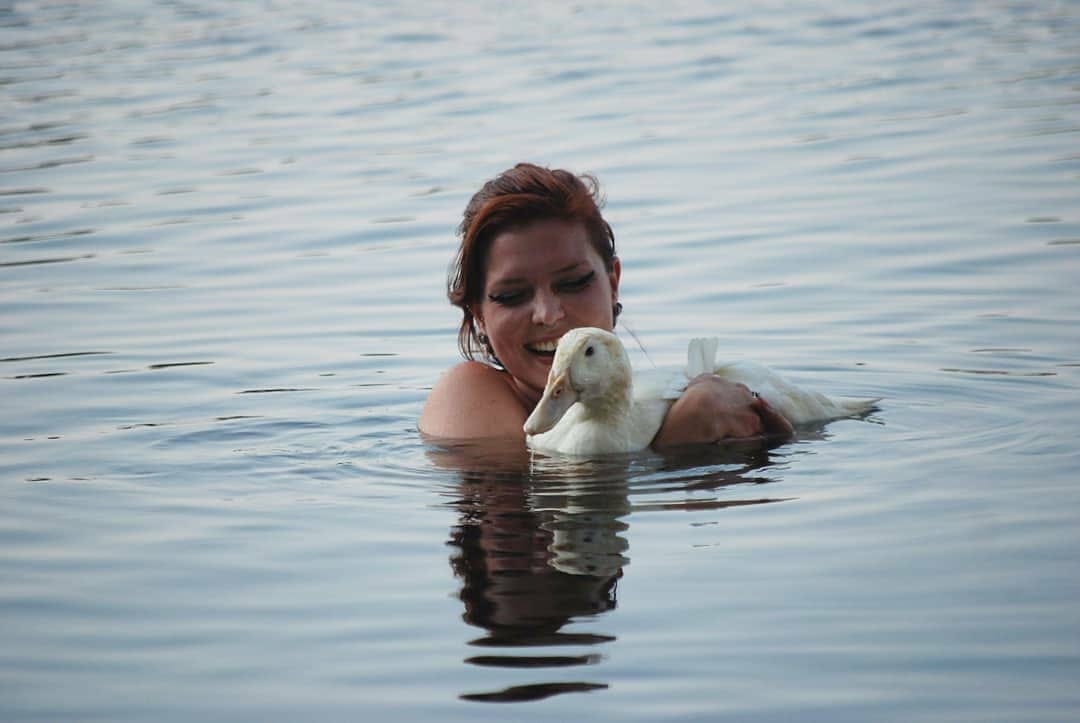 "My duck gives me a reason to get up, care and nurture. She makes me feel important, which is a step towards getting up and caring for myself." — Lieke M.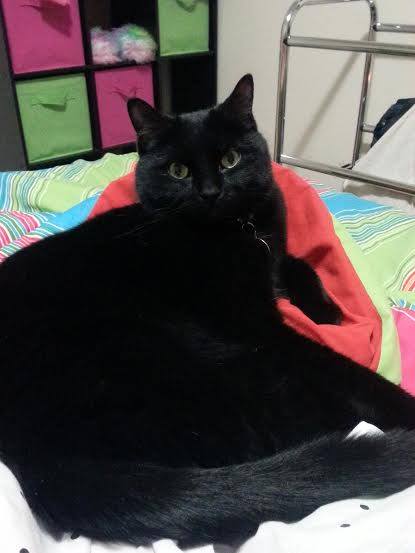 "My cat, Salem, saves my life every time my depression gets bad. My heart breaks when I think of him looking for me if I ever did anything to harm myself." — Katie S.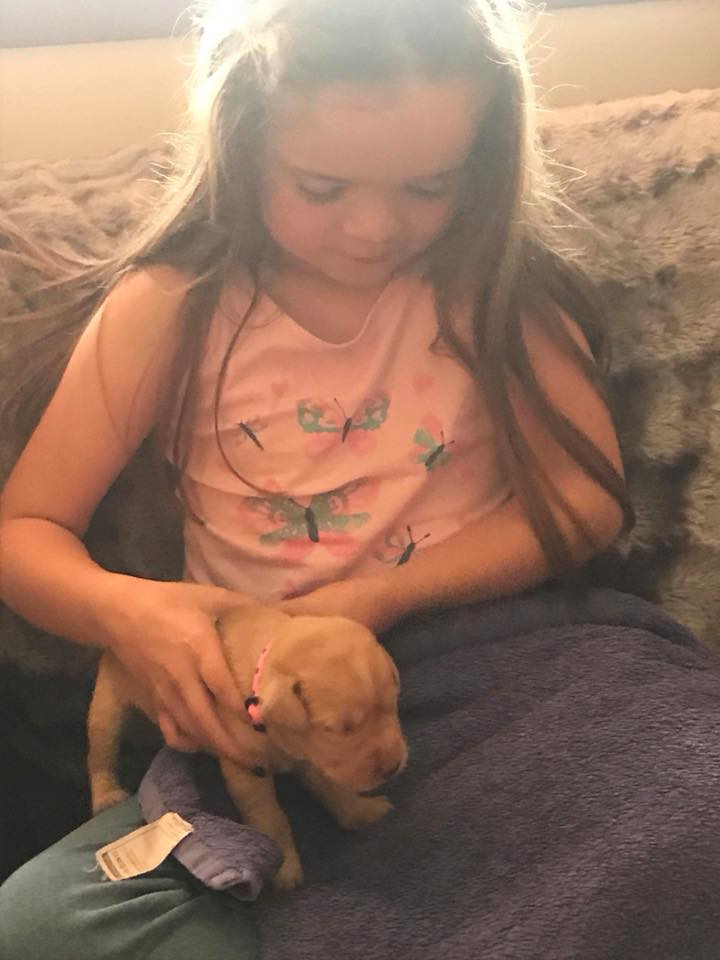 "My daughter is 7 and autistic. She is nonverbal and finds transitioning from one place to another very difficult. She also likes to escape! Here she is meeting Honey who is going to be trained to be her service dog. Honey will provide a sense of security making it easier for my daughter to go out into public places and will help my daughter lead a safer and more fulfilling life." — Anne G.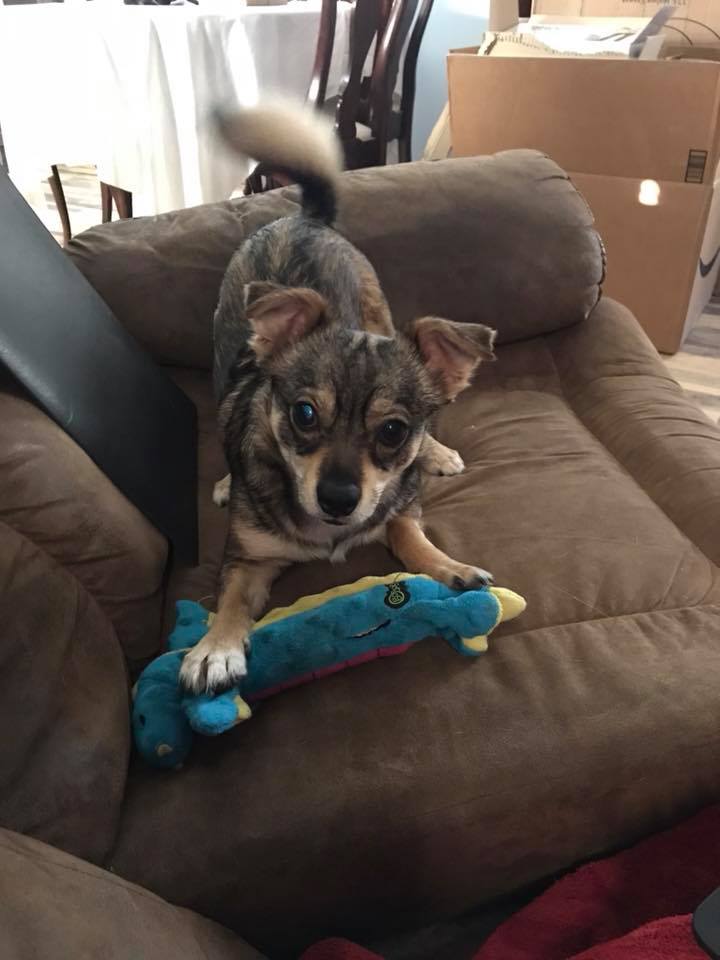 "My puppy reminds me that I'm not alone. He's my companion when no one else is around. When he sees I'm sad, he insists on cuddles or play time and brings me his favorite dragon toy 'Puff.'" — Melissa B.
"Every cat I've owned has left me better than I was before they met me. They all have different gifts but they each make my life happier and more complete. I've fought a muscle and skin disease all my life and often have been misjudged for it. My cats have always been there for me unconditionally and they seem to have an incredible understanding of when I'm having a good day or bad day. Because of all this, my heart and mind are much more at peace with them nearby." — Stephanie E.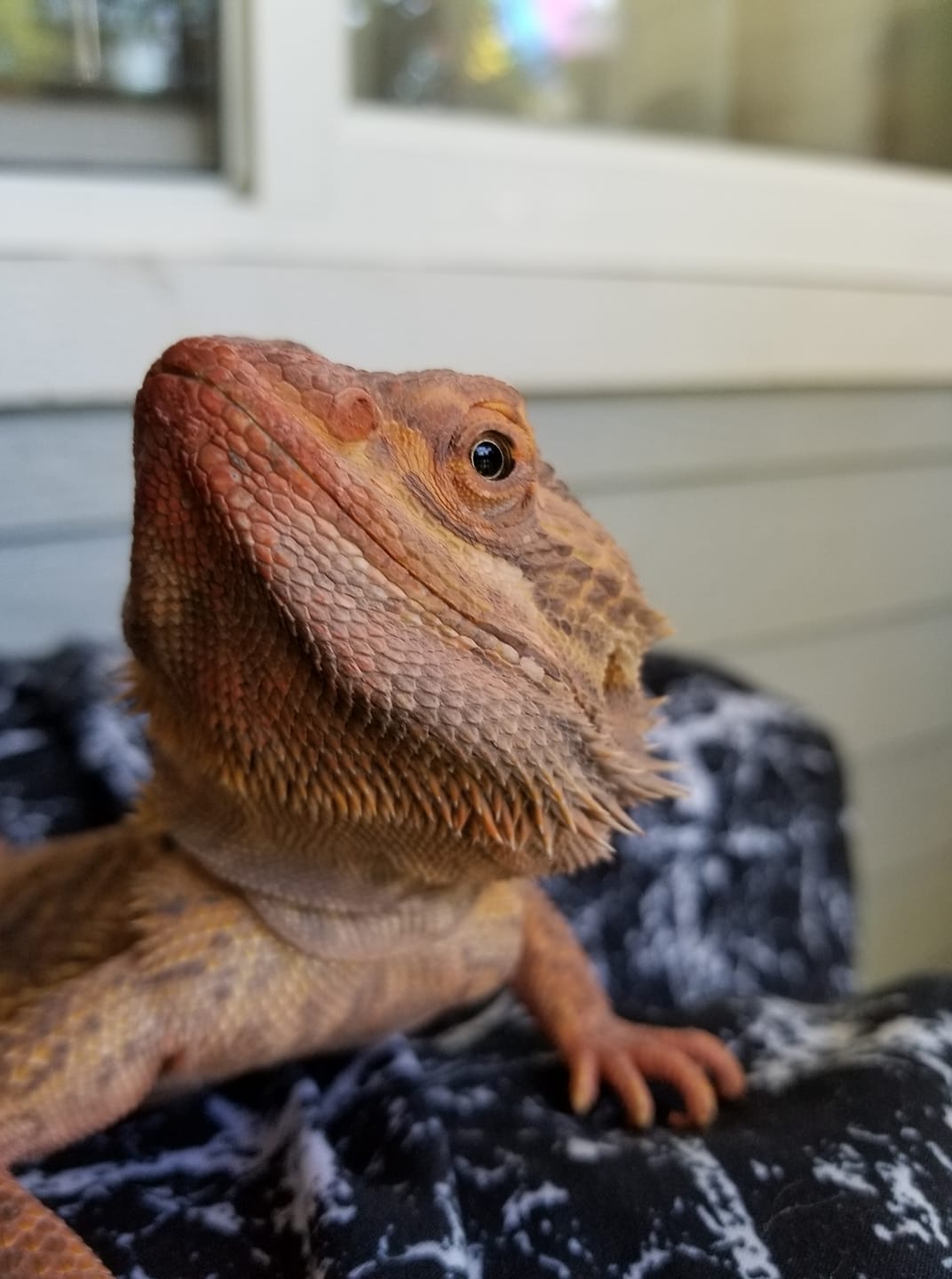 "My bearded dragon named Smaug. He can get me to calm down during the worst panic attacks. He is such a sweet lizard. He will keep calm when I'm freaking out. I appreciate this amazing little creature." — Peyton Z.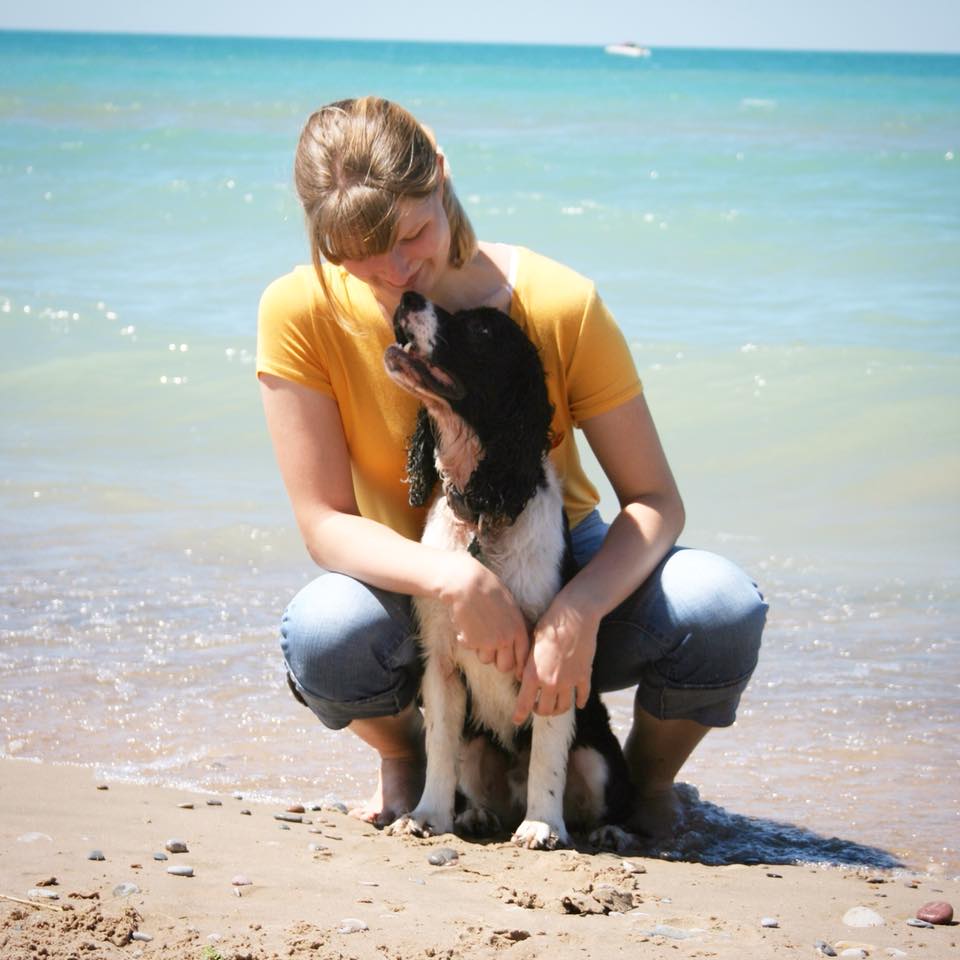 "I have a service dog for my psychiatric disabilities. Grainger is the best thing that ever happened to me! I have been training him for a couple months now and he is picking up on tasks. One of the best ones is finding the exit. When I get panicky I tell him to find outside and off he goes guiding me to the exit. He has since done this in huge malls and he finds the exit where we came in. He also does pressure therapy where when needed he will lie on my legs, this calms me down! He also alerts when I get anxious and will jump up to let me know! He can typically tell before it gets bad. He then showers me in kisses and cuddles trying to cheer me up and calm me down." — Lara P.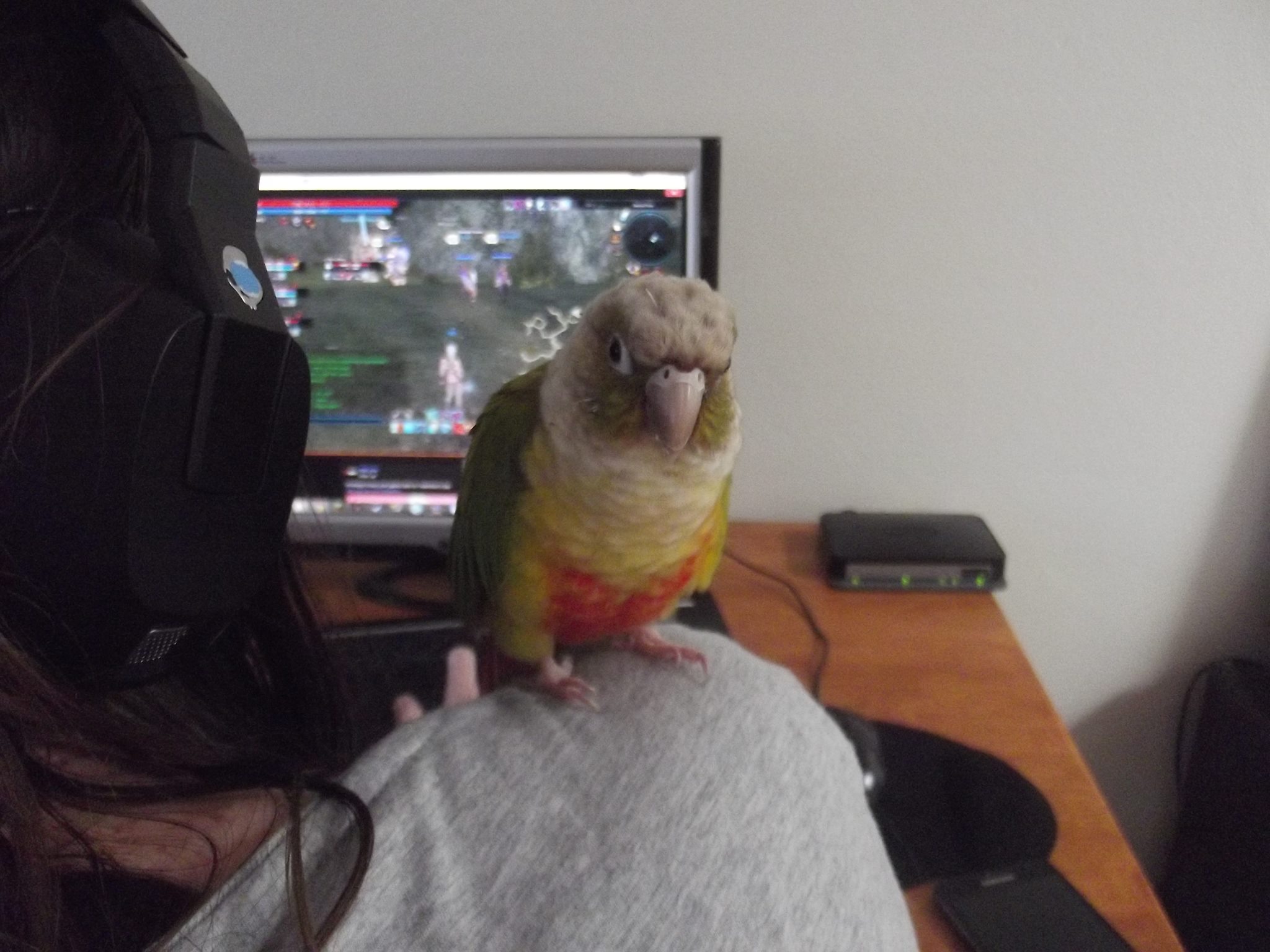 "I have an amazing conure, Phoenix. He knows when someone in the family is having a bad day, he snuggles into your neck, wraps himself in your hair and gives you kisses." — Tash G.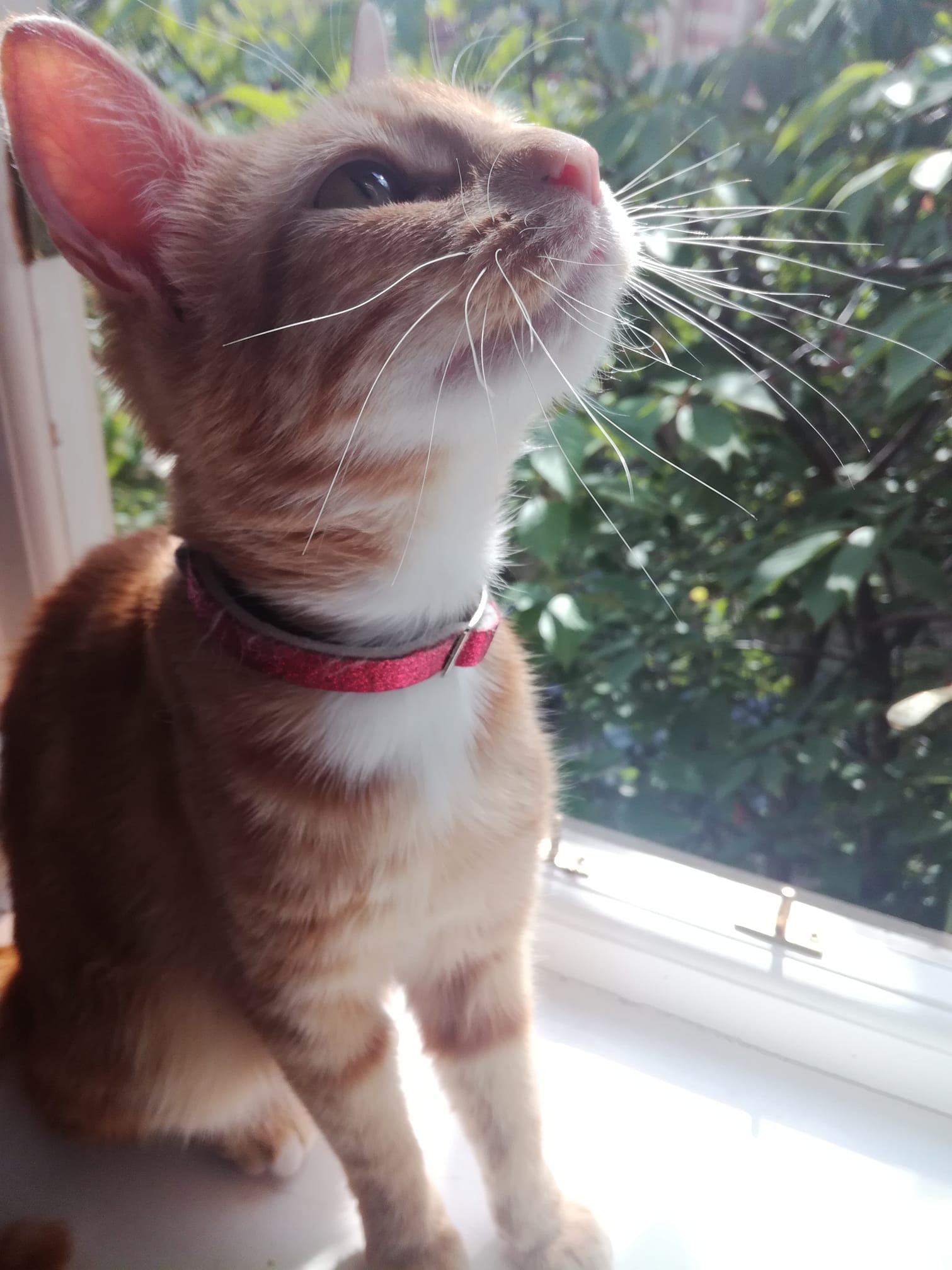 "After I was diagnosed with depression, anxiety and BPD my doctor recommended I get a cat as an emotional support animal, as I've grown up around them and they've always been a calming presence to me. I also have a variety of chronic health conditions and Nugget is able to sense when I'm in pain or distress, and will be by my side to keep me calm. She's such a silly animal in the best kind of way, and so caring and affectionate — she's helped me through some of my most difficult times and genuinely is often my reason to get out of bed in the morning." — Hazel K.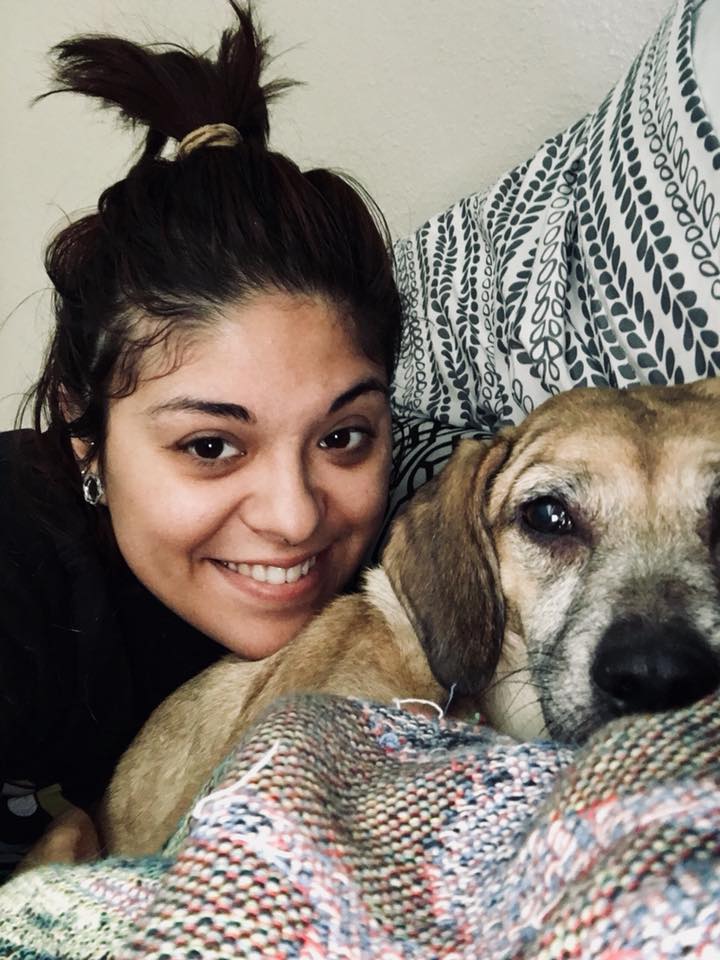 "There are many days when getting up just to go to the restroom takes so much energy out of me. I could spend all day in bed but I know I'm responsible for another living creature. She was rescued off the streets and deserves a home where she's well taken care of and loved. On the days I feel like I can't move, I get up and make myself go outside because I'm her mom and she needs me. Sometimes that first push to get up is all I need. Sometimes I think I need her more than she needs me." — Felicia C.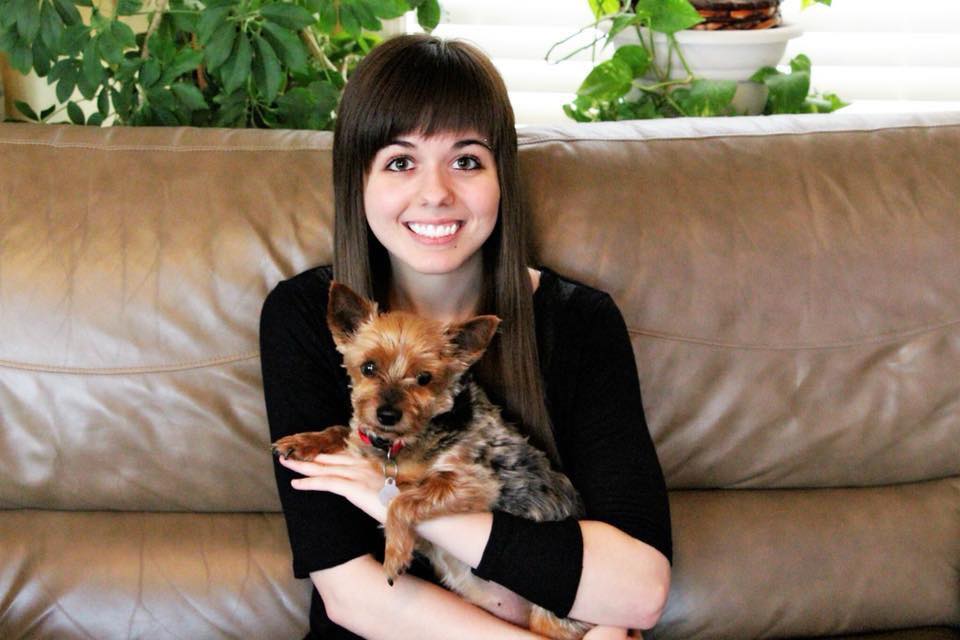 "This is my pet dog, Eli! I have borderline personality disorder and depression, and he helps me feel less alone and cope with feelings of isolation and abandonment. He is always there and comforts me. He has notified people when I cry and knows when something is wrong before anyone else knows. He also helps me with staying grounded and in the moment. For example, the repetitive movement of brushing him is calming, or if I'm paranoid/hallucinating, he helps me feel safe and realize what's real or not if he's not responding to it. I trained him to know some sign language too, as I know some ASL and have an auditory disability. He's my best friend." — Kellyann N.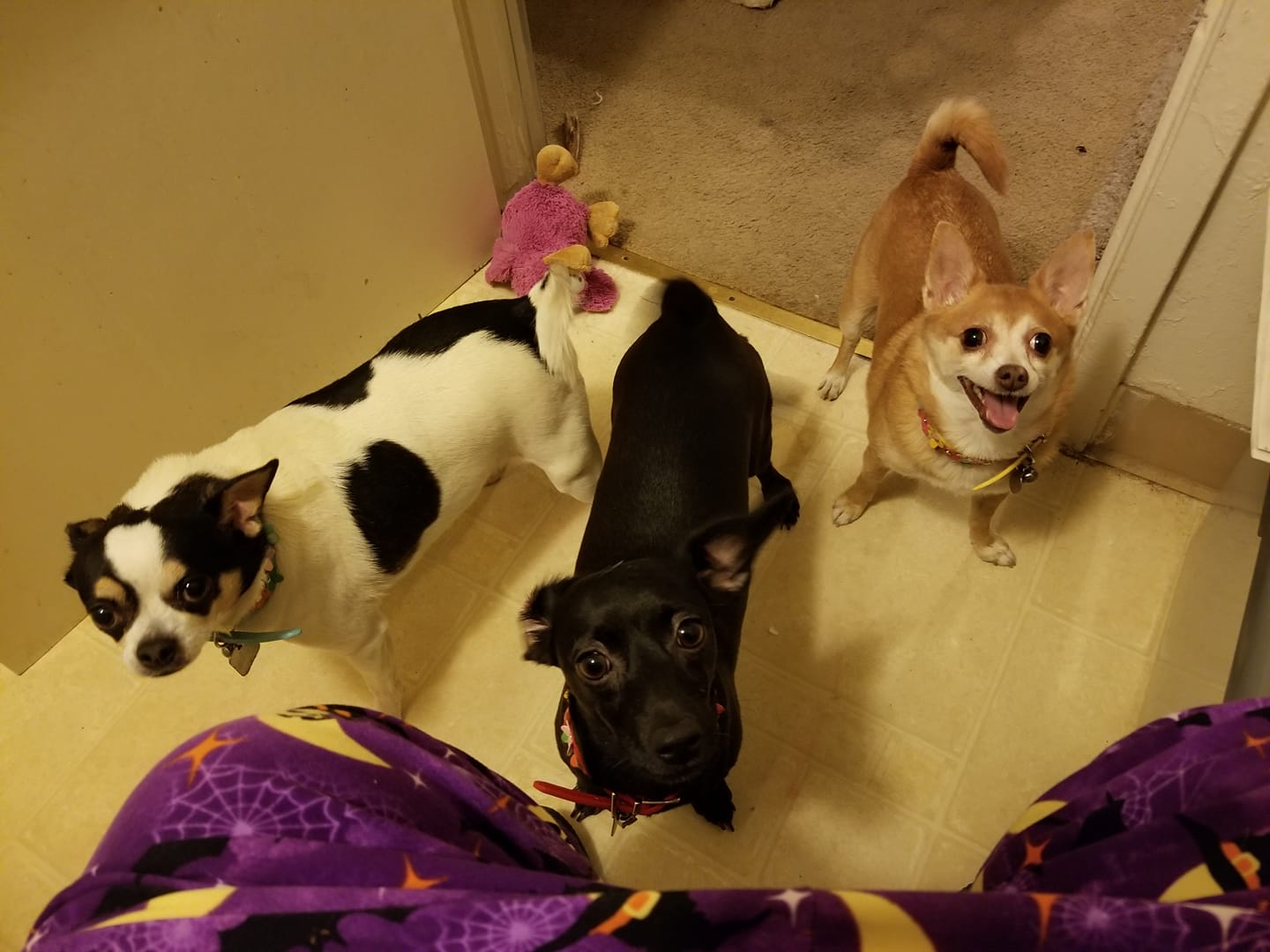 "They're a constant source of love, snuggles, and major shenanigans. The one in the middle, with that innocent face? Such a mischievous lil 'tink bug! I lovingly refer to them as my lil hooligans. They fill my life with love, joy, and laughter." — Nydawi J.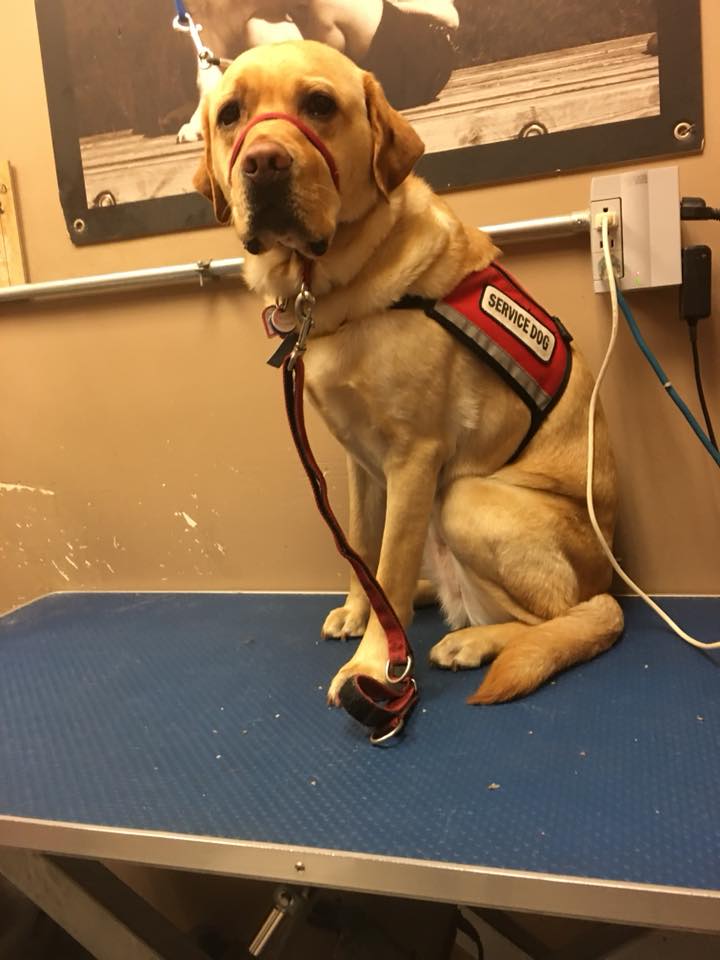 "Edison is my service dog from the organization NEADS. He mainly helps me with physical tasks but is such an incredible companion and friend!" — Sarah B.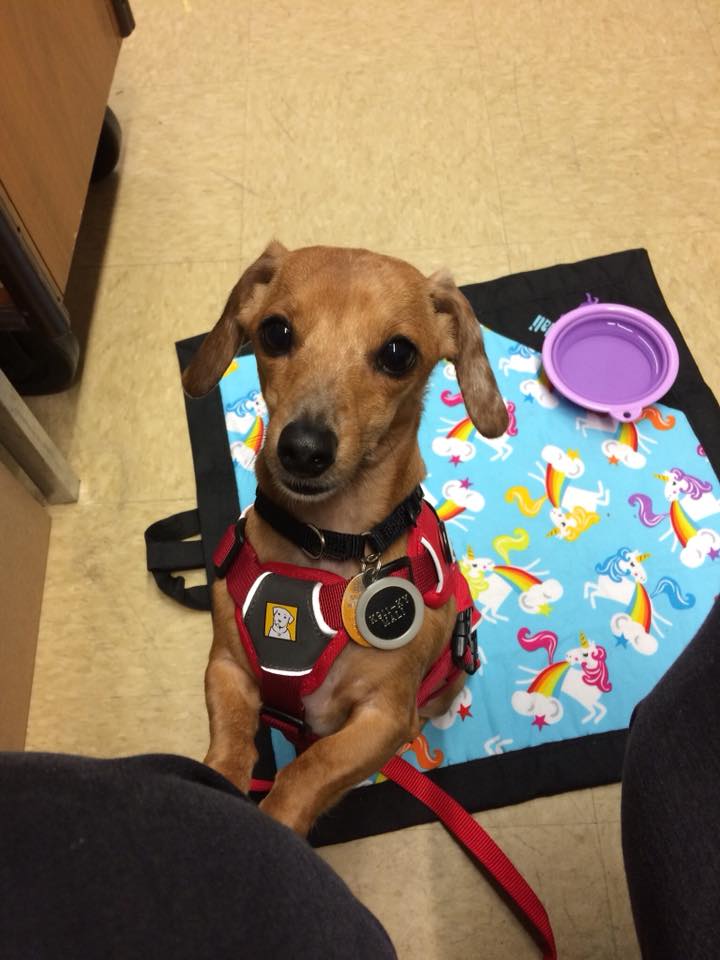 "This is Mali. She just graduated service dog training on the 5th. Some of her trained work/tasks are migraine alert, anxiety alert, block, watch my back, clear the room, behavior interruptions, and get help in an emergency. She's a 1.5-year-old miniature dachshund. We've been training her since we picked her up from her breeder. She's got a wall of fame in our house with her graduation certificates from the training courses." — Brandi W.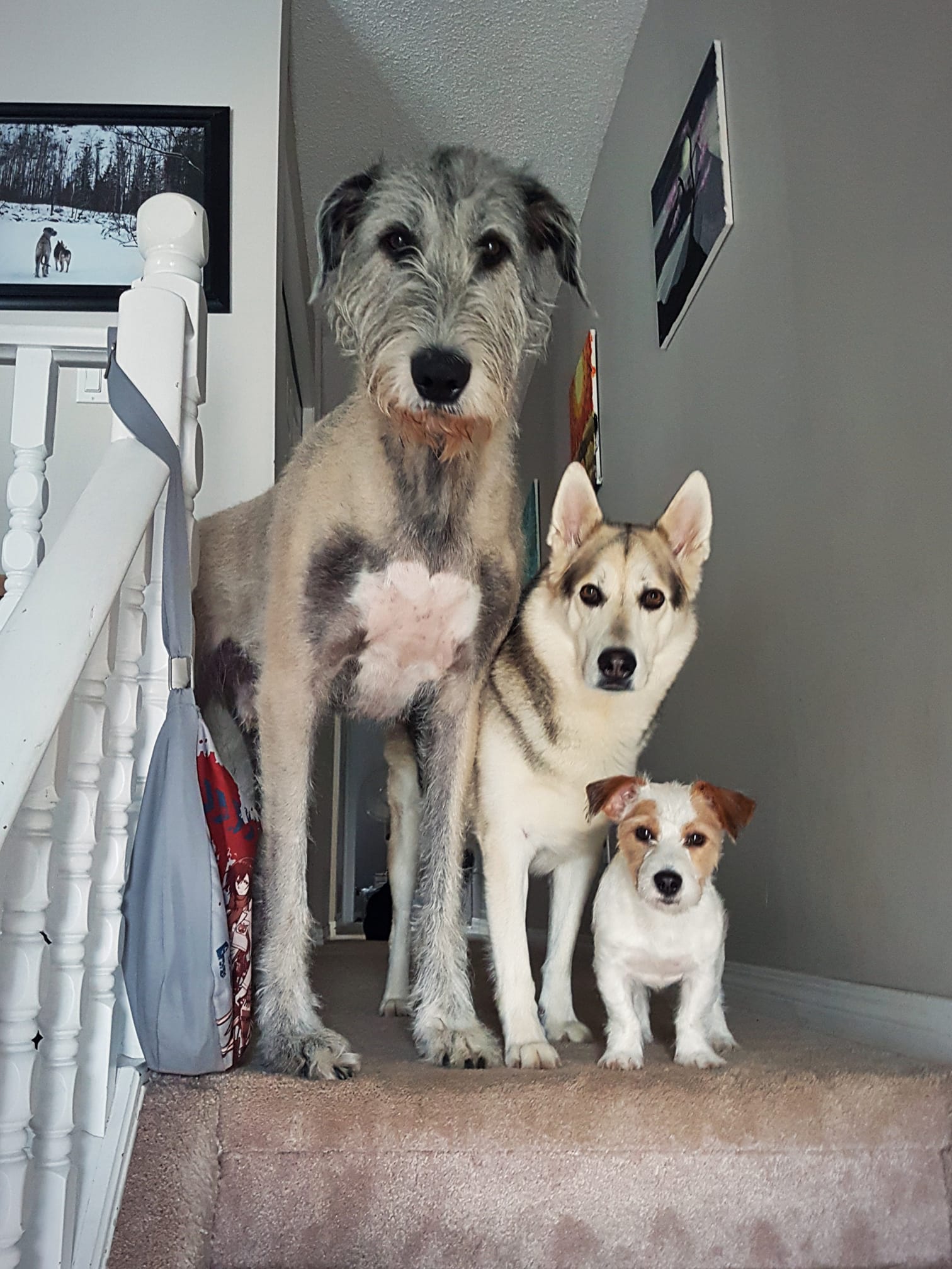 "My boys are amazing. They're not service animals or registered as ESAs, but when I have a panic attack or my anxiety becomes overwhelming my two bigger boys lean on either side of me while the little guy sits in my lap. I focus on running my fingers through their fur and it helps me calm down better than anything else I've tried!" — Monika C.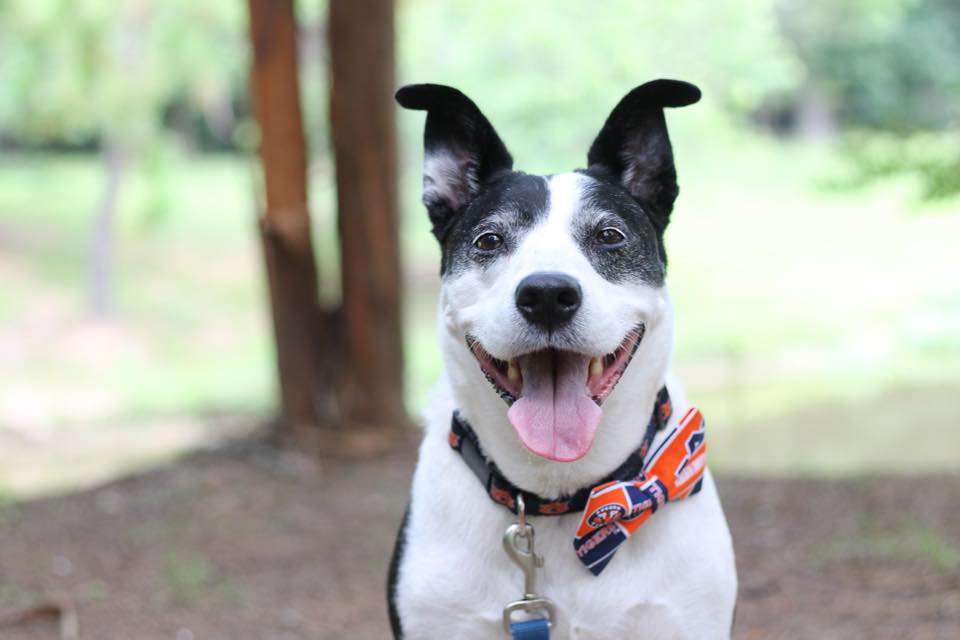 "Ralphie had been in my life for three years before I realized how much we needed each other. He was dropped off for boarding at the vet and never picked up, so as part of the kennel staff I cared for him the three years he lived there. The summer before I started college, a spark ignited between Ralphie and I that created an inseparable bond between us. Unfortunately, my college didn't allow pets and my parents didn't want a dog. Leaving Ralphie in the kennel to go to school was one of the most heartbreaking things I've had to do. That first semester was really rough socially and mentally, and I almost had to come home, but I realized what I needed to help me through it was my best friend Ralphie. My desire for his companionship and love gave me the strength to stand up and advocate for myself at home and school. After weeks of research and negotiations, it was decided that Ralphie could live with me on campus as my emotional support animal. There is no way I could have graduated without him. Ralphie came to school with me the second semester of freshman year as my emotional support animal and helped me to overcome mental obstacles, focus on succeeding in class, and become a stronger person. I don't think people realize how much of an impact he's had on my life, but I love Ralphie so much my heart feels like it will burst, and he makes me feel like I'm capable of achieving anything I put my mind to. Ralph is my best friend and a great example of the benefits of companionship with an animal can provide. He is now supporting me on my journey to becoming a veterinarian as I start at Auburn College of Veterinary Medicine." — Macie J.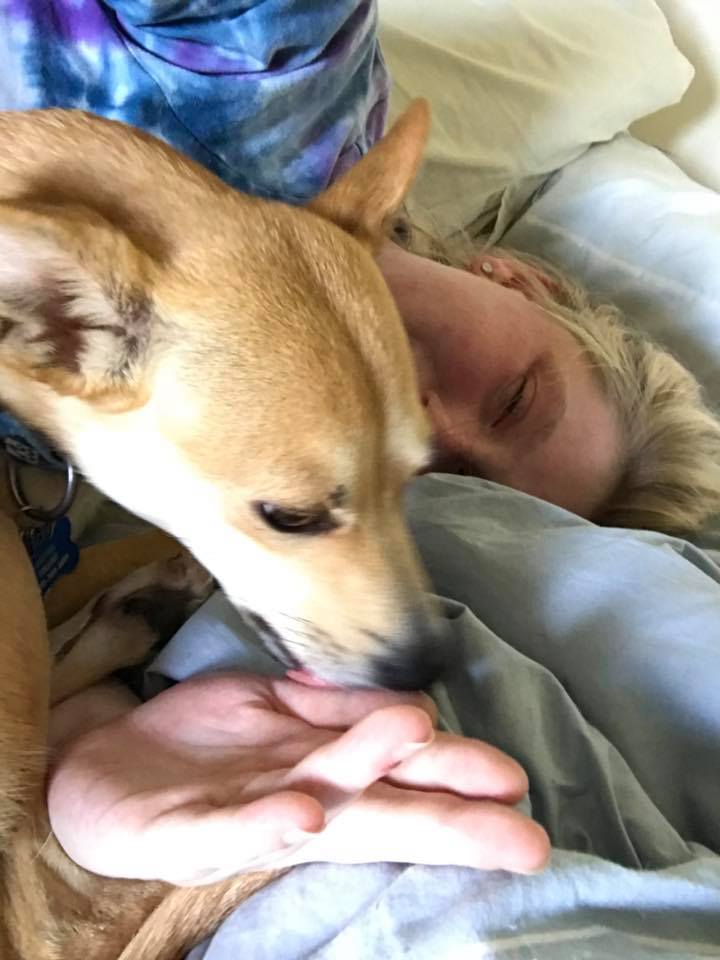 "This is my emotional support dog Oliver. This picture shows the raw moments of mental illness and how your fur animals are always there to pick up the pieces for you, no matter how low you are." — Kristen H.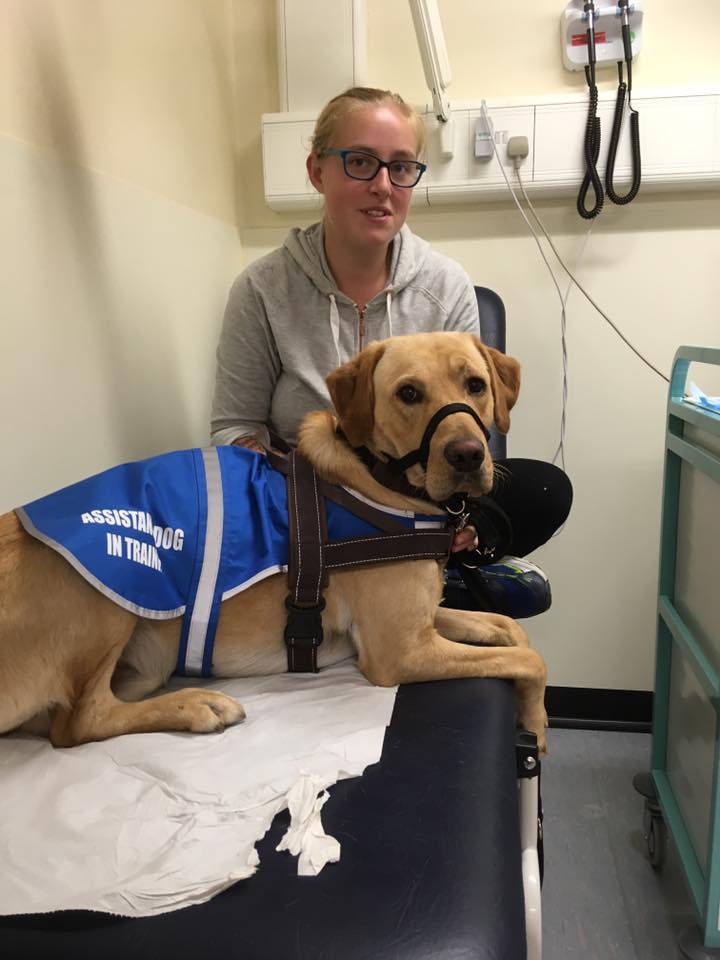 "He saved my life. He continues to save my life every single day." — Ebony W.