What Netflix's 'Russian Doll' Gets Right (and Wrong) About Mental Illness
---
Editor's Note
The following is a review of Netflix's "Russian Doll" and contains spoilers.
Warning: This post contains spoilers. 
Netflix's "Russian Doll" is a show about mental health — and a good one at that.
The show follows Nadia (Natasha Lyonne), and later Alan (Charlie Barnett), two people who are currently reliving the day they died. For Nadia, the day is her 36th birthday. For Alan, it's the day his girlfriend, Beatrice (Dascha Polanco), breaks up with him as well as the day he was planning to propose. The two eventually meet, realize they share their predicament and work to hatch a plan to fix the time loop they're stuck in.
The show's mental health messaging is subtle yet inescapable, much like mental illness, which tends to ebb and flow in a way similar to how the show's characters experience it — sometimes at the forefront and other times hidden. It's what the show gets astoundingly right — that the answer to both protagonists' problems lies in the very thing they're overly aware of, the impact mental illness has had on their lives, and yet have worked so hard to ignore.
"Russian Doll" never gives Nadia or Alan a diagnosis — though it often feels like the show hints at Alan having a more "stereotypical" presentation of obsessive-compulsive disorder (OCD). Alan's apartment is immaculate and the clothes in his suitcase are folded and organized so neatly, Marie Kondo would approve. There are other "signs," too. Alan loves routine and, until he meets Nadia, insists on letting the last day of his life play out the same way every time. He tidies his suitcase, holds the door open for an elderly neighbor and listens to, or repeats to himself, a list of self-affirmations.
Not only is Alan's routine important to him, it's also the title of episode four — the first episode to really focus on the character. Alan's focus on routine, his mother's concern about him skipping work and getting off schedule (his mom is the doctor in episode four) and Farran's (Ritesh Rajan) comments about Nadia not being in Alan's inner circle have led other viewers to speculate that Alan is autistic. Alan also hates therapy, though it's never explained why.
Despite his aversion, the show is largely pro-therapy. Nadia often turns to Dr. Ruth Brenner (Elizabeth Ashley), her aunt and a therapist, for support. Familial connection aside, it's clear that Nadia trusts her expertise as a therapist. In episode six, Nadia manages to convince Alan to give therapy a try. Nadia wants to unlock Alan's memory to uncover his "first death." Nadia hopes Ruth can administer EMDR or Eye Movement Desensitization and Reprocessing, a type of therapy often used to alleviate the stress of traumatic memories. Ruth declines because therapy isn't as simple as ordering a number four off a fast-food menu, but Alan's willingness is a significant sign of growth.
In the end, whether or not Alan lived with a mental illness or was autistic is almost irrelevant — though one could argue that perhaps he'd have more supports in place if he sought out or acknowledged a diagnosis and could then, therefore, communicate his needs. That "what if" is only relevant if we come to the same epiphany Nadia does — that perhaps Alan wouldn't have died by suicide if…
Nadia's connection to mental illness, on the other hand, is much clearer. Her mother, Lenora (Chloë Sevigny), lived with a mental illness, though the show never says what that was either. It's obvious, from the way "Russian Doll" portrays it, that whatever Lenora's mental illness was, it significantly impacted her life. In one flashback, Lenora buys dozens of watermelons from a bodega. Lenora mistakes the cashier's apprehension for being rude, and demands Nadia, then a child, tell the man's manager he was being rude. In another flashback, Lenora shatters all of the mirrors in the house, leaving a young Nadia with fragments of glass in her hair.
As the series progresses, it's clear the impact Lenora's emotional abuse had on Nadia. As an adult, she struggles to show up in her relationships, a trait that comes off to others as selfish. She can't commit and avoids situations that would make her vulnerable, like getting breakfast with John's (Yul Vazquez), a man she cares about, daughter. Nadia blames herself for her mother's death. Lenora died at age 35, making Nadia's 36th birthday significant to her. Nadia thinks that because her mother died within a year of losing custody of her, Lenora's death was her fault. Her aunt, Dr. Ruth Brenner, who also happens to be a therapist, tells Nadia it wasn't — that Nadia did what her mother told her to do, she told Child Protective Services she wanted to live with her mother. It was Lenora's inability to parent that lost her custody.
Nadia spends much of the first few episodes ruminating, concerned she might have her mother's mental illness. In one episode, Ruth calls in a psychiatric hold for Nadia, after Nadia convinces her she needs mental health help. Nadia panics after seeing how the paramedics treat her, like she isn't in control, and an attempt to sedate her ends in one of Nadia's many deaths — a car crash, the result of a distracted ambulance driver.
One of the show's best lines comes from Ruth in episode seven:
You were this tiny seed buried in darkness fighting your way to the light. You wanted to live. It's the most beautiful thing in the world. Do you still have that in you?
It's this line that makes Nadia realize the darkness, the depression, she's been living under. When Ruth asks, "Where is that gorgeous piece of you pushing to be part of this world?" Nadia responds with tears, an acknowledgment that it took death for her to realize she wasn't living.
Like Nadia says, she's "the girl with a death wish." That wish was just buried in her subconscious and manifested when she didn't look both ways before crossing the street and died getting hit by a cab.
If we examine "Russian Doll" by the guidelines set for covering suicide in media, the show isn't perfect. Its failures here, however, are violations of rules and not failures in messaging. For example, the show tells us how Alan dies whereas guidelines suggest omitting means. But in a show where Alan dies at least 15 times, how he dies isn't extraordinary when compared to all of the other gruesome deaths the series shows.
Another failure, which the show partly self-corrects, is Nadia's belief that she could have prevented Alan's suicide. Though this is definitely a relatable feeling for suicide loss survivors, thinking that Nadia, a stranger, could have saved Alan's life is an oversimplification. Suicide is complicated, and thinking one person could've prevented another person's death is dangerous. Implying that the magical nature of their newfound friendship gives them the ability to "save" each other, even though they were strangers again in the last time loop, feels like a departure from the grunge and grit of the series.
On the day they both died for the first time, Nadia and Alan were strangers. In the final loop when they get the chance to "right" their "wrongs," Nadia's interaction with Alan proves how difficult it would be for a stranger to just walk into someone else's life and pull them out of their rut. How was Nadia in loop one supposed to know that Alan dropping things in the bodega was a sign of crisis — and how was soothing that crisis her responsibility?
Though the show makes the point that Nadia could have saved him, the bigger point the show makes is that we're all in this together, and at some point or another, we all need help. It's impractical to think Nadia could have saved Alan that first night, but his friend Farran might have been able to. He could have recognized his friend was struggling and told his girlfriend he'd call her back.
There are hundreds of "what ifs," an infinite number of loops we can go through, but only in our minds. Rather than do those mental somersaults alone, it's best to find your Nadia or Alan and work your way out like a seed buried in darkness stretching up toward the light.
What did you think of "Russian Doll?" Let us know by commenting on the question below.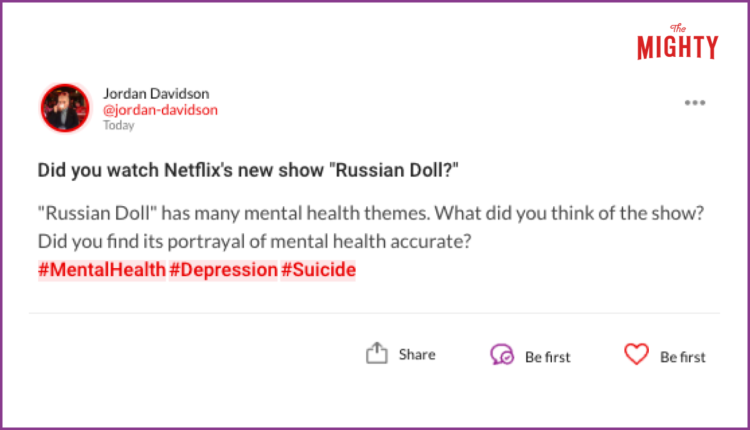 Originally published: February 19, 2019