When Having No Family Affects Your Mental Health During the Holidays
---
I would be remiss if I didn't acknowledge the elephant in my tree-trimmed, Christmas donned room — the deep, hot, monster pain that creeps into my body, tightening my shoulders, renewing my migraines and reminding me of the hole in my heart and ache in my head that can't seem to be fixed no matter how many Hallmark Christmas movies I watch.
Every year I think Mother's Day is the hardest holiday to get through — those sticky-sweet cards that express everything I don't feel about my own mother and the audacious idea that other people in that same card aisle might feel these sentiments. If Mother's Day is a painful reminder of the lullaby-singing mother that I did not have, then the holiday season — all the way from Thanksgiving to the end of Christmas — is like stumbling through a deep, dark Christmas tree woods filled with murderous candy cane land mines and shiny ornaments waiting to explode in my face. It's a treacherous landscape to navigate. One moment I feel the excitement of singing along to Mariah Carey's "All I Want for Christmas" and in the next breath I feel that cozy Christmas rug being pulled out from under me. I have no family.
To clarify, I do have family. I just don't have people that have been in my life since I was a newborn that see who I am, get joy from my joy, spend time sitting and listening to my thoughts and feelings and are present with my life. That's what I want. That's what Christmas cannot give me. I end up feeling hollow when the cookies are not sweet enough and the tree is not bright enough to comfort me. I try every damn year to fill up. I watch "White Christmas" at least five times in the month of December, I plan a million holiday treats and activities for my amazing children and I have Michael Buble on repeat in the background. I try so hard.
There's a feeling of optimism followed by devastating sadness. The triggers come rapid fire, too fast to process — ground my feet and breathe through. My white bed becomes my lifesaver and days of collapse melt into imprisonment when I feel too emotionally heavy to get up and carry on. Since early November I've had four migraines, I've literally fainted three times, upped my antidepressants, started eye movement desensitization and reprocessing work (EMDR), on top of seeing my therapist twice a week now and attending a woman's therapy group.
I can't.
This is what I say when I want to slump into someone's arms and have them carry me the rest of the way. I want to wipe out everything on the calendar that was put there for the intention of holiday joy. I want someone to say, "I see you. I see that this is really hard for you. I see you missed out on someone making you feel warm and safe. I see you desperately need some attention. I see how hard you are trying. I see you need someone to save you."
When this doesn't come, I return to the white bed.
If you know that red hot searing holiday pain, you know that it usually doesn't get easier year by year. It doesn't get easier hearing, "But look at your beautiful family," or "Things could be worse," or "You have so much to be grateful for." I think people who say this have no idea what real family pain is. The quiet that comes when the kids head off to school and the chatter that begins to rock around in my head.
I grieve at the holidays. As much as I want to be in the moment and I try and try and try, there is a reality that I cannot put aside because it comes from a place of a real lack of attachment to a loving, empathetic family. It is a burden I carry on Mother's Day, birthdays, Thanksgiving, Christmas and Easter — the times when we should be wrapped in goodwill and love. I can't help but think of all the people out there that might insist I need to just "let it go." Then I think of all the people that are in the same boat as me. We are two different worlds that will never collide.
If you are feeling that red hot Christmas loneliness, I feel it too. And I wish Santa could hug that away. But, if he can't, then I invite you to wrap yourself in a cozy blanket near that beautifully decorated tree and practice self-care. Give yourself what you were not given by stopping and listening to your own needs and being present with care and a nonjudgmental attitude. We will survive this holiday season like we've survived all the ones in the past. I wish all you beautiful, war-torn souls in my boat heavenly peace.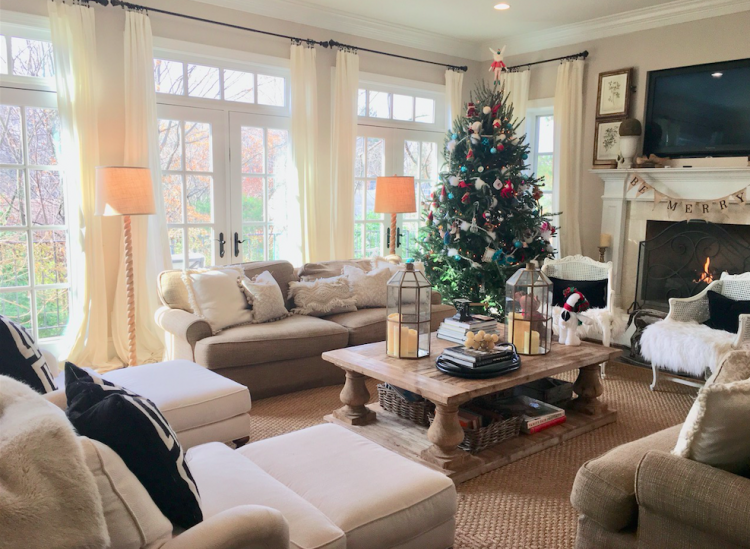 Follow this journey here and here.
We want to hear your story. Become a Mighty contributor here.
 Getty image via Kerkez
Originally published: December 20, 2017