We Tried the New Mental Health App Basis, Here's What We Thought
---
Launched on Oct. 4, a new mental wellness app, Basis, hopes to make mental health support more accessible. The service allows users to book on-demand, individual sessions with trained specialists who facilitate "a guided conversation to feel and function better." The Mighty took a closer look at Basis and reviewed what it might have to offer our mental health community.
First, you book a session with a trained peer-support specialist — often with same-day availability — via Basis' mobile app or website. Each 45-minute session costs $35. Sessions can be done via video chat or phone, depending on your preference. You're initially assigned a specialist based on the gender preference you specify while booking. You don't get to choose your specialist, but after your first session, you can opt to book with a previous specialist or try a new person.
To be clear, Basis is not therapy. Founded by Andrew Chapin and Dr. Lindsay Trent, Ph.D., this departure is intentional. "At various times, I just found myself down in the dumps or very anxious about the situations I was dealing with," Chapin told The Mighty. "At the time I didn't see a therapist about those feelings or those situations." He didn't try therapy because of the hassle and stigma of how "clinical" therapy seemed. Trent, a former Stanford psychologist, then joined the Basis mission to provide better access to mental wellness.
I tried it out.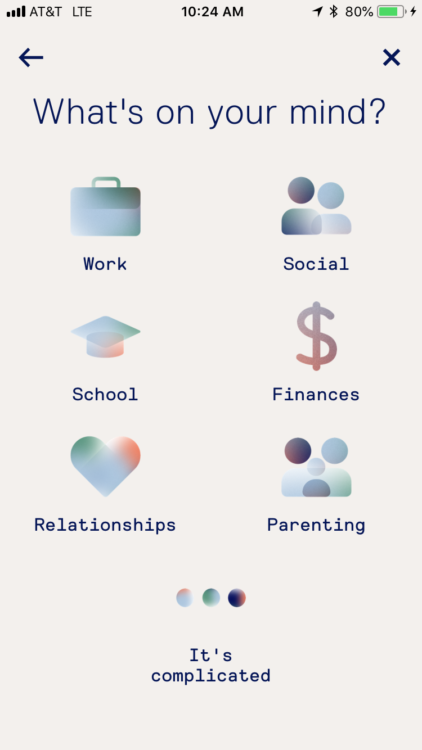 The booking process on the Basis app was simple and straightforward. I didn't even have to provide my full name or real name. Though I was hoping to book a same-day appointment, there weren't any times available. Chapin told me that they've been busier since the app just launched, and availability will improve as the company grows. There were, however, plenty of options for the following day and it was easy to find a time that fit my schedule. 
An hour before my scheduled session, I got a notification that I had been matched with a specialist, Jessica. When I joined the video chat, I found Jessica warm, friendly and approachable. The session was definitely not therapy, which Jessica reminded me of at the beginning of our time together, while also assuring me our conversation was confidential. I felt validated and supported. Jessica shared when she related to me, which helped facilitate a sense of connection in a short amount of time.
While I mentioned trauma triggers, we focused on the coping skills to deal with triggers and not the trauma itself. We discussed what coping skills worked for me, what didn't and why it didn't using motivational interviewing and structured problem-solving. I was caught off guard by how much we focused on the positive. When I said traveling home was hard, the first question wasn't, "Why?" but, "What did you enjoy about the trip?" It turns out a more positive focus is common in a coaching setting versus traditional therapy. This provided a welcome, fresh perspective.
After the session ended I was provided with a bulleted list of the main takeaways from our session. Overall, it was a positive experience, but it wouldn't be the place to work through past trauma, for example. For many with mental illness, myself included, likely Basis won't be enough to really tackle a mental health condition. But I would use it again as a supplement to therapy if I needed to in the future.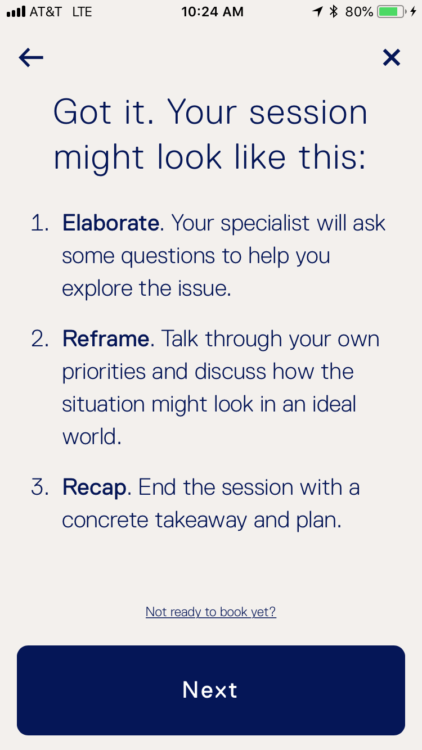 For many who approach Basis, its operation outside the traditional framework of therapy might also give them pause. For example, the company isn't bound to the laws and ethics that protect clients who see licensed professionals, including enforceable confidentiality and standard of care. But a large part of Basis' philosophy is built on research that indicates licensed clinicians aren't always more effective than unlicensed professionals who undergo evidence-based training.
"In a head-to-head comparison, individuals who had been trained were actually just as effective as licensed professionals, and in fact, over time, clinicians become less effective," Trent told The Mighty. "There's not a lot of measurement and not a feedback loop for course correction within this field, unfortunately, so a lot of people tend to rely on their clinical intuition, which isn't very accurate most of the time."
Chapin and Trent said their specialists undergo clinically proven training techniques, including the "Learn, see, practice, prove, do, maintain" approach that's used to teach medical doctors. Chapin said only 20 percent of applicants successfully complete the training process. The Basis session's price point — a mental health bargain at $35, and similar to an insurance copay — may seem high for an unlicensed peer support specialist. Basis landed on this cost to balance service accessibility and incentivize specialists to provide high-quality care to users, including those with diagnosed mental health conditions.
"We've also seen folks who do have a clinical-level condition that use this as supplementary to the care systems they have in place," Chapin said. He provided the example of Basis engineer Jenna who has bipolar disorder that's managed by medication. Basis provides her additional convenient and cost-effective mental health support on top of medication management with an outside psychiatrist.
The company is working with the National Suicide Prevention Lifeline to escalate clients in crisis. They hope to expand their mental health services as the company grows to offer other services or referrals for a more comprehensive hub of mental health treatment. In the meantime, Basis can serve as a non-threatening entry point for people to dip their toes into reaching out for help.
"People tend to wait a really long time until they seek out those kinds of services," Trent told The Mighty. "Reliably, people would say, 'This has been impairing my functioning for a number of years.' Had they had a service like Basis to address these issues before they exacerbated to the point that it became a clinical presentation and really affected their functioning, I think it definitely could have served a more preventative function."
Mental health care requires many levels of individualized treatment, whether you need a boost after a break-up, some unbiased problem-solving support, have a diagnosed condition like bipolar disorder or social anxiety or thrive best in residential-level care with a condition like schizophrenia. We'll never find a one-size-fits-all solution, and we should probably stop trying. What we do need across the board is better access for everyone to affordable choices. The addition of Basis into this space is, therefore, a welcome one.
"We're at this inflection point as a society where people are starting to realize that [mental health is] relevant to everyone," Chapin said. "It made me realize just how many people have suffered in silence. I think anything we can do to change that narrative and move the paradigm forward in terms of how mental health is talked about will be worthwhile."
Originally published: October 10, 2018