The Impact of Stigma: Mental Health Resources for South Asian Communities
---
This is the final part of a three-part series dedicated to discussing the stigma around mental illness in South Asian culture.
Living with the stigma around mental illness can be trying for anyone, but when you come from a culture where even mentioning the subject can cause tension, finding help can feel almost impossible. Regardless, these communities still need culturally informed mental health resources.
Keeping the South Asian community in mind, I spoke with psychiatrist Dr. Vasudev Makhija, president of the South Asian Mental Health Initiative & Network (SAMHIN); Rahul Kulkarni, CEO and co-founder of The Sukhi Project; and clinical psychologist Dr. Rukhsana Chaudhry, director of mental health programming for American Muslim Health Professionals (AMHP).
In addition to others interviewed previously, these professional offer either resources mental health or coping strategies that can be used by those in the South Asian community. 
SAMHIN provides mental health education, aims to decrease the stigma and barriers around getting care, and generally seeks to improve mental health literacy. When Dr. Makhija moved to the United States, he noticed that there was not a resource specifically for South Asian mental health. He said:
I found gaps in the mental health care that South Asians were seeking and receiving. Since there did not exist any organization with broad based interest in this, we launched SAMHIN in 2014. 
The events provide a place for individuals to gain insight, ask questions of clinicians, have psychological evaluations and obtain referrals, and find support molded to their cultural and religious backgrounds. SAMHIN also hosts lectures and workshops and provides a support group for survivors of suicide loss and Alcoholics Anonymous specifically for the South Asian community. Both of these groups are located in New Jersey.
In today's mostly tech-savvy society, finding things online is easy and convenient. That's why Kulkarni wanted to utilize the internet to create a place that was accessible to more people. His goal "was to provide a platform that could both increase access to culturally relevant providers as well as reduce the stigma people had over seeking connection," and within a few months of launching, they had compiled a list of over 400 health care providers.
The Sukhi Project gives users access to mental health providers and online support groups. To cater to more traditional aspects of South Asian communities, they have guided meditations created by gurus. In addition, Kulkarni said listed providers have a better grasp of South Asian culture:
If you want a life coach that understands the family dynamics of an Indian household and shares your passion for a good mango — we got you. We've also partnered with a telemedicine platform in case you want that interaction to be more discreet / convenient.
These are just two wonderful places to either receive direct access to care or gain insight into mental health care for South Asian communities. But these are not the only groups out there. Below you will find a downloadable list of powerful resources that you or a loved one can look into. There is diversity in this list, but if you know of another resource for a particular religious or ethnic group, or even the South Asian community as a whole, please let us know in the comments.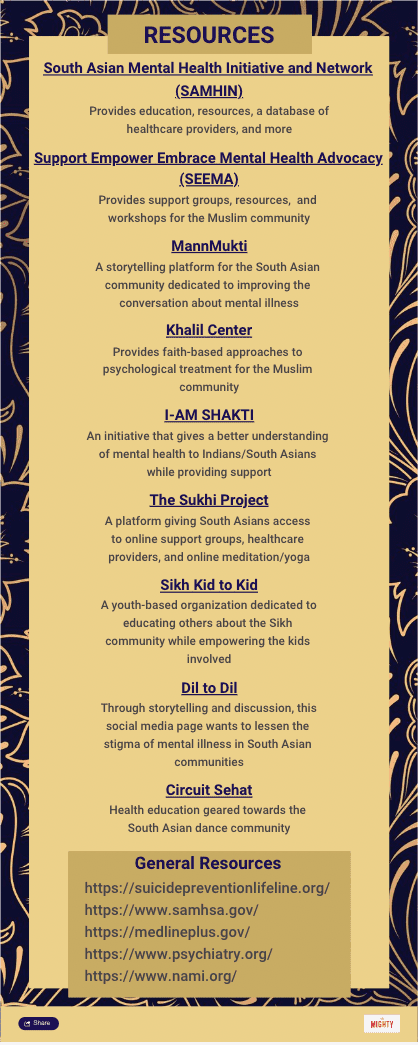 While resources are a valuable place to start your journey, learning different strategies to add to your toolbox can make a huge difference. Dr. Chaudhry has provided a brief list of coping strategies you can utilize if you are facing stigma. 

For any mental health issue, finding a support system beyond your family or everyday circle of friends can be really important. Not only does isolation exacerbate the symptoms of many mental illnesses, it's hard to get validation about what you're experiencing without an established support system.
Chaudhry recommended finding one or two people you feel comfortable opening up to about the mental health symptoms you're experiencing. Ideally, these people can help you understand when you need help and affirm that it's OK to seek professional help when you need it. "Feedback," Chaudhry said, "is very important in mental health issues."

While hearing about first-person experiences can be helpful to understand you're not alone, it's important to also connect with an organization that includes educational resources for your mental health. "This is a really important coping strategy that I think a lot of people don't go out and find right away," Chaudhry said. 
An organization that includes education and awareness initiatives can help normalize seeking support for your mental health. It also helps destigmatize mental illness in the larger community, and normalizes talking openly about mental mental in general. Many people also benefit from learning more about the condition they live with through self-education.

Similar to finding a few people you can talk to about your mental health, it's important to find a safe place where you can do this in a more formalized setting. This may not be formal therapy or counseling right away. Not only can it be overwhelming, but a large majority of mental health professionals are white and don't have enough cultural competence training.
Mental health support groups can provide a safe space for people who come from a similar cultural background to talk about mental health. There are groups both in-person and online that may be helpful, and it can feel less intimidating than traditional therapy. Regardless of where you find support, it's critical to your well-being.
"The least effective coping skill is to push things down and to avoid what's really going on internally, so you do have to find these outlets to allow their expression," said Chaudhry. "Holding things in and not expressing the internal conflict is a risk factor for really spiraling in mental illnesses." 

When you're ready, start looking for a counselor who does understand your experience. A large majority of therapists are white, so it can be hard to find someone who shares an understanding of what it means to be South Asian. If you can't find a South Asian therapist in your area, talk to several therapists and ask about their cultural competence training to see if they might be a good enough match.
Chaudhry said another option to try, if you are more comfortable, is seeing someone from your faith — whether this is a religious leader or faith-based counselor. Just ensure they are educated on matters of mental health because having that understanding is key. 

Self-care may be a trendy "buzzword," but that doesn't detract from its importance. Self-care can look like many different things, depending on what resonates for you. Chaudhry said it may be reaching out to a trusted friend on the days you're struggling. For someone else, it may be learning more about their mental health condition or tracking their sleep.
Chaudhry added that sometimes figuring out what types of self-care work for you takes effort. If you're not sure where to start, pay attention to what activities make you feel calmer or more content. On the flip side, pay attention to what makes you feel more distressed so you know what to avoid. "You have to be aware of your patterns and your own habits that both soothe you and also become compromised," Chaudhry said.
One Last Thought
One last thing Chaudhry mentioned is a communication technique for those who may have a difficult time speaking to their families about their mental health. If you have found a counselor you work well with, mention to them that you are thinking about talking to your family. At that point, you can come up with a plan on how to go about this. Chaudhry said:
You want to take into account who would be the most open and receptive to talking about it first. Think about somebody who might be a little more aware, a little more understanding and perhaps have some knowledge on mental health issues, or who has an experience with it in your family and being able to identify that person before you decide to talk to the entire family. You want to test out somebody who could be receptive to your struggle, and that goes with friends and very importantly with family. 
From there, you should think about what it is you want from that family member. Mentally prepare what it is that you would like to tell them so you are in control and maintain comfort for yourself. If you would like them to be someone you can come back to in harder times, express that to them.
Chaudhry said that if you are in counseling, bringing that family member into one of your sessions to have this conversation could be helpful. You are in a controlled environment, and the counselor can act as a neutral third party to help facilitate. 
Read more from this series: 
Originally published: August 27, 2020