17 Messages for People Who View Medicating Mental Illness as a Weakness
---
Going on medication for any health concern or condition is not a decision to take lightly.
Going on medication for a mental illness, however, is a decision often muddled with stigma and guilt. For those who think they can "push through" the symptoms of mental illness, taking medication might feel like giving in. And according to the Association for Psychological Science, about 40 percent of Americans with serious mental illness don't receive any type of care.
Medication certainly doesn't need to be a part to everyone's mental illness recovery, but when making important decisions like how to best manage your mental illness, shame and stigma shouldn't be a factor.
To better understand the issue, we asked our Mighty readers what they would say to someone who's hesitant to take medication for mental health. Keep in mind, the below is based on each person's personal experience. If you are considering going on or off a medication, please consult a professional.
Here's what they had to say:  
1. "Having a mental illness is like walking through knee-deep snow. You can get where you're going with enough effort, but it's slow going and exhausting. Medication is like wearing snowshoes. It alone won't get you where you're going, but at least will put you on top of the snow where you can walk with much more ease." — Jenalyn Cloward Barton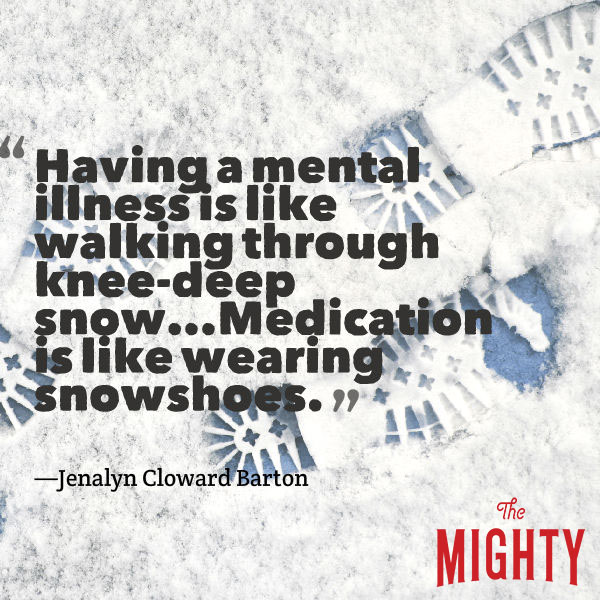 2. "It's a scary decision. A big decision. A decision I'm glad I made, for myself and for my son. We are different people now thanks to medication. For us, it was worth the risk." — A Legion for Liam
3. "Medication is only one part of symptom management, but sometimes it's an essential part." –– Michelle Caldwell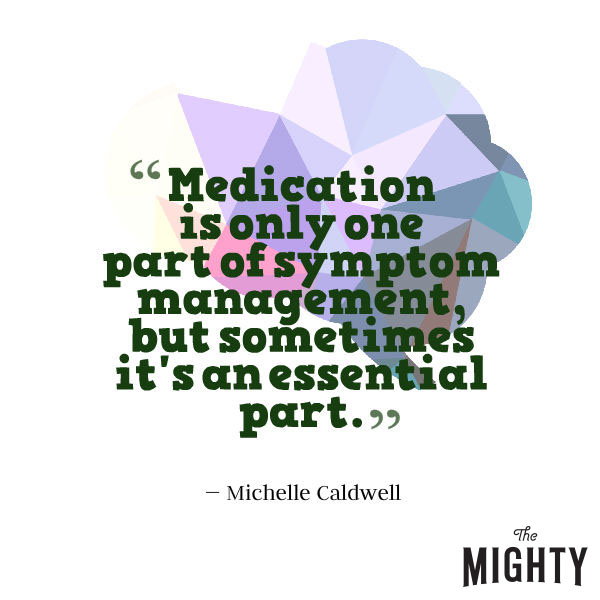 4. "Medicine is there to help you. The stigma against it may be scary, but you deserve all the help you can get. Don't be afraid to accept help." — Emma Wozny
5. "If you wouldn't hesitate to take medication for a heart condition or an infection, why hesitate to take medication for mental illness? You don't have to suffer, so why should you?" — Mirella Joy
6. "Depending on your specific mental health issue, medication can mean the difference between life and death, day and night, rest and no rest." — Peter M. Jansen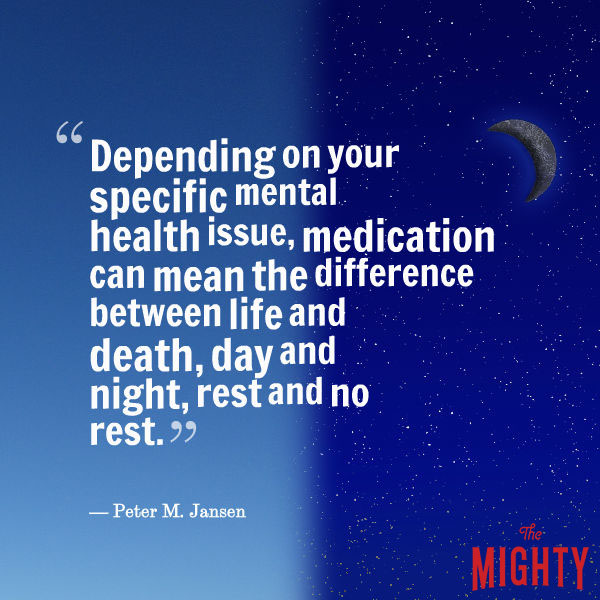 7. "I wouldn't be alive today without meds. The first time I started antidepressants, it took about four weeks, but I woke up one day and it was like the sun had risen in my mind after years of night. I could make decisions, advocate for myself and I was still, in every way, me." — Genevieve Oliveira
8. "You should always be hesitant before trying a new medication, but this is with all medications for all illnesses. You need to ask if the risks outweigh the benefits." — Carrie Reinboldt
9. "Taking medication for a mental illness does not mean you're weak, broken or crazy. It could be the best step to start a happier life." — Stephanie Holloway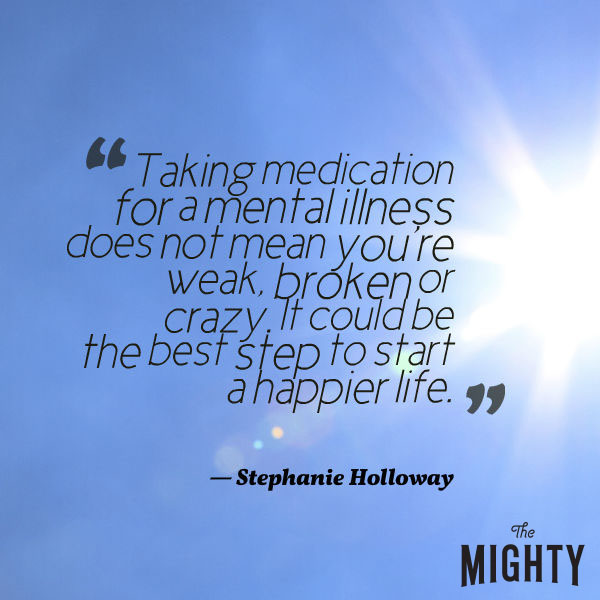 10. "Medication can level the playing field so you can get in the game of life. Then therapy gives you the tools to play!" — Lesley Nord
11. "I was on medication after medication, one after another, for many years, but I've been medication-free for about 10 years now. But what do they have to lose by giving the medication a chance? Whether you choose to take medication or be medication free, without saying yes that first time it's hard to make an informed decision." — Kristin Cottrill
12. "Medication can help you get through the fog." — Sheila Carter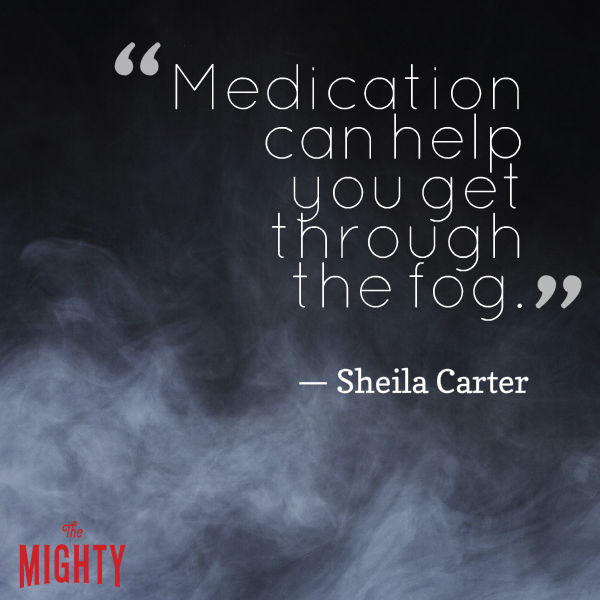 13. "The worst side effects you might experience or the most hate-filled judgment you might be subjected could be nothing compared to feeling helpless, hopeless and tortured for the rest of your life — or even worse, losing your life before it's your time." — Mariann Noonan Wilson
14. "You can't treat the body from the neck down." — Shelby Golden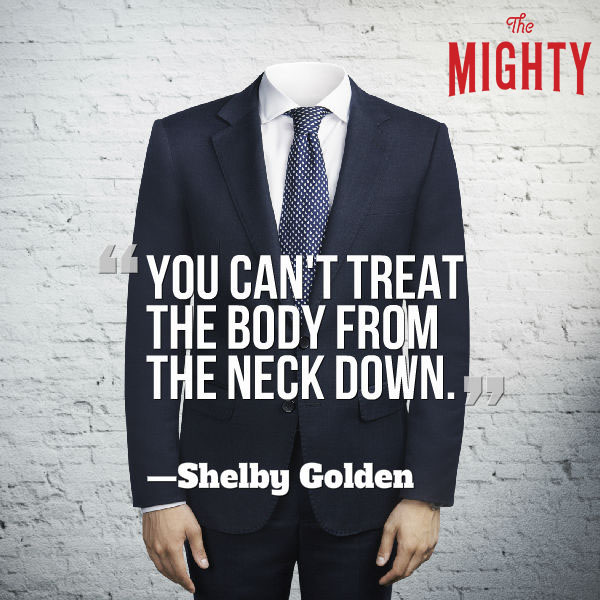 15. "It may take a while to find the right medicine, the right doses, the right combinations, but the process is worth it once you find stability." — Jennifer Lauren Welch
16. "You don't break an ankle and keep walking on it; you use a crutch so it can heal. Medicine can be a crutch until you're strong enough to heal on your own." — Savanna Smith
17. "Without medication, mental illness can be like fighting a long battle without a weapon." — Deanna Yourgans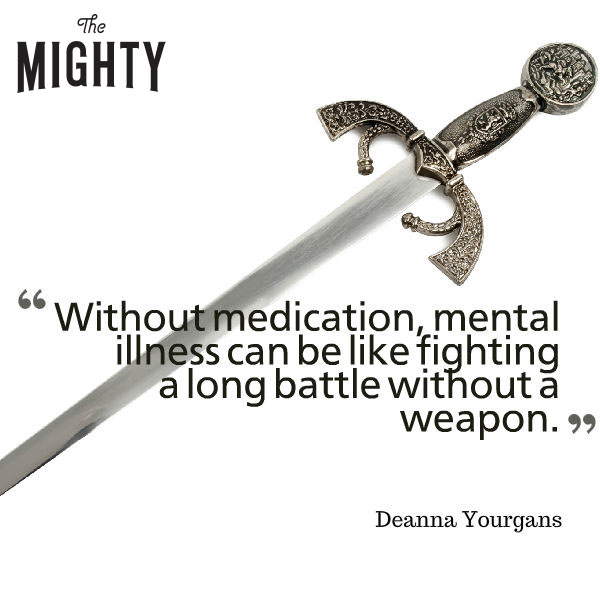 *Some answers have been edited and shortened
Editor's note: These answers are based on personal experience and shouldn't be taken as professional advice. Talk to your doctor before starting on any medication.
Originally published: September 17, 2015