What Taking Care of a Hamster Taught Me About Taking Care of Myself
---
I often feel silly when I say my hamster saved my life — how can something so small be so important, someone actually thinks twice about taking their own life?
But Neville did exactly that.
I've never owned a hamster before, and getting one halfway through university on a bit of a whim turned out to be one of the best decisions I've ever made. She helped me get grounded, she listened to all my rants without batting an eyelid (do hamsters have eyelids?) and was a non-judgmental presence when others around me were.
By looking after her I learned how to look after myself. Taking on the responsibility of nurturing and caring for a helpless animal really does bring home a lot of truths. Through this I learned the basic day-to-day things were enough, and I shouldn't beat myself up for not being able to do more.
Neville passed away in November 2015, and I recently drew a piece of artwork in his memory. I wanted to show what he meant to me and how he saved me because it's hard to actually put into words. But I now have another hamster called Mollie who's doing a fine job!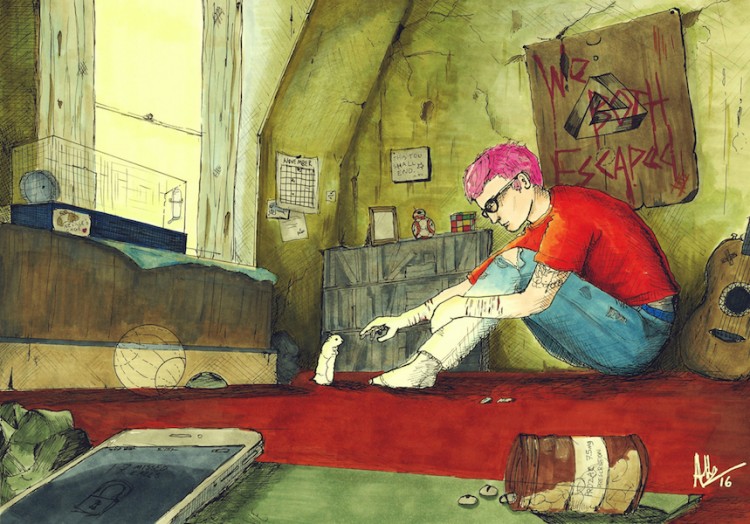 I don't think size matters when it comes to therapy pets. Yes, I'd love a dog — but my arthritis means I wouldn't be able to walk it. A hamster is a manageable size. They are super easy to look after, and I'd highly recommend a furry hamster companion to someone going through a low point in their life.
I've said it before, but size really doesn't matter — something very small can make a huge difference.
The Mighty is asking the following: What was one moment you received help in an unexpected or unorthodox way related to disability, disease or mental illness? If you'd like to participate, please send a blog post to community@themighty.com. Please include a photo for the piece, a photo of yourself and 1-2 sentence bio. Check out our Submit a Story page for more about our submission guidelines.