I Have a Mental Illness. I'm Not 'High-Functioning.' And I'm Fine With That.
---
I've been seeing a lot of articles about "high-functioning" mental illness. What does that even mean? Who gets to decide what "high-functioning" means? Is it defined by so-called productivity? Who chooses if productivity is what we should strive for? Today I'm digging deeper into the notion of "high-functioning" mental illnesses and what it means.
A lot of what is eluded to in these articles I mention is the non-realization or hiding of one's mental illness. Suffering in silence. Putting on a front. Is that something we should be striving for? When I was working full-time and only crying at work, sometimes I considered myself to fall into this category of "high-functioning." Now that I'm unemployed, I don't see myself relating to it anymore. But the only thing that has changed is my lack of employment.
This is more complicated than it initially seems because I am led to question whether or not the circumstance of being unemployed has deepened my symptoms (which it probably has) and I no longer can be defined as "high-functioning" because of it. Back to the notion of productivity – if I'm not actively contributing to the economy by working, does that mean I am not able to reach my full potential?
Find support in our community. Join now.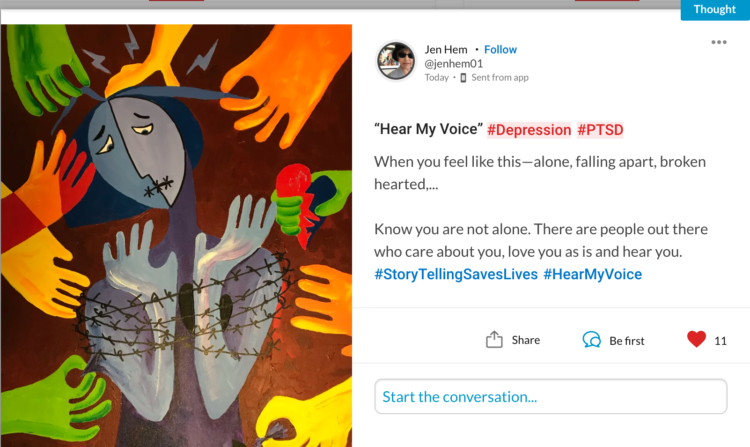 In a capitalist world where we are seemingly obsessed with money and the means in which to make it, the notion of being "high-functioning" by far outweighs the life-saving importance of self-care. In much of the reading I've done on this topic, productivity is defined as making an income, maintaining an acceptable appearance, having or appearing to have positive relationships, etc. Are these things we really strive for or things we are pressured to achieve?
Perhaps I've got it all wrong and the claim of being "high-functioning" with a mental illness is something to try for. Right now though, it seems shrouded in shame and secrecy. I think we need to look at our society's basic ideas around mental illness and disAbilities in general and the stigma that still surrounds them. Independence is the supposed gold star standard, whether it be economic or otherwise. That's not really fair to us folks with disAbilities who need any type of assistance to have a chance at living a fulfilling life.
It seems that we live in a world where apparent self-sufficiency is the motivating factor to a successful life. It's a world where we've been told to fear our neighbors rather than embrace them. This is the new "American Dream." Crush or be crushed. Personally, these ideals aren't ones that motivate me.
Perhaps it's time for those living with mental illnesses to focus on the most important thing: recovery. If it means we aren't what is classified as "high-functioning" because we don't have a job, can't keep a clean house, or struggle with self-care, then so be it. We are simply trying to live our lives the best we can. Screw these labels and superficiality surrounding them.
To end, I want to say that there is absolutely nothing wrong with having a mental illness and having things you are proud of achieving. Many people find passion and motivation in work. It's just my belief that it isn't necessarily a goal everyone needs to share. There are many other things to find passion and motivation in.
Originally published: February 2, 2019