When a Woman Undressed In Front of Me and My Service Dog
---
Just after my 24th birthday, I was diagnosed with bipolar disorder and post-traumatic stress disorder (PTSD). My partner of two years broke up with me soon after. Feeling broken and worthless, I was hospitalized for psychiatric reasons.
Shortly after I returned home from the hospital, I started doing some research. It certainly wasn't a surprise to be diagnosed with bipolar, but I'd never heard of someone having PTSD after a sexual assault. One thing led to another, and I discovered psychiatric service dogs.
Psychiatric service dogs are trained to perform tasks to assist their disabled handlers. There was a lot of information on American websites, but there didn't seem to be a lot of awareness where I live in Australia. I started training my first service dog later that year.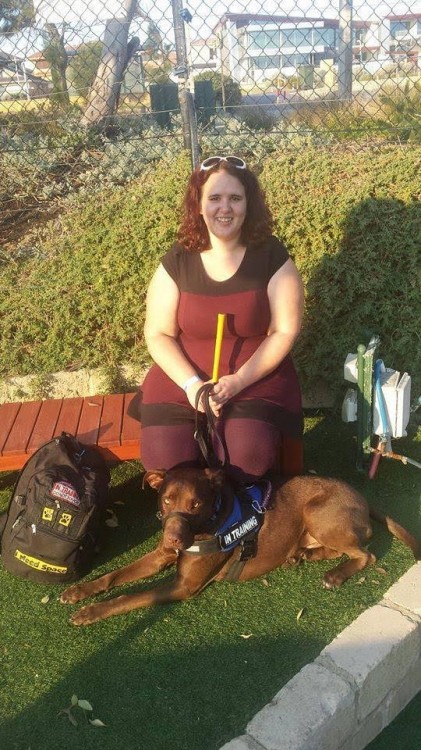 What a lot of people don't understand is that psychiatric service dogs aren't just for emotional support — my first dog helped me through a lot of hard times. She interrupted self-harm, provided deep pressure therapy to ground me and guided me when I needed to escape from large crowds of anxiety-triggering people.
It didn't take long until I realized the lack of awareness I'd noticed online translated into real life. When I was again admitted into a psychiatric ward, my service dog wasn't allowed to stay with me, or even visit. I was angry. I knew legally she had every right to be with me, but I was hardly stable enough to argue with the people who where supposedly taking care of me. Thankfully, some of the nurses saw how much she helped me, and would look the other way a few times a week when my partner brought her in for visits.
After seven weeks in the hospital, I was released. I still had a long path to recovery, but now I had another goal: help people understand not all service dogs assist the visually impaired. 
Once I was sitting on a platform waiting for a train with Musa, the service dog I trained after my first dog passed away. A woman approached me and sat a few seats away. I saw her glance over a few times, look at me, look at Musa curled up next to me and look back at me again. Then without a word, she started to undress. She didn't get completely naked, but changed from her work suit to her evening wear. Then, she sat back down like nothing happened. Shortly after I got up to check what time the train was coming, and read the information out loud.
Suddenly, the women leapt up and started screaming at me. She said I wasn't allowed to have a service dog because "obviously I wasn't blind." Why hadn't I spoken up when she was getting changed?
I quietly walked towards her, trying hard not to smile. I handed her an information card about psychiatric service dogs and gently said, "All guide dogs are service dogs, but not all service dogs are guide dogs. Perhaps next time don't just assume my disability is vision related because of my service dog."
I still have a good giggle about it to this day — it's amazing what people will assume just because you have a service dog.
I've finally been able to step up my education methods, and now carry customized information cards I hand out to people who have questions. I have four different designs for different situations: some for kids, for when I'm in a rush, for when I have an access issue and a general combination of the three. I also have stickers, which I give out to kids who ask before touching Musa.
It's important the public understand that service dogs are used for a range of disabilities. Not all disabilities are visible from the outside, but that doesn't make them any less disabling.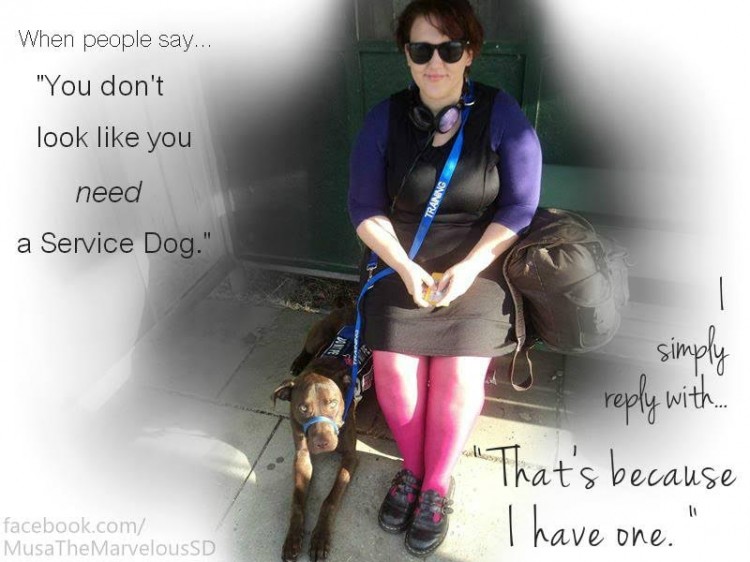 To learn more about Musa the service dog, visit Robbi's Facebook page. 
Originally published: October 28, 2015