5 Tips for Celebrating the Holidays With Chronic Migraine
---
In my experience, holidays + migraine = challenging. To take things to the next level, holidays + travel + migraine = extra challenging. This doesn't come as a surprise, given that the migraine brain craves regularity and generally isn't very excited about change. All of the outside-of-the-norm food, schedules, activities and demands that often come along with holidays can be extra triggering and make managing this condition even trickier.
However, even with migraine, life goes on. Holidays happen, close friends get married and family trips are planned. Just because these events are often more taxing on our hyper-reactive brains does not always mean we can't take part in and enjoy them. However, what it does absolutely mean is that we can benefit significantly from a little bit of mindful prep work before we head into holiday settings.
Here are my top five tips for holiday-ing with migraine and chronic illness in general. I hope you find them helpful!
1. Prepare a travel pharmacy kit in advance.

This is such a valuable tool for me both during the holidays and for travel in general. Taking the time to put together a portable pharmacy when you feel good can save you so much stress in the moments when you feel terrible. It also eliminates panic the night before you leave for a trip and are trying to make sure you don't forget anything you need (…often this is a long list for us migraineurs…). I wrote a previous blog post about how I create my travel pharmacy, detailing what I include and how I pack it. I highly recommend you put together your own mobile pharmacy for the holidays even if you aren't traveling. When I'm local for holidays, I throw my travel pharmacy in my bag before going out for an all-day event or over to someone's house. The reassurance of knowing I have everything I need in one place is invaluable and it's saved me more times than I can count.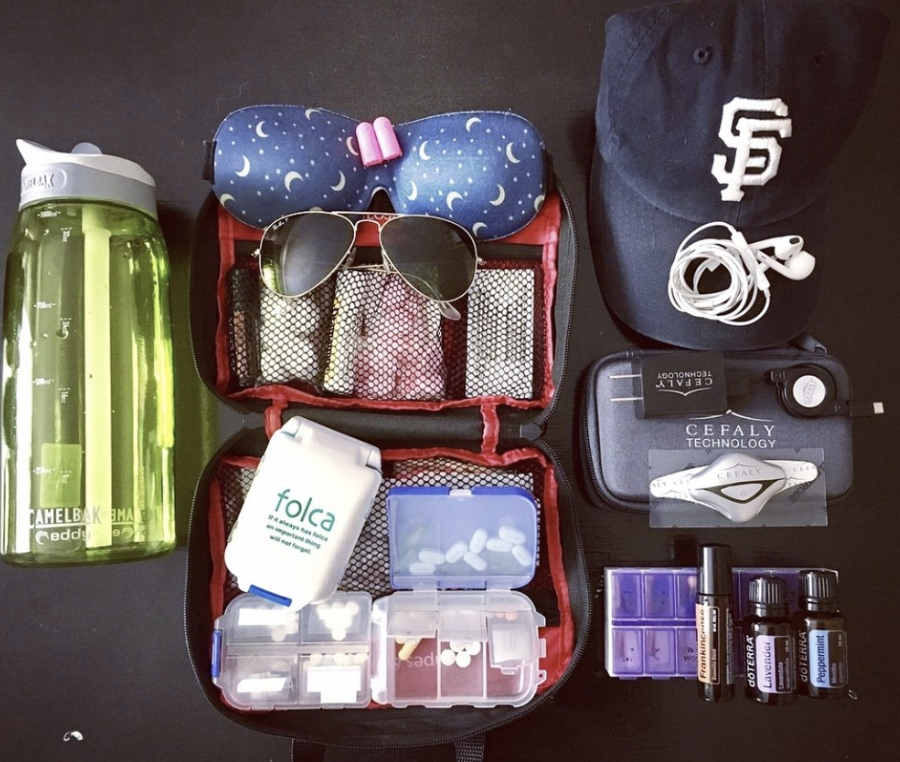 2. Have a clear exit route or backup plan for events.
Sometimes the build-up of anxiety about an event or lengthy activity can be worse than the physical symptoms that actually present on that day. When there's a dinner I really want to attend, or an upcoming family event, it can be really difficult for me to stop the flood of "what-ifs" that run through my mind. What if I'm not able to go? What if I wake up and need extra time for my rescue meds to work? What if things get bad in the middle and I can't leave? I've found that making an escape plan or identifying a place you can go take a break during the event can help to quiet some of this anxiety.
What this looks like can vary dramatically based on what event you're attending. My backup plans have included everything from lying down in my car (strategically parked nearby), leaving events early, to discreetly asking the host if I can use their bedroom for some dark/quiet time. Another helpful tip is to discuss your exit strategy with whoever you're showing up with. Give yourself an out, whether that is a specific time limit or pain level that lets you know it is time to go. My boyfriend and I usually set a "game plan" based on how I wake up feeling, and then adjust accordingly. It helps so much to be on the same page, and if I'm having a rough day and need to cut something extra short, it's easier for him to support me if he's been in the loop all day.
3. Have an honest conversation with yourself about expectations and acceptance.
This is probably one of the most important yet difficult tips. For some irrational reason, I find myself thinking that my body should know it's Christmas Eve or that I only have a few days to visit with family and just take a chill pill. But unfortunately, more often than not, my symptoms flare up wherever, whenever and for however long they want to. Rude! A helpful tool I use during holidays and travel is to compare my activity levels to a normal day at home. This helps me to reality-check my expectations, and feel less guilt when I have to miss out on things.
For example, if on a normal day at home, just one dinner out would be a triggering and draining activity, why would I expect myself to be able to do it three nights in a row, in addition to increased daily activity over the holidays? These questions remind me that my pace is different right now, and that is OK. This internal dialogue and self-awareness helps me to move through holidays at my own speed. Just because it's a special occasion doesn't mean you can or should push yourself much more than normal — in fact, it often means the opposite.
4. Communicate as needed with family and friends about expectations and necessary accommodations.
If brutal honesty with yourself is hard, it can be even harder to have those conversations out loud with others. But in my experience, an honest conversation with family and friends goes a long way in creating a foundation of understanding and compassion going into the holidays. I think many of us have a tendency to hope for the best and not speak about our migraines. But I've found that the more transparent I can be about my situation, the more kindness and empathy I receive in return.
The people who love you, want to support you, and often don't know the best way to do that, or have no idea how much you are actually struggling. Even my parents (MVPs of my core support team) and I have these conversations before I come home to visit. I update them on how my activity levels have been, how they can best support me and what they should expect from me in terms of being able to keep up with plans. These conversations take practice and can be uncomfortable, but are incredibly important and have helped me (and them) in many situations.
I used to feel so much pressure when I was asked to go to a holiday party, dinner or event; now I respond much more openly about what is and isn't realistic for me. After years of practice, instead of saying, "yay, can't wait!" to invitations and hoping for the best, I find myself replying with some variation of, "Thank you so much for thinking of me, it means the world to be invited. Things have been really challenging and unpredictable with my health lately, and I just don't know if I'll be able to make it. I'll keep you posted and would love to be there if I can."
5. Control what you can and take comfort measures with you to create a cozy and calm space.
For me, this means making sure that I carry sunglasses, earplugs and a baseball hat in my purse at all times. It also means packing snacks, water, an eye mask, comfy clothes and headphones in an extra bag that usually lives in the car. If overhead lights are bothering you, wear your hat and sunglasses inside. If noise is kicking things up, pop in your earplugs. I wear earplugs during dinners all the time, because multiple conversations and can really increase my pain. The earplugs take things down a notch, cutting down on background noise, but still allow me to understand what everyone is saying.
Regarding comfort measures, bring things that help cue your body to relax. I travel with a mini diffuser and essential oils, favorite pillowcase, blue light glasses, tea bags, a microwaveable heat pack, an ice pack, and fuzzy socks. This is beneficial both in the middle of managing really high pain and just for keeping the migraine brain happy, comfortable and in a normal-ish routine.
*Very Important Bonus Tip: Please please remember that not everyone will get "it" (or you) and that is OK. It's not your job to make sure that everyone fully understands what you're going through. It is your job to advocate for yourself, treat yourself kindly and do what you need to do for you. There is no "right way" to "do" the holidays, and it's more than OK if you have to do them a little bit differently than you used to.
Hoping your holiday season is filled with lots of good moments of love and gratitude. And for the tough moments, know you're not alone, and they will pass.
Originally published: December 21, 2019