How Migraines Have Affected My Life for the Past 13 Years
---
13 very long years. First it was just a dull pain that would occasionally happen. My dad would give me a wet wash cloth, one of his favorite go-tos, and I'd be OK within a few minutes. Within a few years it was more often than not. Fast forward to when I was about 18-19. It was an everyday hammering drill bit going into my skull on the right side. Now, it's every single day with the occasional few days off.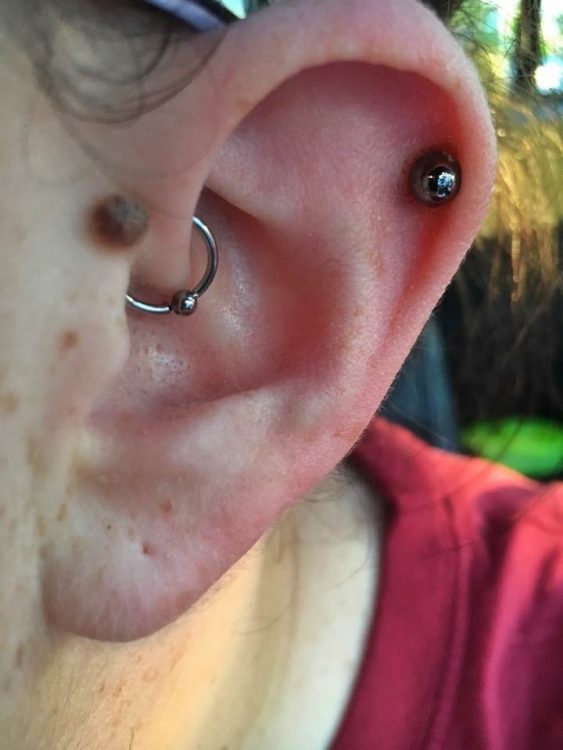 My husband had told me I need to get my migraines taken care of. I gave in and listened. The husband was right.
My first neurologist didn't do a thing. He just kept test trying me on different medications. He did an MRI, MRV, MRA, CAT scans, EEGs and EKGs. Nothing. It said I was normal. After 27 medications I told him nothing was working and he said I couldn't be in that much pain. I left him.
My second neurologist seemed great at first! He tested me on 16 medications. Nothing again. I told him. He said OK, let's try Botox. I was so excited! I heard so many positive things about using Botox for migraines, but unfortunately it was short-lived. The first two rounds helped. The doctor said give it three or four rounds and see. I was optimistic and said OK, no problem. Six rounds later it didn't do anything. I called one night for the office after hours because I was in so much pain. He tried another medication and it didn't do a thing. So now 17 medications from him. He said if the pain's that bad, go to the ER. Well no crap, if it was that bad and I could move, I would – but I couldn't. I left him.
My current and lucky number three neurologist. After four years I finally found a great doctor who genuinely cares. He went over my history of medications and everything. He only tried three medications and they didn't do anything. He said to let him try Botox again because it helps when a doctor knows what they're doing and where to inject them. Wow! The first round was beautiful and helped tremendously! I was so happy! He then gave me a sample of cambia to try. Wow! This guy is hitting the nail on the head! Lucky number 48 for medication and thankfully it helps! Not all the time, but more than anything else I've ever tried. Botox round two went OK; I had a rough time. Botox round three is July 26th.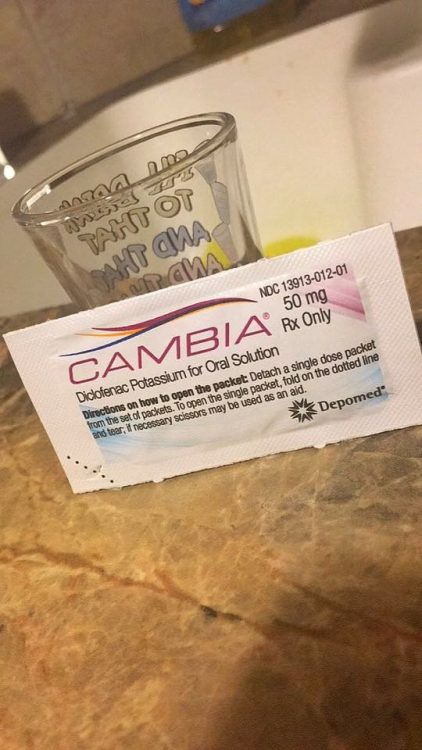 The first time I met him we went over my history of my headaches that had turned into daily chronic migraines. He asked if I was ever abused. I didn't know how to answer. I said yes. He didn't press on but asked if I was hit in the head and with what. I just started spilling out about my mother's abuse when she and my dad got divorced. The doctor said that could very well be the cause for my migraines. He took all new tests and scans on me after learning that. But again, the tests came back showing nothing. We even talked about how I have anxiety and depression. I felt like I was more in therapy than seeing someone for my migraines. I never open up to anyone about what my mother did to me as a child, not even my husband. This wonderful doctor made me feel so comfortable though and it felt good to talk about it.
On February 13th, 2017, I was getting ready for work as normal when I started to feel very nauseous. I felt like I was maybe going to have diarrhea so I tried – nothing. I thought I was going to throw up – nothing. I tried to walk out of the bathroom to go get my husband who was still sleeping and I only made it to the living room.
In the few seconds it took for me to get from the bathroom to the living room my vision went black, I had severe ringing in my ears, I was all sweaty and then I passed out. When I fell I bashed my head on the wooden floor. I laid there in pain, unsure of what was going on. The only real thing I remember was the feeling like I was going to die right then and then. It was the scariest thing I've ever had happen to me.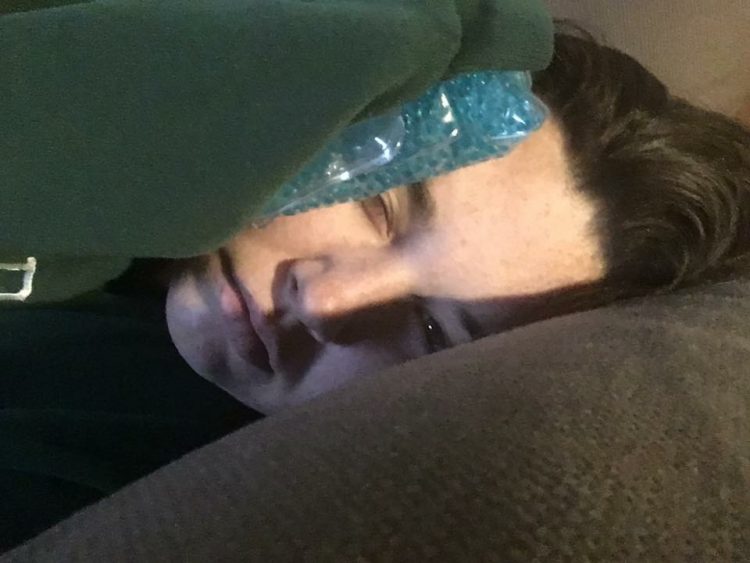 I came to in less then five minutes, got up still feeling the same way and made it to our bedroom where I hit my husband and fell onto the bed. He woke up faster then I've ever seen. I told him to call 911 and that I didn't feel good, then I just passed out.
I was taken to the nearest hospital by ambulance. They didn't do a damn thing! They didn't do tests or anything. They gave me fluids and sent me home. Later that afternoon I called my neurologist. He immediately asked how I was feeling, at which point I felt much better. He ordered new tests and scans to make sure it wasn't anything serious. Again, the tests came back with nothing.
It's now the brutal time of the year, July. I have done everything I could for my migraines. I've tried 47 too many medications. I've had eight rounds of Botox. I use essential oils daily. I love my ice packs. My favorite thing to do is lie in the bedroom with it dark and cold with a lot of blankets. My weekends consist of me thinking, if I do something, will that start the pain? I track my migraines with Migraine Buddy – the best app. I highly recommend it! I'm in bed before 9:00 every night. I feel like I'm 80 years old and I'm only 25.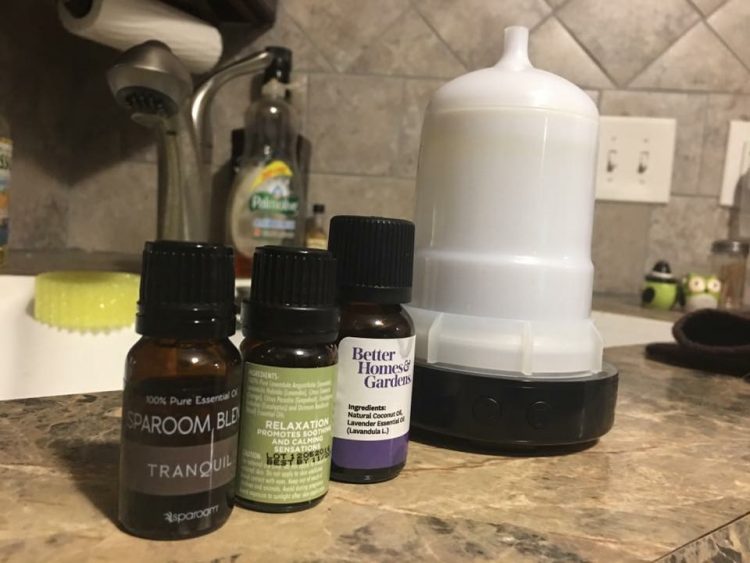 Every day is a struggle. Not many people realize how much migraines can affect someone because according to most people, they're "just a headache." Even my husband still can't understand how bad they get. We've been together nine years in October and he still isn't fully able to understand what they do to me. My goal is to help others with their struggles with migraines, anxiety and depression. I know what it's like. I do it every day and have for the last 13 years.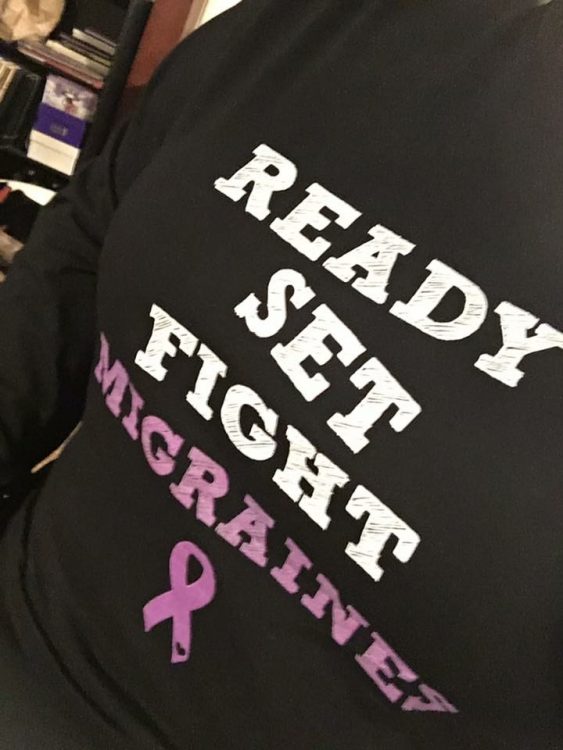 Please do not judge someone if they cancel plans on you due to a migraine, or if they all of a sudden go into a daze and stare because of the pain. Don't judge them if they don't want to come to your BBQ on a sunny, hot day. Learn to love a migraineur no matter how hard it is to understand what they're going through. If they want space, give it to them. Just be there for them, even if it's just sitting with them during an attack or getting them their medication. Don't ever judge a migraineur.
We want to hear your story. Become a Mighty contributor here.
Originally published: July 24, 2017