16 Memes That Might Make You Laugh If You Have Migraine
---
As someone who has lived with chronic migraine for over half of her life at this point, I have adopted a wide variety of coping skills to help me manage everyday life. Some of these coping methods include keeping my home fully stocked with migraine relief products, while others are hacks I've learned to manage migraine symptoms throughout the workday, and asking my partner for support during migraine attacks.
However, advanced plans and relief products don't always stop the delightful symptoms that frequently make themselves known throughout the day and while I sleep at night. In these moments, I personally find it helpful to try to find the humor in the situation, even if laughing off the pain seems a bit morbid or out of place.
If you're like me and enjoy humor that almost spills over into self-deprecation, then you will likely enjoy these memes that might make you laugh if you have migraine.
1. You may laugh about this one, then cry as you think about that life you once dreamed of…
View this post on Instagram
2. A relatable scene of how we all look when someone turns on the light during a migraine attack
3. Just another day with migraine
4. What we all want to show that coworker or family member who just doesn't get it
5. How it feels when you FINALLY get a symptom-free day
6. The one those of us who have spent over a decade with migraine all relate to
7. Exactly how we all feel anytime the barometric pressure changes ever so slightly
8. When your body completely skips the prodrome phase and jumps straight in
View this post on Instagram
9. The way we all feel when we try to be productive but the symptoms kick in
10. What we all want to say anytime someone refers to our illness as "headaches"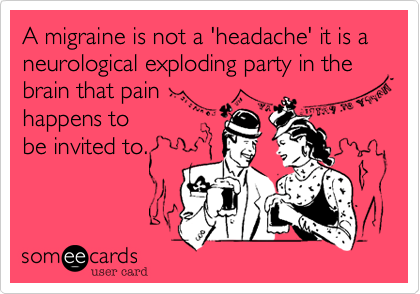 11. And this one when you've already explained it but people don't take your migraine seriously
When I have a migraine and someone asks if I want some Tylenol for my headache.???? pic.twitter.com/EIMcaVHaZH

— Krista (@Kristasunshine1) April 19, 2022
12. A meme to save for those days when your migraine attack never seems to end
13. How conversations with a primary care doctor feel
14. Another funny (but sad) reality for those who don't always have luck with their abortives
15. The perfect description for those who have never experienced our life with migraine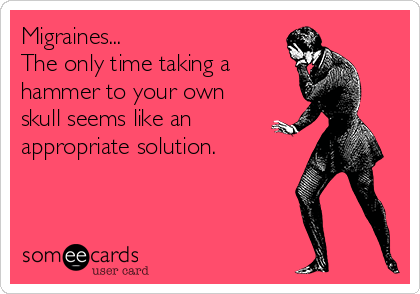 16. That relatable feeling at the end of a migraine-free day at the office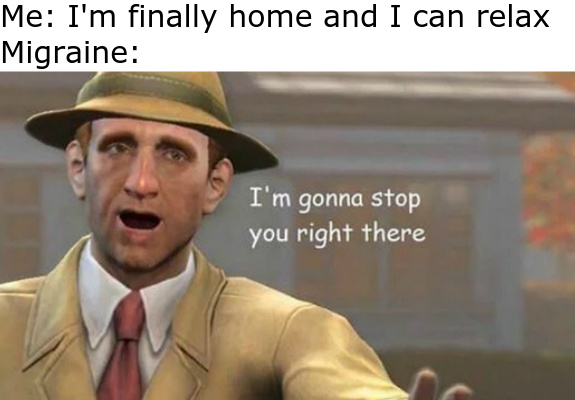 Life with migraine is no joking matter. Between the accommodations we need just to survive and the misconceptions about our condition we deal with day in and day out, it often feels like an uphill battle. But hey, at least we get the last laugh!
Originally published: April 26, 2022