The Unexpected Friend My Daughter Made as Her Disease Progressed
---
Shawna was 23 years old when we first met her. She looked like a Kardashian, had a cool and tough veneer like Angelina Jolie mixed with a bit of Ronda Rousey, and possessed the patience, understanding, and commitment of Anne Sullivan. She was a fierce girl with a heart of gold. I never would have thought she'd become my 10-year-old daughter's best friend.
My daughter Dalia's first real play date, one with a friend of hers rather than the kid of a friend of mine, was three years earlier, at age 7. Dalia has MERRF syndrome, a rare degenerative disease, and had recently started using a walker to help with her wobbly gait. I hadn't anticipated the steep stairs leading up to her friend Karla's front door. I hadn't yet learned to ask about accessibility ahead of time, and likely would have turned right around if Karla's father hadn't seen us struggling and come outside to help us. The next time we decided to meet at our place. Karla ran from room to room to see what toys we had, before settling in our third-floor loft. But after five minutes there, she wanted to go play in Dalia's room, then downstairs to check out the treats, then back up to the loft. Dalia simply couldn't keep up.
And that was before the wheelchair.
Once Dalia was in a wheelchair, the number of play dates quickly dwindled. The fact is most homes aren't wheelchair accessible. Why would they be? Ours wasn't fully accessible until Dalia had been in a wheelchair for two years. At first we'd invite Dalia's classmates to our house, where Dalia would be more comfortable. But as Dalia became weaker, her friends became stronger. They were running and doing cartwheels and playing hide and go seek. Dalia was losing her ability to stand up. Birthday parties were held at Chuck E. Cheese or other places where the kids get jacked up on sugar and run around until they drop.
The last party I took Dalia to was at a bouncy house place. Dalia fixated on a ceiling-high slide. To reach the top, you had to climb up a tall set of inflated stairs – a bit of a feat even for someone with two legs that work perfectly. I stood behind Dalia, my arms under hers, and clumsily carried her up those stairs time and time again so she could sit on my lap and ride down the slide with all the other kids. The rest of the moms sat on benches that lined the walls, chatting or checking their phones while their children ran wild. I hated that party.
Even the quiet activities became more difficult for Dalia; her tremoring hands made holding a game piece or paintbrush nearly impossible. And then, after she got a tracheotomy and could no longer speak, the play dates stopped altogether.
So along with her voice and her mobility, another real loss for Dalia was the chance to have a circle of friends to discover the world with. No slumber parties, no team sports, no fighting with her parents and seeking solace from her pals.
Dalia missed three months of school when she was in the hospital getting her tracheotomy and she'd miss another two recovering from the operation, so the school district sent a teacher to our house to tutor Dalia a few times a week. The first time Shawna walked into the room, Dalia recognized her from school and shut down completely.
But Shawna didn't let that faze her in the least; she pulled out the worksheets and dove right in. Dalia tried all of her tricks to get Shawna's sympathy; she pouted, pretended to fall asleep, and acted like she couldn't hear a word Shawna was saying – even after we changed her hearing aid batteries.
Shawna simply kept going. She wasn't frightened by Dalia's condition, and she refused to pander to Dalia's physical weakness. It was only after she and Dalia became the best of friends that she treated Dalia like she was special – and then only because of Dalia's kindness and sense of humor.
The connection between Dalia and Shawna was somewhat magical. Shawna was the one to show us that Dalia's fragile body didn't mean she needed to be treated with kid gloves. She was the first to call Dalia out on cheating at "Candyland" and the one who was brave enough – way braver than my husband or me – to hold Dalia in her lap so she could sit in the pool without getting her ventilator wet. She spent hours helping us transform Dalia's wheelchair into a sleigh for Halloween so Dalia could ride in style as Elsa, and she never hesitated before moving aside the breathing tube Dalia now needed and plopping next to her in bed after nap time. When Dalia became fixated on getting tattoos like Shawna's, Shawna spent hours drawing replicas of her tattoos on Dalia's tiny arms.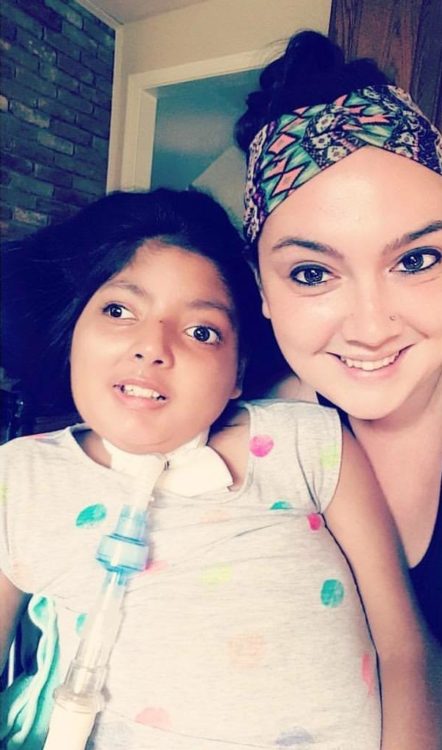 Shawna treats Dalia like a perfectly normal kid, which is probably one of the reasons Dalia adores Shawna so much.
But the adoration goes both ways, as evidenced by the huge dahlia flower Shawna had tattooed on her leg with Dalia's handwriting of her own name stenciled underneath. When I asked Shawna what she says when people see her tattoo and ask her who Dalia is, she replied, "my best friend."
Shawna, who has a bevy of friends her own age, sees Dalia for who she is.
And once you do that, it's impossible not to fall in love with her.
I asked Shawna about it once, and she explained it to me simply. "I love the way she loves. She's in this difficult situation that she has zero control over, but she worries when her dad gets poison ivy or when Blackie-O is trembling when he goes to the groomer, because she genuinely loves everybody so much. And when you tell her we're running errands at Target or Petco she starts dancing and acts like it's the most exciting thing we could be doing. She's the most enthusiastic person I know."
There are so many things I wish were different in Dalia's life…and having a tight circle of friends like I do is somewhere down the list.
But she has Shawna and Shawna has her.
It's not the kind of friendship I expected, but I know we're all better off for it.
Has your child struggled with finding meaningful relationships because of their disability? Let us know in the comments below.
Originally published: August 21, 2019