When a Woman at the Tee-Ball Field Told My Son He Didn't Belong
---
My husband and I hemmed and hawed all winter over whether or not to sign our 4-year-old son up for tee-ball. We wanted nothing more than just a small amount of normalcy for our little guy, but we knew it wouldn't come easy. And we knew it would come with a price.
Our youngest son, like our 8-year-old daughter, has mitochondrial disease. It's a neuromuscular disorder that can manifest differently for different people. For our son, it causes his lungs to be weak, his muscles to get tired easily, his nervous system to deregulate and many other things that can make playing a sport difficult. 
Nonetheless, we made a promise not to hold any of our children back from trying anything they wanted to do in life within reason, and our boy wanted to play ball.
It wasn't even the second game, and he was already having extreme symptoms and needed oxygen. There was no way he was going to be able to play on this day, but he still wanted to go watch. So we put on his uniform, placed him in his medical stroller and off we went to the ball field. 
He was content, which made us feel better, but there was still a looming sadness pulling at my heart. How many days of his season would be spent like this? As more and more questions rolled through my head, the harder it got not to feel that sticky, hard lump in my throat. I shook my head to break from my inner turmoil and turned back to the game, clapping for the little guy who just made it to first base, jumping up and down for joy and getting high fives from the first base coach. Gosh, I wish that had been our boy, I thought. There it was again, that ever-growing lump.
"Mommy, I hungry. I want a big pretzel." My little man rubbed my leg with his sweet little hand and looked up at me with his piercing grey-blue eyes. His request could not have come at a better time. It was a much-needed distraction from my intense internal dialogue. We got up and moved promptly to the concession stand.
As I wheeled him up, there was a line. Several people looked away, some smiled and some tried to act as though they hadn't seen him. We're used to it. Typically, the stares and looks are worse when we are out with all four of our kids — two have wheelchairs and medical equipment, and one has autism and is often doing something to draw attention. We're definitely accustomed to the stares. We don't enjoy them, but we know they're coming. What I didn't expect was one woman's long, hard stare.
"Wait, is he actually wearing a team shirt? He doesn't actually play, does he?" she asked.
Before I could even open my mouth to answer, she continued. 
"There is no way he actually plays ball here, how could he? We don't even have a 'special kid' team? That's across town. Did they just give him a shirt to wear so he could fit in or something?"
I didn't even know how to respond or if I should. Was it even worth a response? She wasn't even really asking questions as much as accusing us or the league of doing something wrong. I was shocked to say the least. 
"He plays," I said.
"How the heck does he play with that on?" she shouted. 
Then she started tapping people around her and pointing him out. 
"Can you believe that?" she asked a person next to her. "They actually allow that little boy to play here on these fields. It's not right. He should be off there across town, playing with all of them special kids. He doesn't belong here. What a liability. He could just stop breathing or trip a kid with that tube or something."
Again, I just stood there with the lump in my throat growing larger and larger. How could she sit there and say these things in front of my child? How could I let her? Should I explain that he'd likely join that wonderful team across town next year when he's expected to do more than hit a ball off a stick and have someone else run the bases for him? I couldn't say anything. And every time I tried to open my mouth, the lump in my throat blocked my words. Worse still, every single bystander just let her continue. I never would have done that in the past. But here I was now, and I couldn't even stick up for my own child.
We walked away with his big pretzel and a huge hole in my heart. We weren't even 10 feet away before the tears started flowing like a waterfall. There was so much I wanted to say and couldn't let out. I felt like such a failure to my son and to myself. Looking back, I still do. What could I have said to that woman without making my son feel like there was something so different about him? 
He's just a little boy, a 4-year-old boy who wants to play baseball. He wants to sit in the dugout, talk with his friends, hit the ball, have the dirt pound under his feet and feel the magic of the ball as it slides on the ground and into his glove. He's just a little boy, a little boy who wants to be like everyone else. Please just let him have these moments while he can.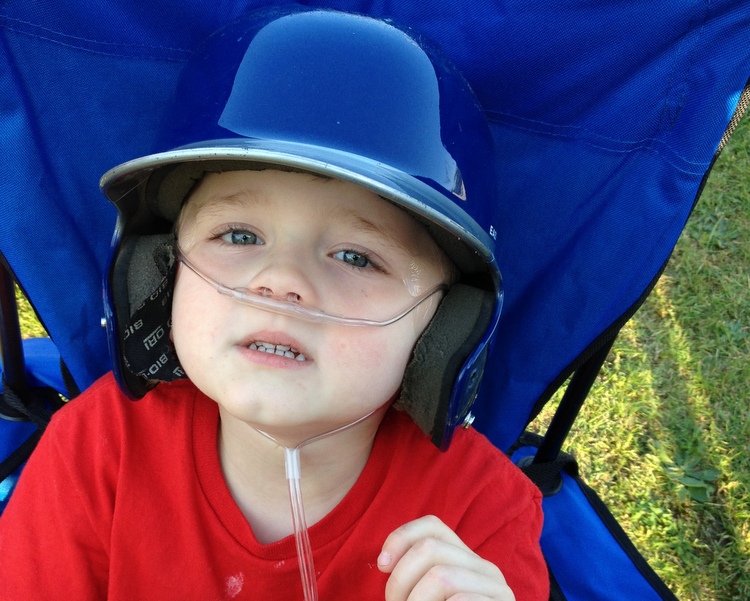 Find out more about Kate Sytsma's family on Learning to Let Go: A Different Dream for Us.
The Mighty is asking the following: Describe a moment you were met with extreme negativity or adversity related to your disability and/or disease (or a loved one's) and why you were proud of your response — or how you wish you could've responded. If you'd like to participate, please send a blog post to community@themighty.com. Please include a photo for the piece, a photo of yourself and 1-2 sentence bio. Check out our "Share Your Story" page for more about our submission guidelines.
Want to end the stigma around disability? Like us on Facebook.
And sign up for what we hope will be your favorite thing to read at night.
Originally published: June 8, 2015