When I Have to Ask My Daughter to Wait for Me Due to My Illness
---
"Wait for me!" I called to my daughter as we headed to the bus stop. Just like that, just like always, she did. I watched her beautiful honey curls sway in the wind as she waited for me. Her beauty astounds me as it always has. I took a moment to take her all in. Suddenly I started to feel uneasy, and it didn't take long to figure out why.
For the three years our little girl has been going to school. I have always walked her in to her classroom, or to her bus stop. She has autism, and I don't like to leave her completely alone, but regardless, I would walk her — I just love that time together. She has made great strides over the years in gaining independence and safety. She no longer screams and cries in the street or throws herself on the ground. She no longer runs around the bus instead of on it, and due to necessity she has a tracking anklet if she ever does wander off. We have spent years building all the proper steps to create a safe environment for her to exert her independence. I can say with confidence we are getting there.
This day when I called her to wait for me was different. It was no longer because she couldn't safely cross the street without me, and I knew that — it is because I am no longer able to keep up with the normal stamina of an 8-year-old, and emotionally I can no longer cross the street without her.
I try really hard not to let my illness get in the way of my children's development. I never want to hold them back. As my mitochondrial disease progresses, it is a constant check-and-balance to be sure I am not asking them to be the mature one in our relationship and that I am not depending on them when they should be depending on me. It is a careful balance, one we do very well with most of the time, but it is difficult, especially since two of her siblings are also afflicted with the same disease.
I blinked back tears and she pressed her "I love you" sign on the window of the bus as she rode away. Boy do I love her. Like the whipping winds on a warm sunny day, that girl fills my soul and keeps my sails afloat. I pressed the mirrored "I love you" sign against my heart. I could feel the pitter patter that connects us.
The next morning I got her bundled up and watched her as she took inventory of herself in the mirror. She looked at me when she was done. "Do you have your crutch, Mommy? Do you need me to help you with your shoes? Do you think you should stay in today? It might be too much. I love when you walk me but maybe you are too sick. Maybe Miss Emily should do it? Are you sure you will be OK?" My heart broke inside piece by piece as I listened to her beautiful little heart pour out her worries, ones a mother should have for a child, not vice versa.
We stepped out the door. She skipped up ahead. As she got to the end of the driveway she methodically placed her hand out waiting for me. I was still about eight paces behind her, taking careful steps with my forearm crutches. "Come on Mommy, I'm waiting for you," she said with a sweet calm to her voice.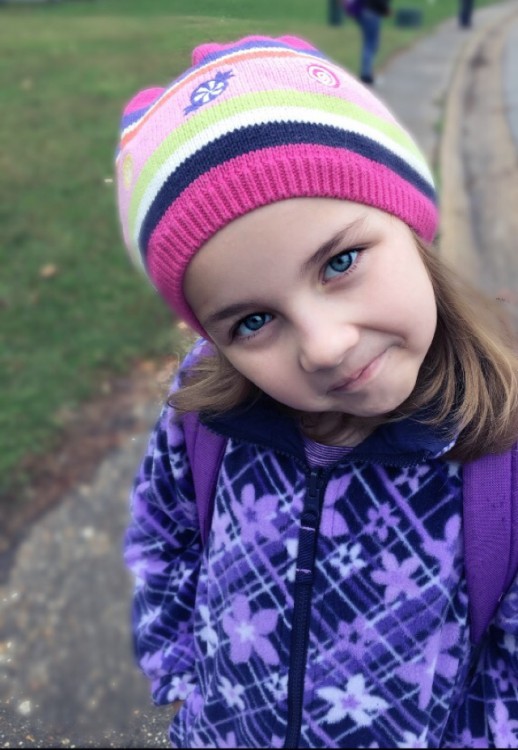 "It's all right, love. Mommy will watch you cross the street. Just make sure you look for cars." As the words left my lips a smile formed, a mirror of the guilt that I was able to release.
"No, Mommy, I want to cross the street with you. I like to cross the street with you. Even though you walk slow, I'm in no hurry." She put her hand out again and shook it methodically. She looked back over her shoulder and smiled. "Now come on, I'm waiting for you."
I took her hand with purpose that day and crossed the street. We both smiled until the bus rolled up. From her bus seat she flashed me her "I love you" and her eyes locked with mine. She didn't have to say a single thing. I knew right then and there her heart could read between the lines of mine. No matter what we go through or how much things change, my baby girl will always wait for me.
Follow this journey on Learning to Let Go; A Different Dream for Us.
The Mighty is asking the following: What's the hardest thing you deal with as someone with a chronic illness, and how do you face this? What advice and words of support would you offer someone facing the same thing? If you'd like to participate, please send a blog post to community@themighty.com. Please include a photo for the piece, a photo of yourself and 1-2 sentence bio. Check out our Submit a Story page for more about our submission guidelines.
Originally published: March 19, 2016