The Importance of Communication to a Mother and Daughter Care Partner Team Managing a Chronic Illness
---
Sponsored by

When Shiela was diagnosed with relapsing multiple sclerosis in 2002, her first reaction was relief. Shiela's body had gone entirely numb from the neck down – a frightening experience that had Shiela fearing the worst. Shiela, along with her husband, Chris, and daughter, Brittney, was relieved to hear her condition wasn't as life-threatening as she had feared, but MS is a serious and complex disease often requiring constant management and care. For Shiela, the diagnosis was not life-ending, but it was certainly life-changing for her and her family.
After Shiela's diagnosis, Chris and Brittney immediately took on the roles of care partners, even though no one was entirely sure what the future with MS would look like. At the time of Shiela's diagnosis, Brittney was only 13. She struggled to figure out how to respond to her mom's diagnosis, but still did everything she could to support her and learn about the disease.
As Chris and Brittney learned to work together to help care for Shiela, they quickly realized the importance of strong communication. "If we're not communicating with each other, it doesn't matter what anybody's going through," said Shiela. "We can actually build up some resentment or fears."
Together, the family attended events hosted by the local chapter of The National MS Society where they learned about adaptations that could help Shiela navigate day-to-day life more easily. Many of these changes were just simple adjustments around the home, but they were immensely helpful in allowing Shiela to maintain her independence. In the kitchen, for instance, the family changed up the layout, making sure often-used food or cookware was on lower shelves and not out of reach. They also swapped out much of their fragile plates and glassware for nicer, plastic ones so that dropping and breaking things wouldn't be an issue.
While many of these adjustments were made with Shiela in mind, Chris and Brittney adopted all of the same lifestyle changes to not make Shiela feel alone in the situation. "That made me feel better," Shiela said. "Like I wasn't different, like there wasn't anything wrong with me, and my family was there to support me. That was an amazing feeling."
As a care partner, Brittney and her father shared many of the responsibilities around the house. She would help out with chores or prepare dinner to take the burden off her mom, allowing her to avoid overdoing it and feeling drained for the next couple of days. Brittney was trained in administering her mother's injectable medication and would help distract their pets while Shiela was getting her shot. For several years she was around to help with all of the day-to-day tasks and care for her mother, but even after she moved away from home for college and later to pursue her career, her role as a care partner continued.
"A care partner is not a babysitter," Shiela emphasized. "It's someone who provides care, and, depending on the situation, that can be done remotely. It doesn't have to be day-to-day in the house to have a big impact."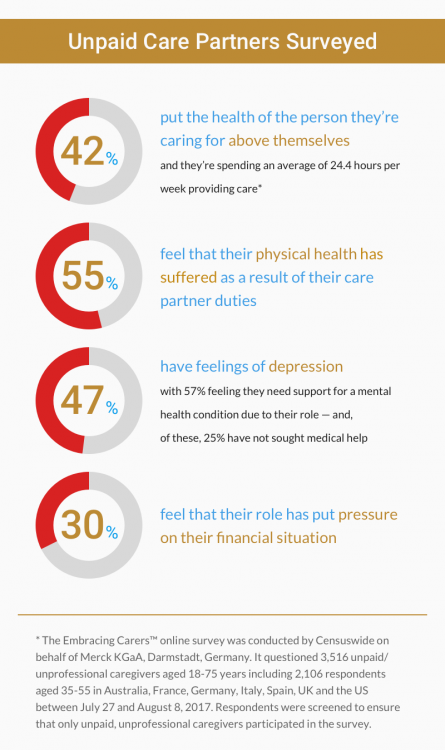 Once Brittney was no longer living at home, she had to figure out how to support and care for her mother in a different way. The biggest change for the family has been in learning how to communicate differently, as individual needs and challenges are always evolving. Since Brittney is not there in person to see how her mom is feeling each day, she talks frequently with her dad to stay updated on Shiela's condition. Brittney and Chris work as a team to stay consistently informed regarding the symptoms Shiela's experiencing and any new information – good or bad – that comes from every doctor's appointment.
Shiela wanted to make sure that Brittney was able to pursue her dreams and career – even if that meant moving to another state. Although it's been difficult for Brittney to adapt to being so far away, she says her mom constantly reminds her of how much support she provides, even from a distance. "Sometimes it's hard for me to remember that I can still provide any kind of assistance," she said. "But if I'm consistent or just around still, even digitally, that can be helpful for my mom's mindset."
Anything that can lift Shiela's spirits or bring a smile to her face is a meaningful way for Brittney to provide emotional support for her mom. It's this consistent and honest communication that has helped the family foster healthy relationships with one another.
Brittney explained that many of the care partners she meets feel frustrated and overwhelmed by the need to constantly be watching and assisting the person they're caring for, when some time apart can actually be hugely helpful for both parties.
"My mom has expressed that it's nice for my dad and I to go out and do something on our own, or when I was growing up, to go to softball practice for a few hours," Brittney said. "We got to reset by doing that, and Mom got to have a few hours of independence, not being watched all the time by somebody, which can be really draining. It was good for all of us to have that clean break of alone time, of just being able to work on ourselves a bit, to be able to be more adaptable for the next thing that was coming."
"Communication isn't just about status updates and checkpoints and making sure you're on the same page of medical treatment, but also making sure you know how to appreciate each other and how to help each other the best way for the individual person," Brittney explained. It's an issue that's common amongst all types of relationships, not just patients and care partners.
Communication in which both parties are checking in and expressing love and gratitude in a meaningful way is a critical part of maintaining a healthy relationship.
"I need to take care of my husband. I need to take care of my daughter. It's not a one-way street," said Shiela. "And that's why I make sure that people, when they think of the term 'care partner', they're not thinking babysitter. One, that's upsetting to the person with a disability or illness – that I need a babysitter, that I can't be alone or I couldn't possibly do it without them. In a way that's true, but it's also important that both parties know we're in this together. You have needs, I have needs, let's discuss them and figure it out."
Although multiple sclerosis has shaped the family's lives in many ways, it is not what defines them. Shiela may have MS, but more importantly, she is a wife, a mother and an active member of her community. And despite the many challenges and relapses she has faced due to her illness, Shiela remains optimistic, hoping to one day be cane-free and not require any assisted mobility devices to get around.
But even if her MS does progress and she needs a wheelchair or scooter? "I'll be wearing stilettos," Shiela promised. "And they'll be the expensive kind, because I won't be walking in them, and they won't wear out. There's gotta be something good that comes out of it."
Shiela is an MS LifeLines Ambassador living with relapsing MS. Brittney is an MS LifeLines Ambassador care partner. MS LifeLines Ambassadors are sponsored by EMD Serono. For more information please visit MS LifeLines. To share your story to help inspire others, please visit  My Story.
Getty Image by bowdenimages