Is It OK to Ask Someone About Their Diagnosis?
---
I get asked what my diagnosis is every day, and I never offer a straight answer. I do this because I fear by handing out a clear, searchable term, I will hand away ownership over my identity with it. My illness is both rare and obscure; specific symptoms are highly individualized. It is impossible for me to speak for everyone who shares my illness, and it is impossible for a Wikipedia page to tell you everything there is to know about my body.
I write this article to break the silence; I believe, through my discrepancies, I am ultimately allowing assumptions about me and other people with rare illnesses or disabilities who face greater marginalization than I do, to go unchallenged.
So… what is my diagnosis?
I have a neurological disorder called neurofibromatosis type 2, or NF2. NF2 results from a mutation in the "Merlin" gene on chromosome 22. This mutation can be either inherited or spontaneous; in my case, it is the latter. Merlin, an acronym for Moesin-Ezrin-Radixin-Like Protein, normally acts as a tumor suppressor. Thus, the mutation of the Merlin gene results in benign tumors, or schwannomas, that grow along the central nervous system.
The average life-expectancy for a people with NF2 is 65, ignoring all other factors. Not exceptionally short but shorter than it should be. There is no cure. Treatments include experimental chemo-like therapy and surgical intervention. MRI scans are used to monitor tumor growth. Exact locations of schwannomas vary, and growth speeds are inconsistent, with the exception of bilateral schwannomas on the audio-vestibular nerve. These tumors result in gradual hearing loss, a trademark of NF2. Other symptoms can include extreme pain, loss of strength or balance, and loss of sensation. In my case specifically, a particular nasty schwannoma has wrapped itself around my windpipe, misshaping it like a flattened straw clenched tightly between teeth and nearly paralyzing my vocal chords. If you've ever heard my voice, this is why it sounds the way it does. If you haven't, my voice is a pitch-less whisper that fluctuates between soft and grating.
How did I find out I have NF2?
I was diagnosed with NF2 in 2010, a few months after collapsing one day while at school. While walking between classes, I experienced a random feeling of weightlessness and stumbled awkwardly into the grass. When I tried to get back up, I realized my legs couldn't support my body weight. Luckily, a friend of mine happened to walk by almost immediately afterward, and they half-carried me to a concrete bench, where we sat together until I was escorted home in a wheelchair. For the next six months, I navigated my way around my house by using a dining room chair as a makeshift walker.
Doctors offered little answers; they were just as confused as I was. Eventually, I was scheduled to get an MRI, and what was supposed to be a one-hour scan turned into an all-day affair. The scan revealed that a nearly 2-foot tumor was pressing against my spine and causing the overwhelming weakness in my legs. I spent the night at the hospital and was rushed into surgery the next morning; if untouched, the tumor would potentially paralyze my body at any given moment.
After surgery and over a month of inpatient rehab, I was allowed to go home so long as I traded in my dining-room chair for an actual walker while I regained my strength. With my new diagnosis, I found a medical team familiar with NF2 and began a treatment plan: continued outpatient physical and occupational therapy, MRIs every three months, and an experimental, intravenous drug called Avastin that indicated potential to shrink tumors or at least halt their growth.
Since then, I've been learning to accept what NF2 means for me as an adult. Research is still so new; it's possible further treatment will emerge. My tumors may grow so slowly that there are no further dramatic changes to my health. New tumors may grow, existing ones may grow at an accelerated rate. All I can hope for is a good life and that I carry this well. If I'm being honest, I think I've done both of those things already, despite the struggle, despite the fact that I so desperately don't want to be done.
I just met someone with a disability and I'd like to get to know them further… Is it OK for me to ask them about their diagnosis?
If you are reading this, particularly if you are able-bodied, then my request for you is that we, as a society, work to improve the questions we ask. If you aim to accommodate, please be specific. It is far less intrusive to admit to someone with a disability that you don't know how to accommodate them and want to know what you can do than it is to ask me for my diagnosis. For example, "Would it be helpful if I did Y to accommodate you with X?" is much easier for me to answer than "Why do you do X?" Whatever your intentions are, asking me for my diagnosis during our first or second interaction implies that satiating your curiosity is more important than my comfort or trust.
Too often, these statements are delivered within the first or second interaction I have with someone. In contrast, questions about accommodation are reserved for later in the relationship once intimacy has been established. My purpose in sharing my story is with the goal that if you are an able-bodied person and you interact with a disabled person, then you will make a conscious choice to flip this sequence.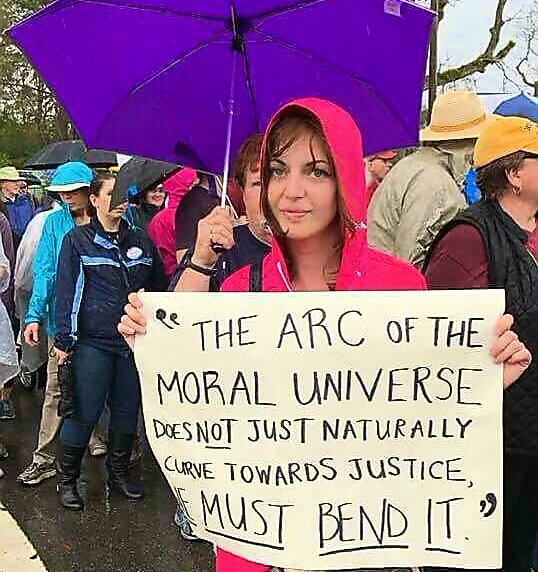 Further, if you overhear me speaking privately with a friend at a restaurant and you approach me, without context, to ask me if I'm sick or to tell me you have an uncle with a voice like mine, then it is unlikely I will be receptive. This is not because I am trying to be rude — this is because I am asking for a simple gesture of respect. I understand these statements are probably intended to foster connection, but I ask you to respect that they make me feel limited by an identity constantly defined by disability.
Currently, there is no mainstream narrative for the disabled or chronically ill that allows us to simply exist. I do not exist to inspire you. I do not exist to make you feel guilty or to spark your fears about mortality. I do not exist for you at all. I say this not out of hostility but with the desire for respect. I'm a human and I matter; disabled rights are human rights.
We want to hear your story. Become a Mighty contributor here.
Originally published: May 17, 2017