'Pax' Is a Chatbot for People Who Have OCD and Intrusive Thoughts
---
Aaron Harvey and Rose Bretecher understand what it is like to experience symptoms of mental illness for a long period of time without much education about what is happening or how to find help. That's why they created Pax, a Facebook messenger chatbot designed for people with intrusive thoughts and obsessive-compulsive disorder. Pax is meant to act like a middle man, according to Harvey, who is the founder of Intrusive Thoughts — the nonprofit behind the app. Pax bridges the gap between realizing something might be going on and seeking actual treatment.
"We both felt that our long journeys to answers could have been cut down significantly if there had been information out there," Bretecher said.
Pax provides an overview of OCD and is not meant to replace a doctor or therapist. Pax also recommends treatments and lifestyle habits that have helped others. Harvey hopes Pax will empower people to seek professional treatment if needed.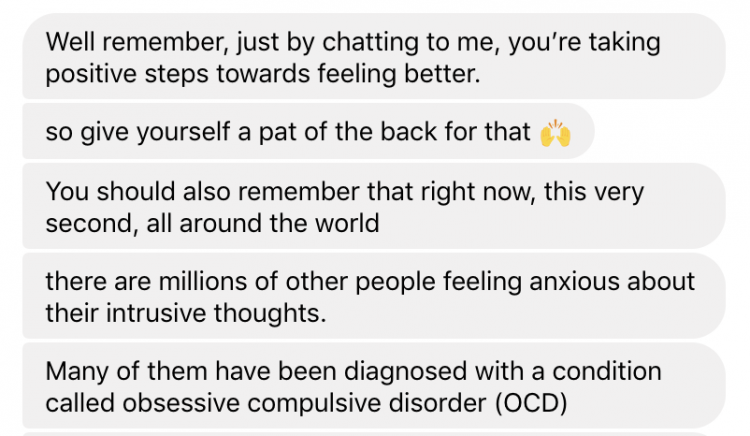 While Google can provide information about obsessive-compulsive disorder (OCD), the information it offers is often much more clinical. Pax, on the other hand, is slightly humorous and conversational while informative about intrusive, obsessive thoughts. Pax uses emojis and gifs to communicate some points, keeping the conversation light-hearted.

When a user connects with Pax, the chatbot lets the user know that they'll be "exploring" intrusive thoughts and how to handle them. Pax gives many common examples of intrusive thoughts and has videos of people (including Harvey and Bretecher) talking about their experiences.
"The main vision to create Pax was to essentially recreate the experience of sitting down with someone and walking them through how to handle a particular disorder and that's something you can't get from a website," Harvey said.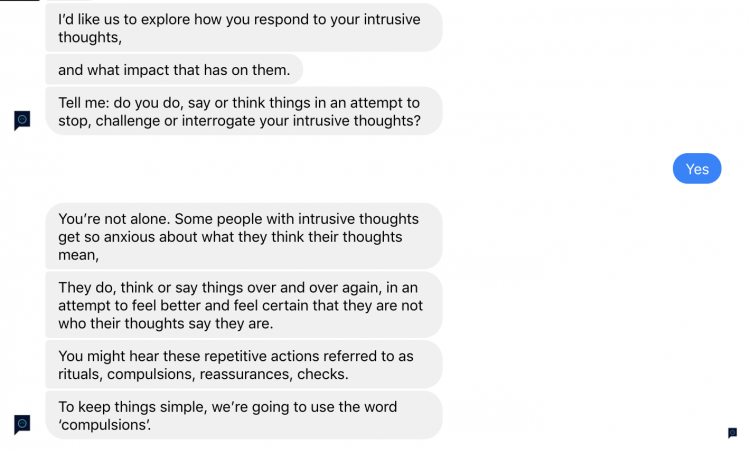 Both Bretecher and Harvey said they want Pax to show people that they are not alone and provide empathy. There are millions of people around the world that deal with OCD.
"I hope, out of this, people have a little bit more self-love. A lot of people with this condition develop self-hatred."
While Pax is the first chatbot focused on OCD, there are other mental health chatbots. Woebot provides cognitive behavioral therapy to people via Facebook and checks in with the user daily. Another chatbot, Joy, helps you track your mental health and provides coping strategies for anxiety and depression.
Those interested in chatting with Pax can do so here.
Got a tip for our news team? Send it to news@themighty.com.
Photo via Facebook
Originally published: February 19, 2018