People Aren't Happy About Target's New Ugly Christmas Sweater
---
One of Target's new Christmas items has not been met with warm, season's greetings: an "OCD Ugly Christmas Sweater."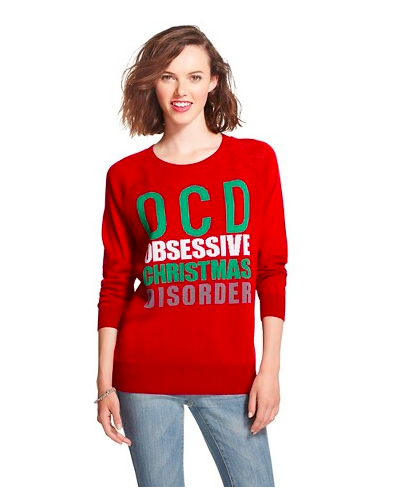 "OCD – Obsessive Christmas Disorder," the sweater reads.
For people with OCD, which really stands for obsessive compulsive disorder, this isn't the first time their illness has been trivialized. And members of the OCD community are sick of it.
Jessica Kotnour, an 18-year-old college student who has OCD, wrote a moving Facebook status about why she found the sweater distasteful.
When I see things like this Target Obsessive Christmas Disorder sweater, it makes me frustrated. I'm reminded that people still aren't taking OCD and other mental illnesses seriously. This sweater continues the thought that OCD is just a cute quirk that makes someone want to have all of the ribbons just right on their presents, or maybe they want to use the perfect type of wrapping paper, or they may spend a few too many minutes frosting that gingerbread man. How I wish, for my sake and for everyone else with OCD, that this is what OCD is. 
This morning I showered for the first time in over a month in my dorm showers due to my OCD making me unable to because of a crippling fear of MRSA. (Don't worry; I found other places to shower on campus). This is what OCD does. It makes people unable to carry out their daily lives. Can we stop trivializing it?

As an end note, the OCD joke has been make too many times. Get some originally, non-stigmatizing material, Target.
In a response to the sweater, the International OCD Foundation released a blog, re-imagining similar jokes used with other disorders, including calling PTSD, "Post-Turkey Snoozing Disorder."
"I never want to be the word police, but there is something about this case that feels particularly egregious — Target's ongoing sale of this 'OCD: Obsessive Christmas Disorder' sweater continues to perpetuate the idea that OCD is a joke. Why is it OK to use a mental disorder this way, but no one would think this is OK for a medical disorder (say, cancer), even though both diseases have biological causes?" Jeff Szymanski, executive director of the International OCD Foundation, said in an email to The Mighty.
People have also taken to Twitter to express their disappointment.
they're selling these at target and as someone who has struggled with OCD for six years im pretty pissed off pic.twitter.com/EUaR0Oflfg

— dean winchester (@philsadelphia) November 3, 2015
Hey @Target this sweater isn't cute or funny. OCD is a serious mental illness that shouldn't be mocked. pic.twitter.com/zXkSY7leiz

— Kate Gannon (@garrulouskate) October 29, 2015
living with OCD makes every day a nightmare, but it's cool @Target, as long as you're making bank off my illness. pic.twitter.com/qJb3t6Sj6Q

— Laura Novick (@lauranovice) October 24, 2015
@Target as someone with OCD I'd really appreciate it if you didn't sell my illness as a fashion statement pic.twitter.com/34egtLAkof

— Reign (@ReignMurphy) October 25, 2015
Target has been responding to complaints on Twitter. A spokesperson from the company said in a email to Time: "We never want to disappoint our guests and we apologize for any discomfort. We currently do not have plans to remove this sweater."
@lana_garver It's never our intention to offend guests with the merchandise we carry. We've shared this with the appropriate teams.

— AskTarget (@AskTarget) November 7, 2015
@LoganMaren_ We never want to offend you with the items we carry. We've shared your thoughts with our Merchandise team to review. Thanks!

— AskTarget (@AskTarget) November 10, 2015
Originally published: November 11, 2015