When a Taxi Driver Called People Like Me 'Crazy'
---
It happened a few weeks ago. I was sitting in a cab on my way to the train station, when my driver decided to ask me some questions. 
I'm a psychology major, so we quickly ended up on the subject of mental illness. The driver was friendly, and asked me about the differences between a psychiatrist and a psychologist. A psychiatrist was someone who could prescribe psychiatric medication, I explained.
He replied, laughing, "Oh yeah, you don't wanna work with those crazy people.  Those are the ones on the meds."
I quickly changed the subject as my heart sank. I wish I had said something. I wanted to tell him, "Hey, those who take medication for their mind aren't crazy." I take medication for my own mental illnesses, and it's made a world of difference for my quality of life. Before I was on medication, until my ability to function had decreased significantly, most people I interacted with on a daily basis had no clue what I was going through.
Crazy implies violent or out of control. Crazy implies something negative or disgusting. People with mental illness are not crazy. I've felt as though my brain was on fire as my OCD thoughts spun in circles and my compulsions got the best of me. I've felt as though I would never be happy again, followed by a day of high energy, fast talking, endless laughter, infinite ideas and racing thoughts all because of my bipolar disorder. I've felt as though, no matter how hard I tried, I couldn't eat more than a couple bites of dinner because of my eating disorder. Sure, I've felt lots of horrible things because of my disorders. But have I ever been crazy? No. No, I haven't. 
I see a psychiatrist once a month and a therapist every week. I take medication every morning and every night. This doesn't make me crazy; the tablets of lithium, other mood stabilizers and antidepressants don't make me crazy. They don't change my personality at all. They just help me feel less sick inside my mind. If I take my medication and work hard at therapy, I can feel relatively balanced and well. Less mood swings, less obsessing, less anxiety.
Taking insulin for diabetes isn't crazy, while taking lithium for bipolar or zoloft for OCD is "not natural." I've never heard anyone tell a diabetic with low blood sugar to 'snap out of it,' while I've heard clinically depressed people receive that very remark.
I wish I told my cab driver how I really felt about his comment, because he is far from the only stranger who has a stigmatized view of mental illness. I wish I had been brave enough to stand up for not only myself, but for other who have mental disorders. I wish I didn't feel ashamed to tell people when I'm going to therapy or picking up my medications. I wish it were as accepted as any other illness, although I know society is working hard to improve this.
I wish I could've said, "If psychiatrists are for crazy people, then I must be nuts!"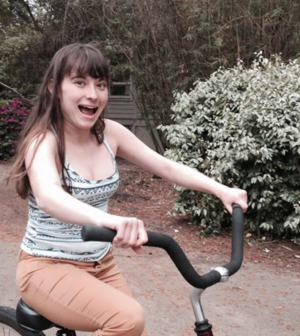 The Mighty is asking the following: Tell us a story about a time you encountered a commonly held misconception about your mental illness. How did you react, and what do you want to tell people who hold his misconception? If you'd like to participate, please send a blog post to community@themighty.com. Please include a photo for the piece, a photo of yourself and 1-2 sentence bio. Check out our "Share Your Story" page for more about our submission guidelines.
Originally published: July 20, 2015