8 Ways to Help Your Child Have a Happy Birthday in the Hospital
---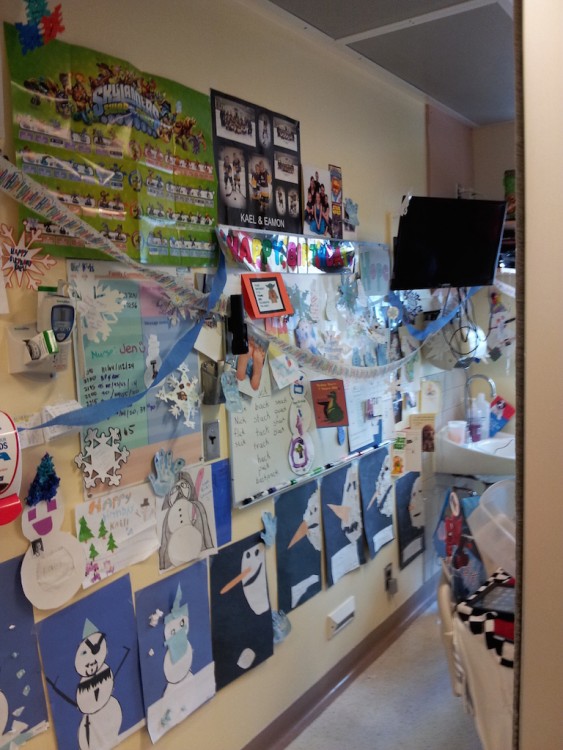 If your child will be celebrating their birthday in the hospital, I feel your anxiety. Even if you can't have a party or celebrate how you would like to at home, you can still celebrate their special day and should! Not only will you bring a smile to their face (even if it is brief), you will also make memories to last a lifetime and help divert their attention to something positive. A happy soul will help heal a wounded body. Here are some things that we did to help our child celebrate his seventh birthday in the hospital. (If your child is in isolation, reverse isolation, or has special requirements, these things may still be possible – but ask your nursing team, doctors or the Child Life expert/social worker for help or clarification.)
1. Keep things consistent with what you would do at home. Don't go overboard if you wouldn't at home.  Don't fail to acknowledge their birthday if you would have at home.   Be consistent with your parenting style.  Basically if you would decorate and have cake at home, try to do it at the hospital.  If you would only give a card and a gift, that works too.
2. Pick a theme. This will help make it fun and enhance the birthday experience. Ours was "Winter Fun." Our colors were blue, white and silver.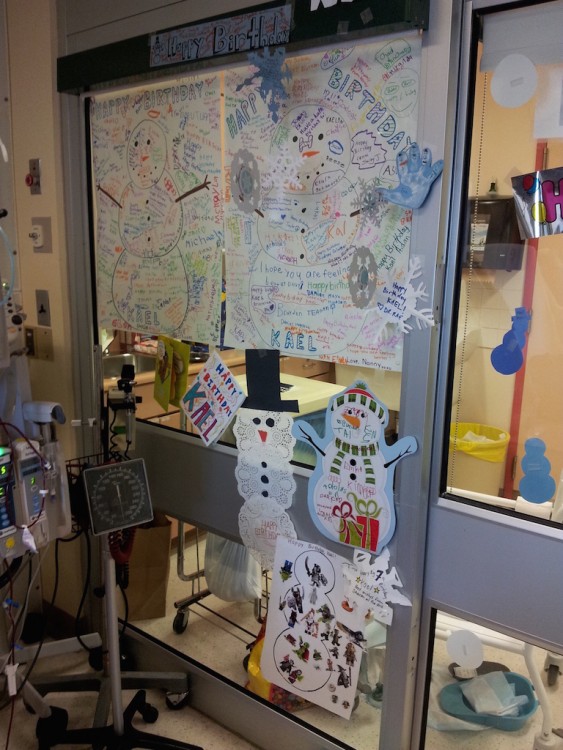 3. Decorate the room. Our goal was to decorate the room from top to bottom so it no longer felt like a hospital room. We made snowflakes and asked the staff on the unit (nurses, doctors, dietitians, physiotherapists etc.) to write a birthday message on them.  Then we posted them all over his room. Paper is allowed in reverse isolation, as it is low risk of carrying germs/bacteria/infection. Streamers are fun too! Helium-filled foil balloons are also fun (but no latex balloons at the hospital due to allergies).
4. Well wishes. Ask your child's classmates to send pictures related to your theme. This way it can be used as an art project. We received lovely snowman paintings. If your child is from a small school (or has siblings in other grades) other classes may wish to participate as well. This artwork can also be posted throughout the room to enhance the party atmosphere and remind them they are remembered.
5. Schedule a Skype/Facetime date. Plan ahead with your child's teacher for a time for your child to Skype or Facetime with his/her friends at school. Be sure to ask the teacher if your child could have a few moments with his/her close friends to speak alone. Don't forget other family members or friends – they may want a date too.
6. Ask the staff if there are special events planned for birthdays. You never know what the hospital can offer a patient on their birthday. Many have special treasure boxes or cake programs that give the child something special on their special day. If your unit has a Child Life expert get them involved. They have lots of great ideas to help with your situation.
7. Focus on one or two special gifts. Don't go overboard with your gifts. They won't change the situation or make your child better so limit your gifts to one or two things that will be remembered or used. Also, keep in mind that your time with them is much more valuable than any gifts.
8. Activities. Being with your child on their special day is the most important factor in making their day memorable. Plan some simple activities that you can do together like play games or watch movies. Try to find new or rare activities that you haven't done before or aren't likely to do again. We arranged to watch a new movie on a big screen that was borrowed from another unit and have popcorn. We also decorated the cake together and shared it with the staff. Understand that your child will be tired and may need rest. Let them nap and settle in beside them.
Hopefully your child will only have one birthday in the hospital. Don't think of it as a lost cause – even these birthdays can be pretty awesome too. If you have a plan, share it with the staff – they may be more willing to help then you know. Surprises and miracles are possible.  Don't be afraid to celebrate, focus on the "happy" part of "happy birthday" and be sure to hug and kiss them. They will always remember your love and presence in their lives. At the very least, their attention will be diverted from being ill for a day which will help with their healing in the long run. Remember that they are still children and deserve to have a childhood like every other kid. So if you would make a big deal at home, make a big deal at the hospital. Good luck, and go be awesome.
Follow this journey on Big E Little M
The Mighty is asking the following: Create a list-style story of your choice in regards to disability, disease or mental illness. Check out our Submit a Story page for more about our submission guidelines.