When a Man at the Airport Noticed How Much Pain I Was In
---
Today at the airport, after a very exhausting week full of doctors appointments and painful diagnostic testing, I was standing in line for boarding and just wanted this flight to be over.
I was in pain, very weak and my stomach has been bothering me for weeks. Since I wasn't able to eat anything and suffered from severe nausea, I wasn't sure if I would be able to even make that flight or if my body would force me to an unwanted break.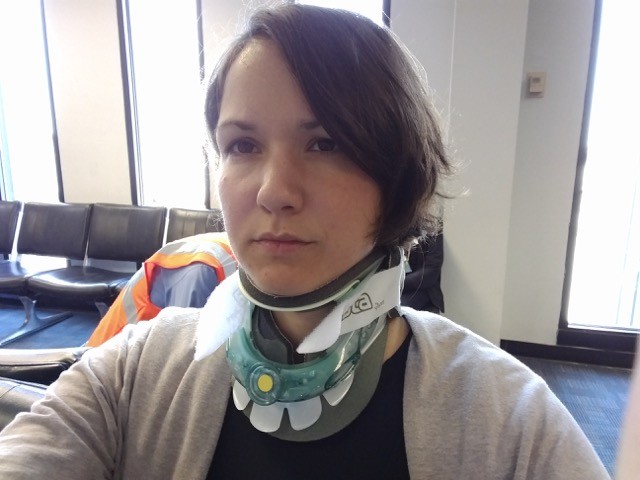 I was broke, felt completely powerless and was just waiting for my boarding group to be finally called. Because I felt emotionally very weak, I refused to use a wheelchair for transportation to my gate and also decided I would not use pre-boarding because only one bad word of any passenger around me would have led to a complete breakdown in tears.
My body and my mind were way too exhausted to handle any kind of conversation that day so I just tried to hide between all the other passengers like I was normal.
Still, even if I feel like I cannot bear any more I try to be polite and patient with other people. Because if there is one thing I learned through my diseases, it is that you never know how your opposite feels. They might go through even worse things than me. So there is really no use in pissing off others just because I feel bad.
Boarding started, and we made it to boarding group five, which was mine. I was so relieved when I finally could step forward. Every step was one closer to home and my bed. And here he comes, a young man running through the already-empty line three, obviously late for his flight and very busy. People behind me got annoyed and you could hear them sighing.
I tried to find a smile somewhere in my body and asked him to go ahead since he would have been before me anyway. He smiled back, thanked me, but let me know he did not want to upset all the other passengers behind me.
He then looked into my eyes and it felt like he would see right into my soul in that moment. He noticed how bad I was and asked me, "And how are you doing today?" It wasn't the usual phrase people use all the time. It was an honest, caring and seriously meant question, and I couldn't avoid a just-as-honest answer. Instead of telling him that I was fine, which is what I normally do, I got tears in my eyes and said that I was having some rough couple of days. He smiled again and said, "Well, I hope it will be over soon then."
This short conversation wouldn't mean much to most people. But to me, this one truly interested person who cared about my well-being brightened my day and helped me get through the flight and find a little bit of positive thinking on this very horrible day.
Everyone should remember that sometimes the small gestures that don't mean much to us might mean the world to someone else.
With a condition like cervical spine instability, there are rough days, but with a little kindness around us they are so much easier to bear.
Follow this journey on Karina's website.
The Mighty is asking the following: Share with us an unexpected act of kindness, big or small, that you've experienced or witnessed in an everyday place. Check out our Submit a Story page for more about our submission guidelines.