To Super Bowl MVP Von Miller, Who Gave Me Hope Before My Son's Surgery
---
In 2011, a year before I became pregnant with my son Von, I was watching a Denver Broncos game. It was a really nice fall day, and the Broncos were winning. I'll never forget the hard-hitting linebacker. He would strip the ball from the opposing quarterback's hands, and he had a ferocity in how he attacked the opponents and drove them to the ground. I looked at my husband and said, "Von Miller is a beast." I had been a fan of his since his day at the draft. He appeared so different from the rest of the players. Even the checkered shirt and purple tie he wore that day stood out to me. He made an impression on me that day.
When the Broncos picked him, I instantly became interested in the team. I knew Von was a unique talent, and he could be the center of the team. It was clear to me that day in 2011 that he was going to be the reason the defense thrived. It wasn't until that day I even considered the name Von for a future child. I looked at my husband, and I said if we have a boy I really like the name "Von." The name felt strong and brave to me. It felt proud and invincible. I felt as though any man named Von would be able to accomplish almost anything. My husband looked at me and said, "We aren't naming our child after a football player."
A year passed, and in 2012 I became pregnant with my son. I remember bringing up the name again. My husband liked the name but said, "If we pick this name, we are not naming him after Von Miller." As we explored the origins of the name, we learned it was a Norse name, a very old name. Then we looked up the meaning. Von means "hope." I remember looking at my husband and saying,"Hope is a powerful word, and it means to me that despite all adversity we can always have hope." That sealed the deal for my husband. When the 20-week ultrasound showed a boy, we knew our son would be Von Arthur.
2013 for my son Von was incredibly rough. He was diagnosed with panhypopituitarism, and he spent a week on life support. He battled respiratory syncytial virus (RSV), whooping cough and had eight ear infections. As the year progressed and 2014 moved forward, he continued to rally. My son started to walk in April of 2014.
2015 was a year of so many milestones for us. He started speech and occupational therapy in May 2015. He was diagnosed with sensory processing disorder and apraxia of speech. Through our team, my son learned better balance, developed more advanced fine motor skills, and in September 2015, he learned to talk. In 2015, the Denver Broncos defense was #1 in the league. They were led by a shaky offense that had an injured quarterback most of the season. Thankfully the defense with the help of Miller kept them alive in the games. It wasn't until the Super Bowl that Von Miller really broke out. He swarmed around the field, and he tackled the quarterback multiple times. He forced two fumbles, and with his efforts the Broncos won the game. He was named Most Valuable Player (MVP).
A week before the game, my son Von was delivered some terrible news. In addition to his other health issues, he now needs open-heart surgery. The past 10 days have been a blur for me since the news. I've had to leave work, manage care of my son, and prepare for him to have the biggest surgery of his life this spring. The cardiologist said his mitral valves will have to be repaired or replaced due to mitral valve stenosis. This has rocked our world. We know Von will have many mountains to climb through the surgery and recovery. Our lives are flipped upside-down as I'm now unable to work due to the severity of his disease. It's been hard to find a sliver of hope during the past 10 days. During the Super Bowl, as I watched Von Miller attack the offense, I felt hope for the very first time. Then when he was named MVP, I felt like all things were possible.
Despite adversity and injuries, he came back and won MVP as a defensive player. When I woke up the next morning, I realized Von Arthur is going to be the MVP of his heart surgery and recovery. We have no idea what the journey will be, but we know he has hope. Thank you Von Miller for giving me hope. Thank you from the bottom of my heart. You were true to your name.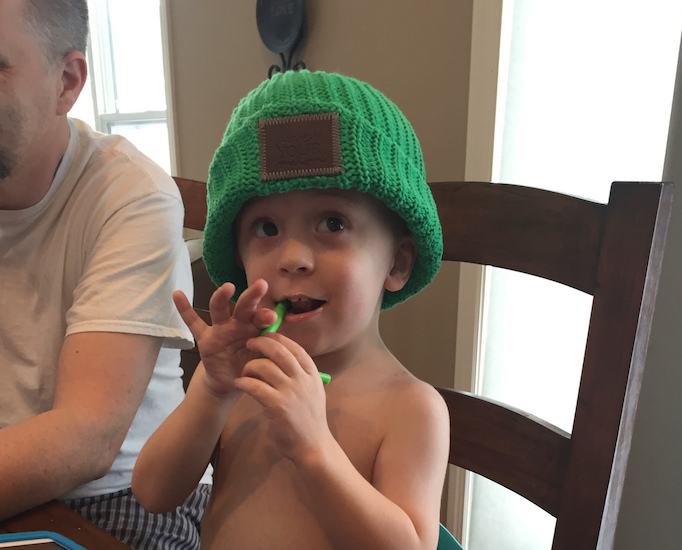 A longer version of this post originally appeared on Without A Crystal Ball.
The Mighty is asking the following: What was one moment you received help in an unexpected or unorthodox way related to disability, disease or mental illness? If you'd like to participate, please send a blog post to community@themighty.com. Please include a photo for the piece, a photo of yourself and 1-2 sentence bio. Check out our Submit a Story page for more about our submission guidelines.
Originally published: February 13, 2016