When Someone Told Me, 'Well Done for Not Giving Up'
---
"Well done for not giving up."
It was a throwaway comment from someone I've never met on a Facebook page for people doing the London Marathon in aid of Parkinson's UK.
She probably thought it was a positive, supportive, encouraging message of admiration. I found it patronizing and presumptuous. Other people's attitudes can be so much more disabling than disability.
I was diagnosed with Parkinson's three years ago, at the age of 50.
For good measure, entirely unrelated, I have another degenerative, progressive neurological condition, Charcot-Marie-Tooth.
Every minute of every day, in everything I do, I am compromised, disadvantaged, struggling with physical inability, tremors, weakness, greatly reduced mobility and dexterity, insomnia and chronic fatigue. I can't run anymore, and my walking is pretty terrible, too. I no longer do things I used to love: hike, play golf, ski, jog, cycle. I worry about losing my body. And my mind. I have lost a lot, and it hurts.
When it was revealed that Robin Williams was at one point diagnosed with Parkinson's, there were lots of online comments along the lines of "I'd do the same thing if I got that."
As though only a perfect life will do.
As though at the first sign of trouble, the first bad hand, we quit the game.
As though for all its struggles, pain, suffering and misery, life is not also full of wonder, beauty, power and love.
As though someone who is much the same the day after a diagnosis as the day before should suddenly give up. Or be applauded for not giving up.
To. Hell. With. That.
Yes, there have been fleeting moments when I have thought of giving up, it's true. I have no judgment for people who make that terrible, lonely final choice, only love.
Yes, I am angry and sad.
But sometimes, too, I feel so very happy… and alive.
Sometimes, with a little help from friends, family, colleagues, therapists and a whole lot of luck, people can emerge from their darkest hours, accept their vulnerability and mortality, and discover their true strength.
Disease, I have come to realize, can be healing. Like any hard knock, it can divest you of pretense. I believe it is a middle-fingered salute to vanity, narcissistic armor and polite conversations about the weather. Parkinson's has been a wake-up call for me. It is a harsh, unforgiving teacher, but its lesson is profound and spiritual: live an active, existential, engaged and connected life. The time to experience, to enjoy, to live and to love is now. Right now.
A month from today, I am doing the London Marathon.
The idea came from my 8-year-old daughter, Annie. We were watching the London Marathon last April and I was telling her how I ran it in 1991 but crashed and burned after 20 miles. I always wished I'd finished the race, or had another go while I was physically able.
"Do it next year," she said. "You can just walk the whole thing."
Oh, yeah. Why didn't I think of that? (Antoine de Saint-Exupéry said: "Grown-ups never understand anything by themselves, and it is tiresome for children to be always and forever explaining things to them.")
So for the first hour or so I'll be in the Marathon. For the rest of the day, and probably the next day too, I'll just be a bloke with a stick, hobbling and shuffling along the streets of London. I'll be stopping off frequently at pubs and cafes along the way. It will take me two days, maybe three (I will nip home each night to sleep in my own bed). I will be joined along the way by friends and family. Even our dog Daisy might come along for some of the route. Forget all that panting and sweating and blistering and chafed nipples — this is going to be a 26.2-mile celebration!
I'm raising money for Parkinson's UK and CMT UK. But really I am doing it for me.
Give up? Why? I've only just started the journey.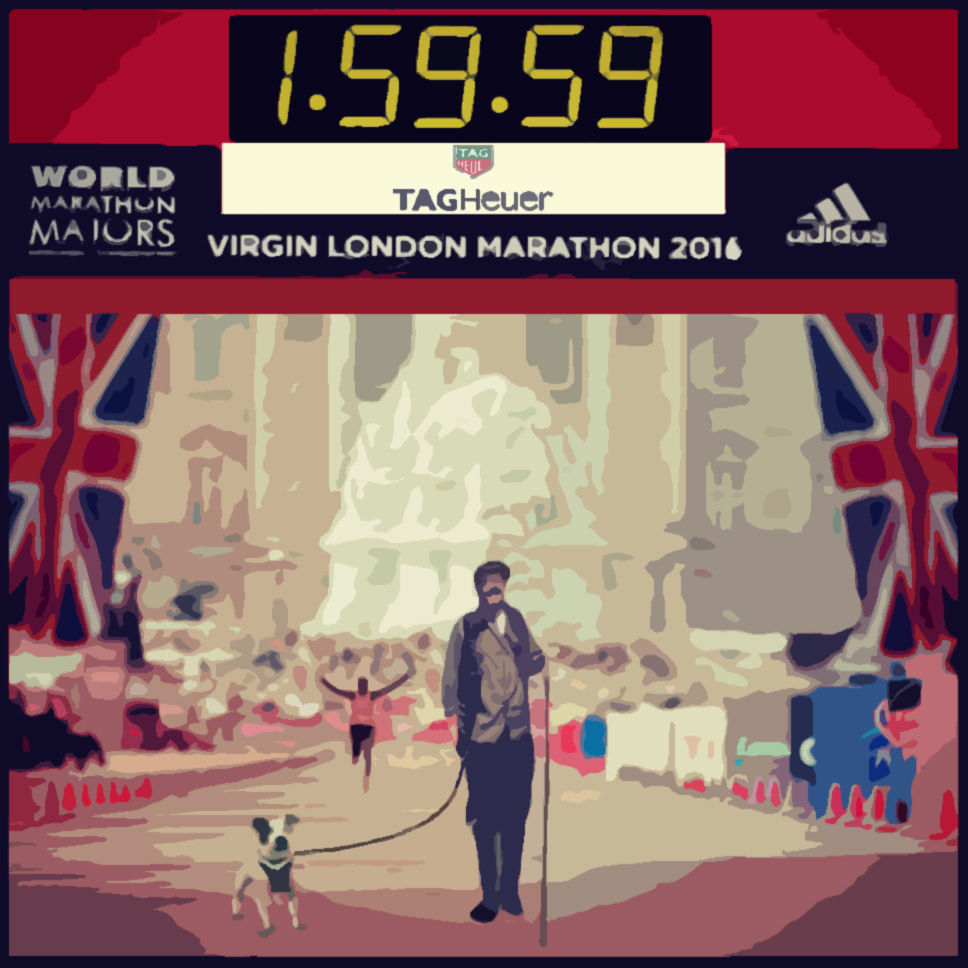 If you or someone you know needs help, please visit the National Suicide Prevention Lifeline. You can also reach the Crisis Text Line by texting "START" to 741-741. Head here for a list of crisis centers around the world.
The Crisis Text Line is looking for volunteers! If you're interesting in becoming a Crisis Counselor, you can learn more information here.