Why I Wore the Same Shirt for 365 Days for My Daughter's Health
---
The journey and challenge I started in March 2016 is now complete. I've been wearing my "Phelan Lucky" T-shirt for one whole year, to raise awareness of our daughter's rare genetic condition, Phelan-McDermid syndrome (PMS). I've completed 365 days of Phelan Lucky.
Emily, our youngest daughter (5), is one of just over 1,500 people diagnosed with this condition worldwide. It's a condition that leaves her with sever developmental delay, she's nonverbal, has low muscle tone throughout her body, autistic traits and she is prone to seizures. Other characteristics of Phelan-McDermid syndrome include: sleep problems, heart defects, renal abnormalities, severe reflux and lymphedema, among other things. Phelan-McDermid syndrome, otherwise known as 22q13 deletion syndrome, occurs from a deletion on chromosome 22 to the end of the chromosome, 22q13.
I've worn this T-shirt everyday without fail. Any formal or informal event that's taken place over the last 365 days, I've had my T-shirt on. I've taken a photo and posted on Facebook and Twitter everyday to show people I'm wearing the T-shirt. I also give information about the syndrome in the hope it will help create more awareness.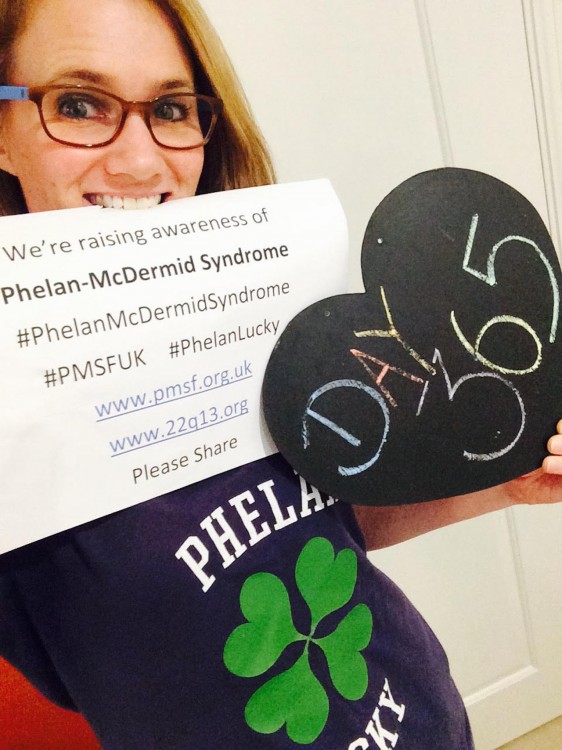 There have been better days than others, some very scary and worrisome with Emily being unwell. But, on a whole, doing this challenge has been amazing and made me more determined to fight this awareness battle even harder.
For the first few months it felt like I was in the honeymoon period of the challenge. Then there was a period where I became very overwhelmed and found it hard to see the end with so many days ahead of me. But once I got past the halfway point, the days seem to race by and momentum of the campaign kept increasing.
Putting a T-shirt on every day has been the easy part of this challenge. In fact it's saved me so much time in the morning choosing clothes. The posts and photos, on the other hand, have been the challenging part. I'm not going to lie – posting every single day was sometimes a right pain in the bum, but I only had to look at Emily, see her determination and the joy she has for life, and I was pushed on. Life can be challenging for all our PMS kids, and this challenge has been a drop in the ocean compared to what they go through every day.
Emily teaches us so much as parents. Her strength and determination amazes us. We're so proud of her and everything she achieves. Emily and her big sister Ashley (7) are both little stars. Ashley is an amazing big sister with so much love and patients for Emily. We feel very blessed to have these little treasures in our lives; they complete our little team.
My girls are my inspiration for doing this challenge. I felt it was my duty to help share her story and the story of others who have this rare syndrome. And for Ashley, too. She's got a life time of explaining this syndrome to others. I want people to understand and have compassion for those affected by the syndrome so she has people in her life that understand and accept it too. These girls are my super heroes and I want to create stepping stones for them into an more accepting world.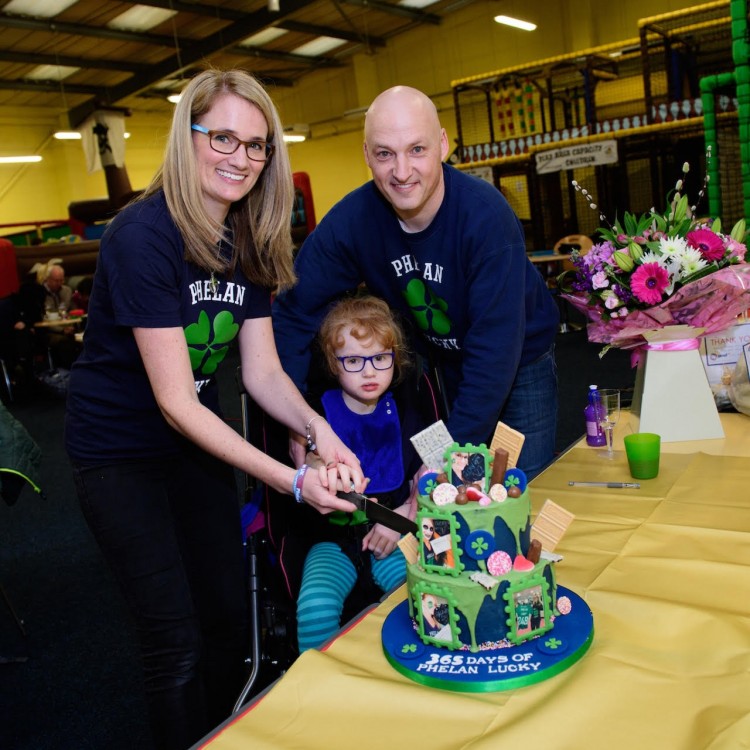 This year I went to weddings, a christening, met a member of parliamentand other councillors, a ball, charity and fundraising events, many family days out, and received a guardian angel award. There were beautiful stories shared by PMS families and daily facts about the syndrome, support from family and friends, Lincoln City Football club, Software Europe and anyone and everyone who has liked and shared posts, lots of cakes, many face painted. It has definitely been epic!!! And the T-shirt itself is still doing ok, it's stretched, faded and the lettering is cracked, but it doesn't look too bad considering how much its been worn.
I've received so much support from people from all over the world. Locally when people have noticed my t-shirt I've explained what I'm trying to achieve and explain to them about the syndrome, which has always been met with such enthusiastic support. And the generosity I've seen from people donating has been amazing. The sponsorship target I set myself of £2,213 (in relation to where the deletion occurs on the chromosome) has been smashed and the funds raised for PMSF UK (Phelan-McDermid Syndrome Foundation UK) stands at £4,485. PMSF UK provides so much support for families affected by this syndrome and strive to improve their lives. I'd like to say a massive thank you to everyone who has sponsored throughout this challenge, I really appreciate the kind donations people have made, the support people have shown and can't thank you enough.
I'd like to think that by doing this challenge I've been able to reach and educate those that didn't know about the syndrome. This won't be the end of the awareness raising for me, there's still lots more to come.
So, as I come to then end of my year of Phelan Lucky, I'm now passing the challenge onto the next lot of determined and dedicated parents and carers who are striving to raise awareness of Phelan-McDermid syndrome. PMSF Australia are taking the reins and doing their own year of Phelan Lucky starting on March 17th and I can't wait to see what they get up to over the year. High fives to you guys and thank you.
Well, I'm off to decide what to wear tomorrow. It could take a while.
Follow this journey at:  www.justgiving.com/Phelan-Lucky
We want to hear your story. Become a Mighty contributor here.
Originally published: March 9, 2017