Why I'm Deeply Disappointed in How 'The X-Files' Portrayed My Child's Disorder
---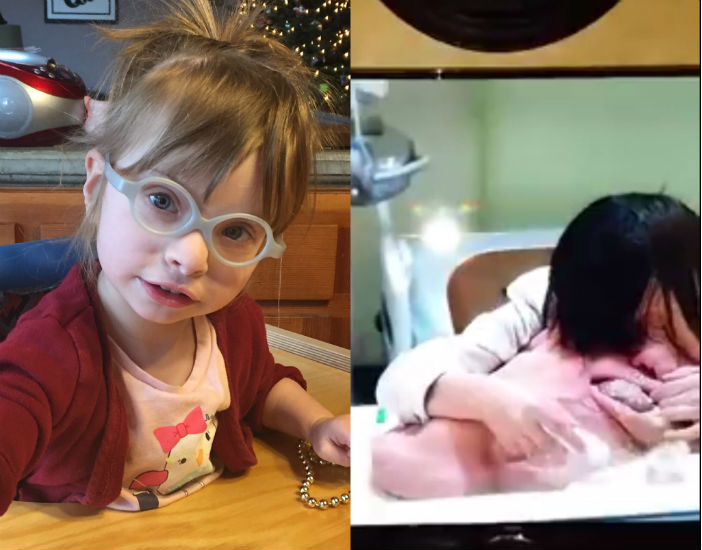 On the left is a recent photo of my daughter who has Pitt-Hopkins syndrome. On the right is an image that was shown during the second episode of the currently airing "X-Files" reboot season called "Founder's Mutation." It supposedly represents a child with Pitt-Hopkins syndrome. In this scene, a doctor identifies children in his care with various rare (but real) diseases while Scully and Mulder look upon the "unfortunate patients," as they are called.
I didn't watch the full episode, but I can say that this clip really rubbed me the wrong way. At first, I slightly appreciated the recognition of Pitt-Hopkins (any publicity is good publicity, right?) — but I really have to say that this left me with a sick feeling in my stomach.
My daughter is not someone to be gawked at. She is not "unfortunate." She is an almost 3-year-old little girl. She is a sister, a playmate, a beloved granddaughter. She is the hardest working person I've ever known. To me, she is joy and absolute, unyielding love.
Though I wish I could accept this as a moment of awareness, I just can't. I wish I could take it more lightly, but I can't. Because it matters. It matters to me that if even one person today learns about Pitt-Hopkins syndrome, that they imagine my sweet girl and her Pitt brothers and sisters around the world in all their beauty and not as "unfortunate patients" conjured up by TV writers for dramatic effect.
Pitt-Hopkins syndrome is a rare genetic disorder caused by the deletion or mutation of the TCF4 gene on the 18th chromosome. Children with Pitt-Hopkins can deal with many challenges such as seizures, hyperventilation and apnea, severe gastrointestinal issues, cognitive impairment, physical delays and often a lack of speech. My daughter has most of these typical features of Pitt-Hopkins, and because she is missing additional genes, she also has vision impairment, low muscle tone, feeding challenges and frequent respiratory illness.
I can only speak from my perspective as a parent of a child with Pitt-Hopkins, but I imagine any parent whose child has one of the multiple conditions that were represented in this scene might be equally offended. Our kids are at risk of marginalization on a regular basis. We don't need this reality perpetuated through fictional images of our kids on display, inspiring pity or even disgust.
My daughter may not have a facial deformity like the child with "Pitt-Hopkins" shown in this episode, but she is subject to stares, second glances and unwarranted comments nonetheless. Due to her chromosomal abnormality, she has microcephaly (small head circumference), and she is notably tiny for her age. She wears glasses to correct her vision issues, and she used to wear an eye patch daily. At almost 3 years old, she is still unable to sit, stand, walk or speak. These physical limitations do not define her. Yes, they are puzzle pieces that can be mysterious and challenging. But by no means do they eliminate her ability to bring love and laughter to those who know her.
We've had to learn through the experience of raising her that the world we live in does not often reflect this belief. Occasionally, a moment comes along such as this when we can't just suck it up and keep moving forward. We are forced to pause and attempt to convey what we know by heart: Casting judgment and fear on children (or anyone else) with disabilities simply keeps others from knowing their value. I'm deeply disappointed in the creators of "The X-Files" for allowing this episode to include such a negative portrayal of these kids, and I urge them to consider an apology to the families living with these rare conditions.
February 29, 2016 is Rare Disease Day, and I hope the show could use the opportunity to shine some positive attention on our children.
The Mighty is asking the following: Write a letter to anyone you wish had a better understanding of your experience with disability, disease or mental illness. If you'd like to participate, please send a blog post to community@themighty.com. Please include a photo for the piece, a photo of yourself and 1-2 sentence bio. Check out our Submit a Story page for more about our submission guidelines.
Originally published: January 28, 2016