Why My Skin Condition Makes Me Like a Speckled Trout
---
"If you were a fish, you'd be a speckled trout!" my stepdad told me one day while fishing together on our boat. I was mortified as an adolescent.
I was 14 years old the day I was diagnosed with pityriasis lichenoides chronica. I was in seventh grade the year prior, and had visited my share of dermatologists all over South Texas. It was Dr. Newton, in McAllen, that took a skin biopsy and sent it to a lab in Houston. The verdict was in, and the mysterious red spots that started on my ankles and gradually spread to cover my legs and arms, had a name.
As an already self-conscious and self-absorbed teen, I began the slow process of covering up my limbs. The condition does not typically affect the trunk or face. Already suffering in the sweltering heat along the border of Mexico, the clothes I wore only exacerbated the condition. It would not be until too many years later that I would find exposing my skin to the sun was my key to living in freedom.
I attended college in Pella, Iowa, far away from where I grew up and everything I knew. My largest organ seemed to change with the seasons. Much of fall, winter and spring lent itself to my art of concealing. One blistery, summer day while watching a soccer match with friends and sweating profusely (I was wearing jeans and a white t-shirt with the sleeves rolled up), a classmate called my bluff. He looked at me, eyes squinting because of the sun, and asked, "Hey Giana, aren't you hot?"
I shrugged my shoulders and said, "Nah."
And it continued for about eight more years. During one of my visits home, keenly aware of this practice, my pastor gently looked at me and said, "You know, when you meet the person you're going to marry, he'll see your skin condition, but he won't see it." I hung on to the hope that this was going to be true.
Flash forward a few years and I was standing adjacent to my future husband, on our first excursion together with a couple of friends. Early fall at a country concert, I was sporting my usual jeans and long-sleeved shirt, but had recently broken out on my hands. Future hubby, in his charming and candid manner, looked at my hands and asked, "Bug bites?"
"No, I have a skin problem," I confessed.
"OK," he calmly responded.
Here we are, almost eight years later, and each day he chooses to love me, inner and outer blemishes and all.
Summer has become my favorite season, with the sun, sand and saltwater as my skin's best therapy. My family and I frequent South Padre Island and I roll around in the waves and on the dunes, exfoliating my epidermis. I relish the smooth, topical surface that results, and cherish the laughter and love that surrounds me. For a time, I think I'm finally rid of the problem. Until it rears its ugly head again.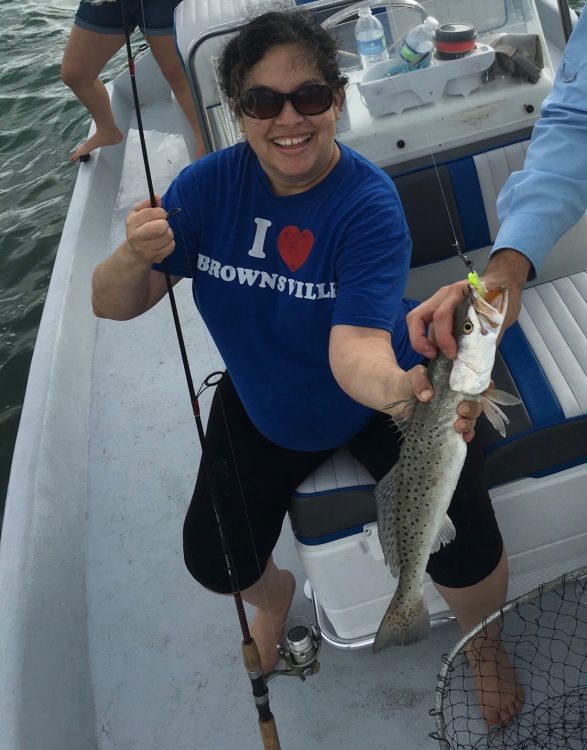 I have read instances where people who had the same rash woke up one day to find it completely disappeared. I have prayed that I would be one of the few. Since it has stuck around for a little over 20 years, I'm not holding my breath now. Instead, I have come to see it as a humbling companion. Now an avid fisherwoman, I have discovered that speckled trout are beautiful fish that shine in the sun, and are good for eating too! My stepdad meant that remark as a high compliment all those years ago.
So, here's to all my fellow speckled trout! May we continue living in confidence and inspiring those around us to do the same, keenly aware of the striking beauty we all possess through our imperfections.
We want to hear your story. Become a Mighty contributor here.
Thinkstock Image By: twildlife