11 Tips for Planning a Wedding When You Have POTS
---
I am getting married next month and have pretty severe POTS, but it has not stopped me from enjoying this time being engaged! I'd like to share some tips with you all about how to plan a wedding while dealing with this lovely condition.
1. Prioritize.
Put more time, energy and finances towards things you really care about. For me, a couple of those things entailed finding the right photographer and videographer who would capture these memories for a lifetime.
2. Consider adding chairs or a bench to your theme for you and your fiancé to sit on during the ceremony.
Unnecessary time on your feet might trigger a fainting episode, if syncope is one of your symptoms. Save your strength to stand for the vows!
3. Recruit reinforcements for your bridal fittings.
When attending a bridal fitting, have "spotters" and "stabilizers" to help keep you steady while the tailor is pinning your dress. In the case of an episode, it's good to have a couple people there to catch you. I fainted at my fitting a couple weeks ago and luckily, I had two women on either side of me to break my fall. They now know to work extra quickly with me and they keep Gatorade, salt, washcloths and nuts close by.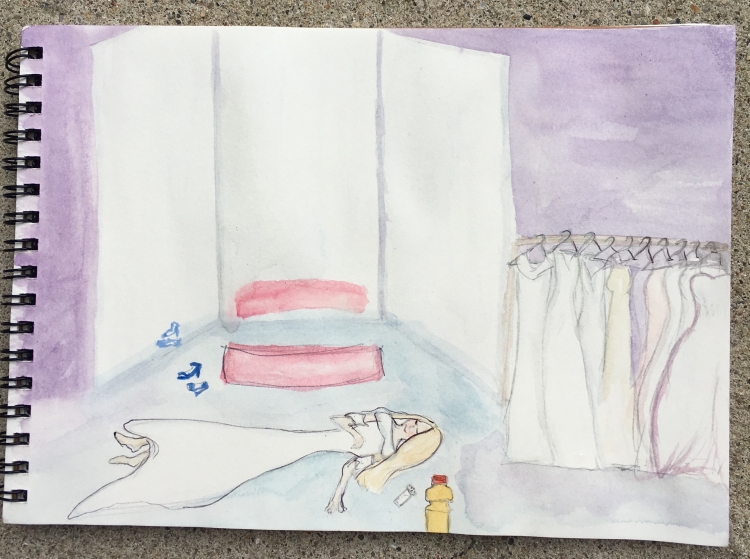 4. Don't get too caught up in the minute details.
It will only stress you out when things go differently than you expected them to. Have fun with it, and save the stress for the bigger things that really matter. You don't want to add extra stress to yourself since that tends to exacerbate our POTS symptoms.
5. Ask for help.
If you're like me, you may like to do just about everything yourself. Trying to do every little thing will be very wearing on your health. Chances are, you have friends and family who are willing and honored to offer their time and services to help the planning process and day go smoothly. It can be hard asking for help sometimes, but I've had to get over that during this engagement season. People like an opportunity to serve, so let them. And trust me, their help really does go a long way!
6. Pause.
POTS or not, I suggest anyone planning a wedding take this advice. You need days where you don't think about anything wedding-related or make any progress. Take time to yourself to just relax. This is an exciting time and you want to enjoy it as much as possible.
7. Coordinate with the rehearsal dinner and wedding venue regarding room temperatures.
You'll want to avoid getting overheated, so ask the venues if they wouldn't mind keeping the rooms on the cooler side.
8. Do what you can when you can.
If all you're able to do one week is lay in bed, perhaps work on writing a special note to your partner, or call to schedule a nail appointment. Don't push yourself too hard or you'll set yourself back. And ask for help if you're having a lot more flare-ups during this time.
9. Assign designated people to remind you to sit down and take breaks throughout the day.
Make sure some friends or family are there to give you a signal to take a break. I'm referring mainly to the prep time before the event happens. It will be harder to take "breaks" once the wedding begins, but you want to make sure you are able to enjoy yourself and get your dance on so it's important not to do too much prior. Pace yourself and don't overdo.
10. Lie down with your feet up the morning of before getting ready.
Think of your body like a cell phone. If you want it to last the whole day, you need to charge it. If you don't take a little extra time to build an energy reserve in the morning, you may run out of battery before the event is over. Rest, feet up when you can, salt, water and snacks.
11. Wedding Day: Drink plenty of water (for patients with POTS, this typically means two to three liters), consume extra salt and eat snacks!
Stay hydrated, salt up and eat throughout the day. You might get nervous during the wedding dinner and not eat much, so make sure you've eaten enough salty things and have consumed enough calories prior to this time.
We want to hear your story. Become a Mighty contributor here.