To the Repairman Who Truly Saw My Son
---
It was an afternoon like any other.
After racing home from work, I threw open the door, flung my backpack and purse on the floor and grinned at my 1-year-old son, whose chubby legs dangled from his high chair.
"It's Mommy!" I announced excitedly, signing "Mommy" by tapping my thumb to my chin. His mouth broke open into a radiant smile, and his hands softly clapped together as my husband joined him in their celebratory welcome-home dance that ultimately ended in a group hug.
"Mommy missed you," I murmured, kissing his forehead before heading to the sink to begin the process of sterilizing my hands and forearms with soap, then hand sanitizer, and then maybe some Lysol for good measure.
The 60 mL syringes filled with his next meal were warming in the sink, his G-tube extension carefully laid out by my husband with his 4:30 p.m. dose of medicine primed and ready to administer. Since we brought him home from the NICU after a seven-month stay that involved the diagnosis of chronic lung disease and included the placement of both tracheostomy and gastronomy tubes, our lives had become a flurry of feeding, suctioning, venting, bagging, sterilizing, priming, changing and disinfecting.
Snuggling, kissing, playing, holding and fiercely loving were mixed up in that beautiful flurry, too.
At that moment, the doorbell rang. Surprised, I looked at my husband with my eyebrows raised. It was RSV (respiratory syncytial virus) season, and we were on strict germ lockdown. Casual visitors weren't in our family's daily itinerary.
"I forgot to tell you," he started, heading for the door, "I called the garage door company to take a look at our locks." He unlocked our deadbolt and twisted the knob. "It'll just be a second," he reassured me.
The door flung open, and two repairmen peered in. Giant syringes and G-tube extension in hand, I smiled and said hello. My son beamed at them, clapping again in excitement at the prospect of new house guests.
I discretely attached the G-tube extension to the mini button right under his ribcage and began slowly pushing food into his belly with the syringe. As my husband chatted with the men in our foyer, I could feel the eyes of one of the repairmen on us. He was young and quiet, nodding along with the conversation but glancing in our direction a few times. 
I looked at my son, who was still smiling and waving to the repairmen and felt my protective instincts kick into high gear. I tried to imagine how this all looked to them, a baby with tubes affixed to his neck and abdomen. An oxygen line trailed down the hall like a bare strand of Christmas lights. An oxygen concentrator puffing and hissing in the background. A suction machine catheter was still attached to the bottom of my son's trach tube in preparation for the next coughing fit he'd eventually have. Saline bullets and sterile water containers littered our coffee tables. It was all normal to us, but as I sang the "Itsy Bitsy Spider" to my son while I pushed his meal through his feeding tube, I realized how intimidating this all must look to an outsider.
I practiced my response to their inevitable questions in my mind.
"Micropreemie." 
"1 pound, 8 ounces."
"Severe pre-eclampsia."
"Chronic lung disease."
"231 days in the NICU."
"Time and growth."
I listened as they wrapped up their discussions with my husband, the words of their conversation shifting from technical jargon to easygoing banter. I held my breath as the older repairman grunted when he tore off the carbon copy of an invoice. Were we going to get through this transaction without an awkward comment or seemingly innocent question about our medically fragile baby? My son turned to me and pushed air up around his trach tube, creating a squeaking sound of approval as he grinned again.
"Thanks for stopping out, guys," I heard my husband say as he began to close the door.
"Your son –," the younger repairman blurted out.
Oh no. Here it comes.
I stiffened, Mama Bear impulses on point.
What's wrong with him?
Why does he have that thing in his throat?
Does it hurt? Is he sick? Is he going to be OK?
"Your son," he continued, "…is the most adorable baby I've ever seen."
He paused, and my heart felt like it was going to burst out of my chest.
"I just wanted to tell you that," he said, looking down at his feet with a nervous smile.
I looked at the little boy next to me – eyes shining, mouth beaming, hands clapping, legs kicking, lips smacking, voice squeaking – and let out the breath I'd been holding for what seemed like the repairmen's entire visit.
Yes, I silently agreed. Yes, he is adorable. And wonderful. And stronger than all of us in this room. 
My husband and I choose to ignore the tubes and wires and machines and supplies scattered on either side of us, choosing instead to see our beautiful, perfect son – a baby like any other.
And for once, someone else – someone who didn't have to, someone I didn't expect to – saw him, too.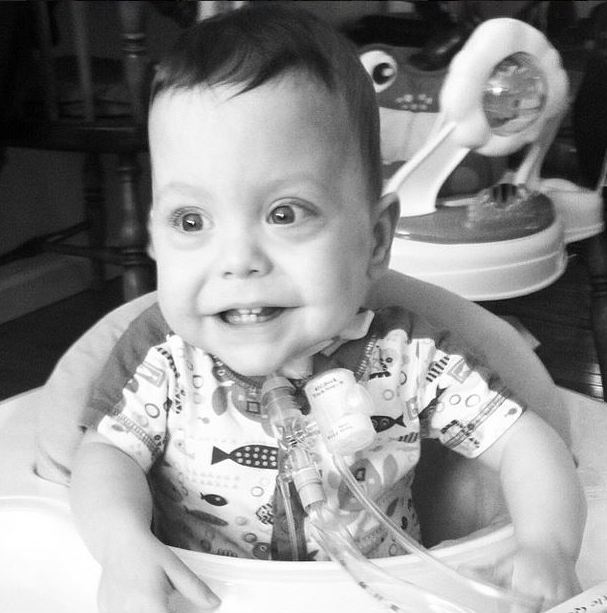 The Mighty is asking its readers the following: Describe the moment a stranger — or someone you don't know very well — showed you or a loved one incredible love. No gesture is too small! If you'd like to participate, please send a blog post to community@themighty.com. Please  include a photo for the piece, a photo of yourself and 1-2 sentence bio.
Originally published: February 4, 2015