Why I Had to Stop Watching 'This Is Us'
---
I've been reading all about how "This Is Us" did a great job showing the public what it's like to have a premature baby in the NICU. Many organizations, including the March of Dimes, have said, "Kate and Toby's powerful prematurity/NICU storyline on 'This is Us' has resonated with many families around the world," and it has. However, I just stopped watching "This Is Us" (for a while) because of it.
You see, "This Is Us" is my favorite television show, other than "Grey's Anatomy," and it is my escape into the world of entertainment. I always loved watching television series that show family dynamics, beginning with my obsession with "Little House on the Prairie" as a child, and moving on to "Brothers and Sisters" and "Parenthood" as I grew older — but none of those depicted families going through things that I was going through while watching it. It was my escape and where I went to forget about the things that may have been transpiring in my own life at the time. Now, one of my favorite television shows has a storyline that hits too close to home for me and it's no longer an escape.
I can't watch it.
I feel terrible saying that because I have been a devout watcher since the first episode aired. I even comment about it on Facebook from time to time and I talk about it with my friends. I absolutely love the series and I think it truly helps me be a better parent to my four children.
And then Kate went into labor. Ugh.
I had a suspicion that she would deliver prematurity due to her high-risk pregnancy, but I wasn't ready for it. Suddenly, instead of watching television to escape the reality of my daughter's NICU stay and raising a premature baby of my own, my favorite break from reality went up in flames.
My daughter was born at 23 weeks gestation (17 weeks early) after I spent six weeks on bed rest and being transfused due to my life-threatening case of placenta percreta. I almost lost my life on four different occasions and my daughter almost lost hers.
Joy was born weighing just one pound and four ounces (575 grams) and she was not even as long a ruler. She was forced to experience more medical procedures in the first four months of her life than most healthy adults (thankfully) will ever experience in their lifetimes. She was born at the cusp of viability and almost didn't make it. My poor little girl spent 121 days in the Neonatal Intensive Care Unit (NICU) in New York and I wasn't sure that she would ever make it home until the day that she did.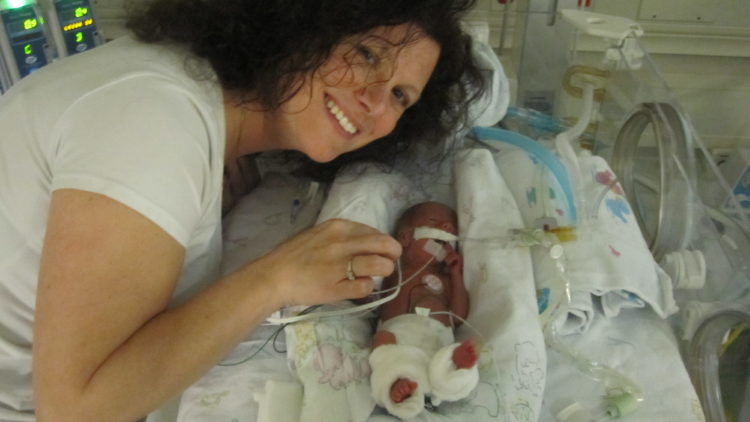 My pregnancy, premature birth and her NICU stay were very traumatic for me and my whole family. It tested my marriage, affected my other children in ways that I am still learning and almost killed me.
I enjoy watching one television show before I head off to bed each night to quiet my mind. Now it's ruined, at least temporarily.
My daughter was taken away immediately after her birth — not that I knew it because I was asleep during her delivery and the surgery that separated both my bowels and bladder from my placenta and then took my uterus. I needed over 30 units of blood to stay alive and was taken to the Surgical Intensive Care Unit (SICU) to recover after her delivery. I spent a few days there and was not allowed to visit my daughter in the NICU because of my own recovery. While I was recovering, my premature daughter was struggling to stay alive. She was intubated immediately after birth and taken to the NICU where they hooked her up to tubes and wires. The put a feeding tube through her nose to accompany the breathing tube down her throat. Neither of us were doing well and we could not be together.
I won't share every single medical complication that my daughter encountered throughout her NICU stay, but I will say that I was not able to hold her until she was over a month old. For one entire excruciating month, I had to sit next to her and stare at her in a plastic box watching her fight for her life as I worked on healing myself. She had several critical complications and she made it through each one of them. Shortly after her one month birthday I was able to kangaroo her. She wasn't able to wear clothes and still had tubes and wires keeping her alive, so I could not hold her in a traditional way. After about 10 minutes of carefully taking her out of her incubator, the nurses laid her on my bare chest. It was glorious. I finally felt like her mother and we began to bond. Then after about five minutes, her monitors went wild; signaling that she was desatting (a medical term for a decrease in the amount of oxygen in a baby's red blood cells) and the nurses took her away to stabilize her. That was the first time I held my premature baby and it felt like a medical procedure and it was quick. Slowly, over the next few weeks, both my husband and I would continue to try to kangaroo her until it had become common nature to do so — and she could handle it. It took another month or so for her to tolerate it.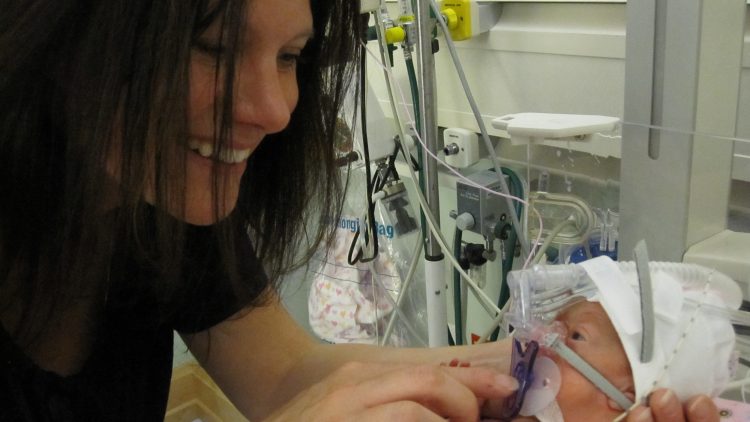 The roller coaster of the NICU also has an affect on the whole family. I am curious how this will play out on "This Is Us." I don't have any siblings, but I have very close friends and cousins and my husband has a brother. They were very supportive during our NICU journey and thereafter, but nothing can take away the pain and trauma.
The days and weeks following NICU discharge are no picnic either. All of the worries and complications follow you home and there are new things to worry about once you get there. This time can be traumatizing for NICU parents. The comfort blanket of a room full of nurses has been removed and replaced with the knowledge that you are now solely responsible for keeping your baby alive. I put a bed in my daughter's nursery and slept in it for almost eight months because I was so afraid that she would choke or stop breathing at any moment, and she did, and I was there. Now, as she approaches her seventh birthday, I still worry about her health and I still sleep with her when she has a respiratory virus, in case she stops breathing. She has had pneumonia eight times and is still taking inhaled steroids twice a day to help reduce the swelling in her lungs. This is one of her remaining complications of her premature birth.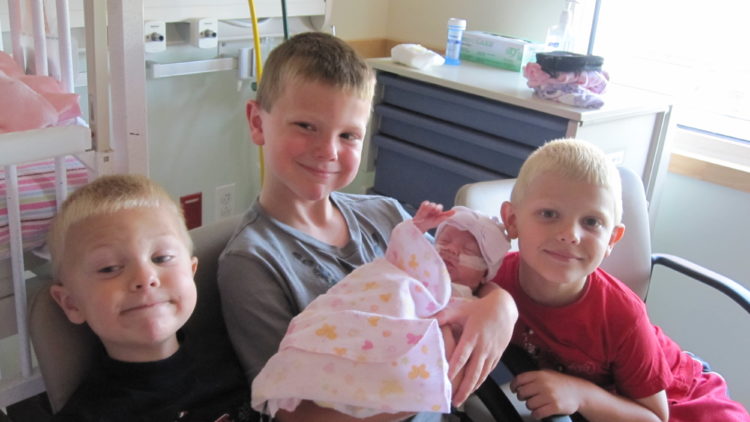 Please don't think that it's all bad. While any parent would give almost anything to prevent their baby from experiencing so much trauma — there are some silver linings after a NICU stay. Our family learned that we are stronger than we think. We have all learned to be sensitive and tolerant to anyone with severe medical issues and we all learned a great deal of patience. We also learned that trauma lies in the eye of the beholder and one never knows what can trigger an emotional response. What is traumatic to one person may not be traumatic to another. Although I have to admit that I still occasionally get angry when one of my kids leaves a dirty sock on the floor or a dirty dish on the counter, we try our best to remember that we are blessed and have encountered a lot worse.
Our experience has opened up a new path for me as well. I have written two books about our experience (with a third in the works) and I have been traveling the country advocating for maternal and neonatal healthcare improvements. Shortly after my daughter's first birthday, I realized that I had to do what I could to spread awareness about high-risk pregnancies and premature births and I started to write and haven't stopped since.
So, back to "This Is Us." I still love the show and I will watch the rest of the season when I feel that I am ready to. I'm not there yet. This is something that we have to remember when we talk to any family who has experienced a trauma. Some may have moved past it and others may be stuck in it. I am somewhere in the middle and although I often share my story when I speak at various events — I am not ready to watch it unfold on television. I hope to get there soon because I already miss my favorite show, but I need to do it on my own time.
I do want to applaud the creators for writing this into their storyline because it helps others understand what it's like to be a NICU parent, and it helps other NICU parents understand that they are not alone — but I'm also mad that I can't use my favorite show to escape my own NICU reality and all of the pain and trauma associated with it.
As for our family today, my three boys are now ages 10, 12 and 13 and my precious daughter is almost 7 years old.
We are still healing.
This is us.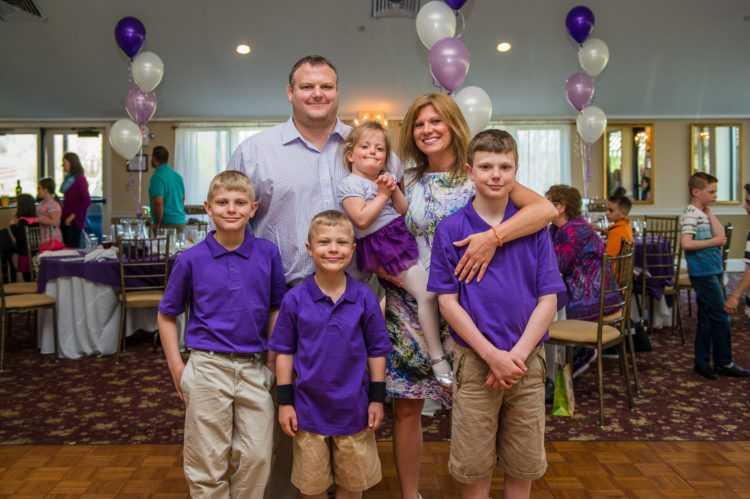 For more information and resources on high-risk pregnancies and premature births, please  visit Speaking for Moms and Babies, Inc.