What I Wish I'd Known When I Was Diagnosed With Cervical Insufficiency
---
After I suffered a miscarriage and an ectopic pregnancy, which resulted in the loss of one of my fallopian tubes, my husband I were ecstatic to find out we were pregnant shortly after both ordeals (which were all within about four months of each other).
At the nine-week mark of our pregnancy in November 2011, we went in for our routine appointment and to our amazement, were told we were having twins! We were in complete shock and beyond excited. Since both of us are only children, we knew we wanted more than one child. We then went home and processed the news, and by Christmas we were telling our friends and family in cute Pinterest-style ways.
The pregnancy was going fabulously. But at our routine 18-week anatomy scan, when we were told the sex of our babies, we also found out some scary news. The technician told us we were having boys. Again, were beyond excited… for a minute, if that.
Within moments of telling us the sex, it felt like time stopped. A team of doctors came in and were examining me. It turned out I appeared to be in labor. What? I thought. No pain, no change, nothing! How could this be? I had what they call cervical insufficiency. In layman's terms, my cervix was open and not holding the babies in. I was then given the option of terminating or going on bedrest for remainder of pregnancy and getting a cerlage. A cerclage is stitch placed around your cervix to close it. It had a good chance of working but could lead to infection. I opted for the cerclage.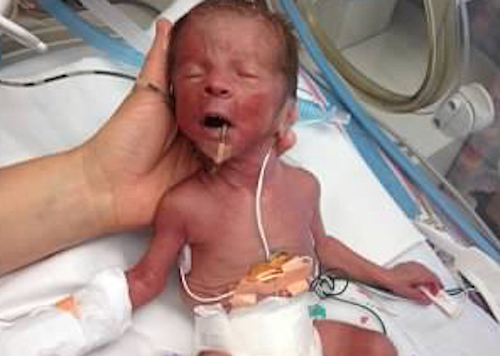 I remained on bedrest until week 27, when my water broke and I was rushed to the hospital. I remained there for one week, and that is when my boys decided to make their grand entrance into this world. Due to an infection, I was forced to deliver. Andrew Joseph was born first weighing 2 pounds, 8 ounces and JohnCarlo was born weighing 2 pounds, 6 ounces, both a mere 15 inches long. They were both rushed to the NICU. I couldn't hold them or see them. I was also sick but still knew I wanted to see my boys. When I was finally able to see them, a day later, Andrew was in the transitional nursery, where babies stay until they are transferred to the NICU, if they survive. JohnCarlo had already made it to the NICU. Sadly, my son Andrew never made it out of the transitional nursery. He fought hard for two days. He was to be his brother's angel.
JohnCarlo remained in the NICU for 85 long days, fighting for his life. We were by his side the whole time fighting with and for him. I had to stay strong for him, even though I was mourning the loss of his brother. I wouldn't let myself get weak — I felt it would make him weak. It was the hardest feat I ever had to overcome in my life.
My son came home three days before his due date. We've had many doctors and specialist appointments, therapies and emergency room visits, but he is a fighter and truly a miracle. There is not a day that goes by when I am not amazed by his strength, smarts, kindness and all he does.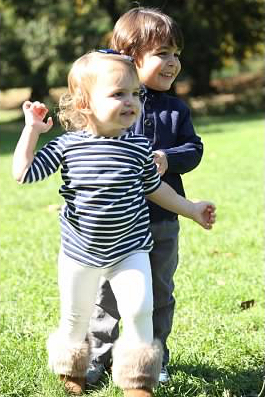 He is a happy, healthy 3.5-year-old boy who lights up a room and everyone around him with his smile. He is also a wonderful big brother (sometimes) to his baby sister, Mia Rose. Mia entered this world a year and a half after her brothers were born and was a full-term 8-pound, 8-ounce baby girl.
The reason I'm sharing my story is because I'm looking to provide hope and encouragement for those who have had the unfathomable experience of losing a baby, life in the NICU and having cervical insufficiency.
Life can go on after a loss. Although you may not feel that way, it can. I realize this may seem impossible, and understandably so. There are many reasons why women suffer a loss, but if it is due to cervical insufficiency, there are solutions. There are different types of cerclages that can be placed and have a high success rate. I am living proof. I wish I had known this on that dreaded day we went in for an anatomy scan.
As for preemie babies — well, they are truly special beings. The NICU is a long road, and a hard one at that. Learn all you can while you are there — do rounds with doctors, ask questions, research specialists, start to look into early intervention in your state. Stay on top of things. Remember, knowledge is power. Try to be positive. Talk to other preemie moms — I found this so helpful. Nobody will understand unless they've been there, which is why I often volunteer my time to others who are in this situation, as well as at loss support groups. I never thought we were leaving the NICU, and seeing everyone else around us be discharged, I kept thinking, When is my day? The mom next to me who had been there for seven months kept saying it will come, be patient — this coming from someone who was there for a total of nine months.
We are also very active with March Of Dimes, a wonderful resource for preemies and loss.
I can tell you this much: life isn't easy, nor is it fair at times. Turning something so tragic and negative into a positive is what has helped me. I only hope I can make a difference and give the encouragement and support that us parents need. You are not alone and there is nothing worse than feeling like you are.
Editor's note: This is based on one person's experiences and should not be taken as medical advice. Consult a doctor or medical professional for any questions or concerns you have.
The Mighty is asking its readers the following: If you could go back to the day you (or a loved one) got a diagnosis, what would you tell yourself? If you'd like to participate, please send a blog post to community@themighty.com. Please include a photo for the piece, a photo of yourself and 1-2 sentence bio. Check out our Submit a Story page for more about our submission guidelines.
Originally published: February 4, 2016