Rapper Fetty Wap Gave Boy Missing an Eye Something His Parents Couldn't
---
A rapper's unapologetic individualism taught one young boy a valuable lesson.
Brenda Vader, from Denver, has a son named Jayden who was diagnosed with retinoblastoma when he was only a year old, according to a post on her Facebook page. Retinoblastoma is a rare cancer of the thin membrane on the inside back of the eye that is stimulated by light, according to St. Jude Children's Research Hospital.
Jayden's cancer treatments ended up costing him his eye, and he's worn a prosthetic ever since — that is, until rapper Fetty Wap came onto the scene.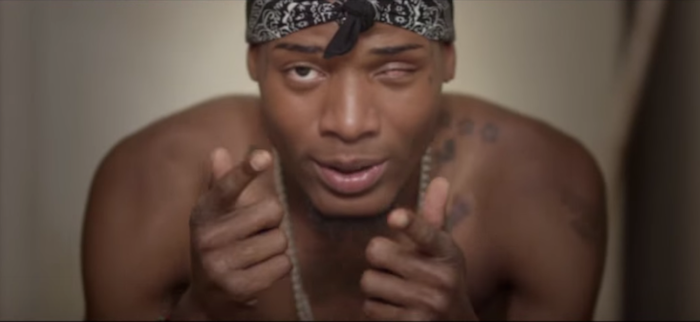 Willie Maxwell II, better known as "Fetty Wap," hit it big this summer with his song "Trap Queen." Maxwell was diagnosed with glaucoma when he was 6 months old, which resulted in him losing his left eye, he told TMZ. But the rapper now refuses to wear a device to hide his missing eye.
"I just stopped wearing the prosthesis because I didn't want to look like everybody else," Maxwell told TMZ.
Jayden, a fan of Fetty Wap, recently made the same decision — he decided to stop wearing his prothesis. His mother posted about Jayden's decision on her Facebook page.
Read the full text of Vader's post below: 
(Warning: long sentimental post ahead) Today I am forever thankful to a young man named Willie Maxwell aka Fetty Wap. While his music is catchy (not always agree with his lyrics but hey who am I to judge…), I'm not necessarily his fan (although Trap Queen is my jam), BUT today I'm his biggest fan. Many close friends, and of course our family know that Jayden was diagnosed with Retinoblastoma at the age of 1. In result of that he had his right eye removed 2 weeks after his 1st bday. He's worn a prosthetic eye since then. He has always been terrified of taking it out and would not be caught without it…and then comes along Fetty Wap… Similar to Jayden he lost an eye at a young age and along the way he decided that he didn't want to wear his prosthetic eye anymore, so he stopped. Jayden, let it be known, is a Fetty Wap fan, a real fan, not like me ha! Well, today, after weeks of asking, Jayden is venturing the world without his prosthetic. I of course am a wreck because this world can be cruel, but so proud of our Boogies. This young rapper unknowingly gave Jayden something we weren't able to give him — the confidence to be different — and I am grateful to him. Thanks to Fetty Wap for saying F the world this is me, and for helping make our baby boy just a little more remarkable than he already is. And we'll be purchasing his album, a small thank you to him for changing Jayden's life forever.
Since Brenda Vader posted the above on
Facebook
and
Instagram
, she's received an outpouring of support.
Check out the video for Fetty Wap's song "Trap Queen" below: 
h/t BuzzFeed
Originally published: September 16, 2015