16 Photos That Show What Rheumatoid Arthritis Really Looks Like
---
If you live with a condition that causes inflammation, your illness could both have visible components to it and affect your life in ways that can be hard for others to understand. Rheumatoid arthritis (RA), an autoimmune disease that primarily affects people's joints, is one of these conditions that are hard for others to "see."
If you live with RA, however, you are acutely aware of how your rheumatoid arthritis symptoms impact your day-to-day life. And your other RA warriors get it too — and loved ones who take the time to know you. Contributor Gloria Shannon wrote for The Mighty about how "invisible" illnesses like RA are not truly invisible:
My illness may seem invisible to the naked eye but really it just takes some time to open your eyes wide and see. You cannot possibly know what every person you encounter on the street is going through and no one could expect you to. But a friend, a colleague or a loved one has the capacity to see what is going on behind our fake smiles and lies of 'I'm fine.' You just have to look hard enough, and when you do, my invisible illness suddenly becomes glaringly obvious.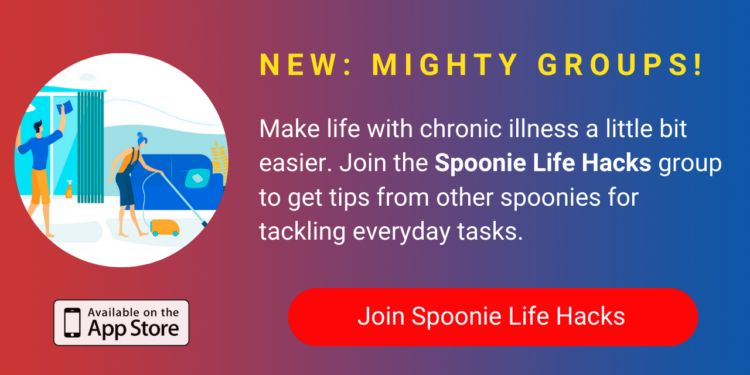 We asked members of the Mighty's rheumatoid arthritis community to share photos that show what living with RA really looks like. If you live with any chronic illness, you may find these photos will look familiar to you too.
Here is what our community shared:
1. "This is my beautiful young man helping me put my socks on. Most days I cannot do these 'normal' tasks for myself." – Peta M.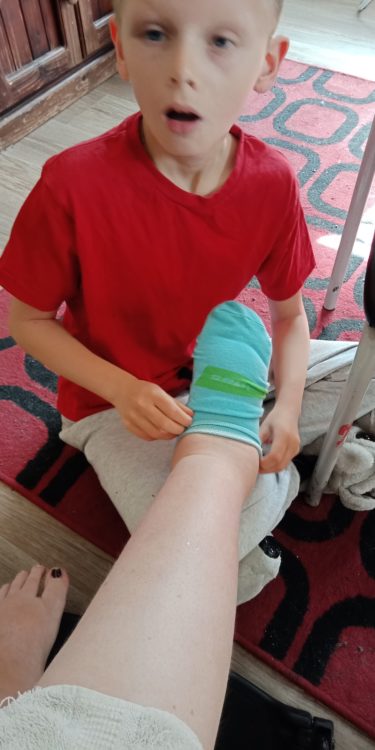 2. "Swollen ankle and feet, extreme fatigue, barely healed superficial wounds and cuts, bruised toes, dry chapped lips and rashes here and there." – Karmela S.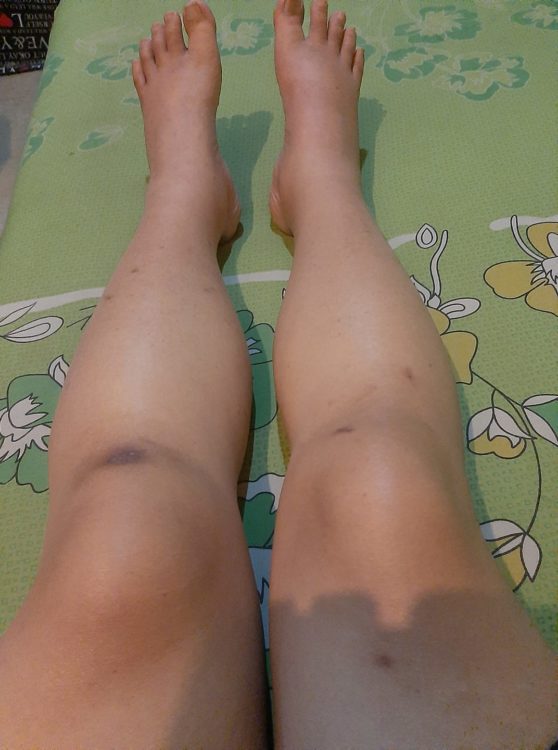 3. "I've had [juvenile rheumatoid arthritis] pretty much my whole life. I was on the golf team in high school. I had to wear these beautiful shoes to make my legs even length. Additionally, my dad had to plead with the high school athletics board to allow me to use a cart as I wasn't able to walk." – Erica S.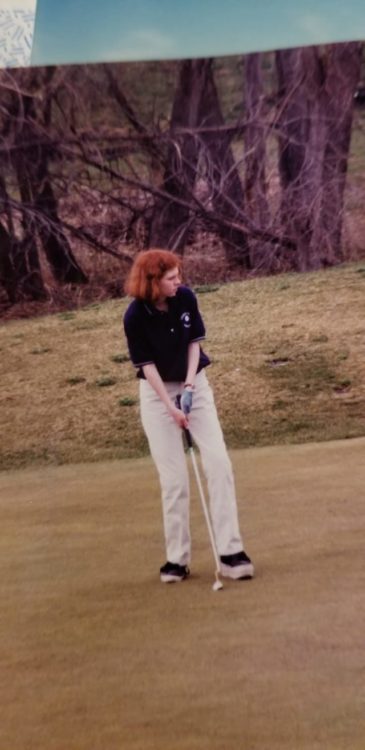 4. "Walking into a doctor's appointment with my service dog and service dog-in-training. When my RA acts up my knees swell and I am at higher risk of falling and because of my Ankylosing Spondylitis if I fall I can break my spine easily. I also can't bend because of spine fusion which also sucks." – Cecelia K.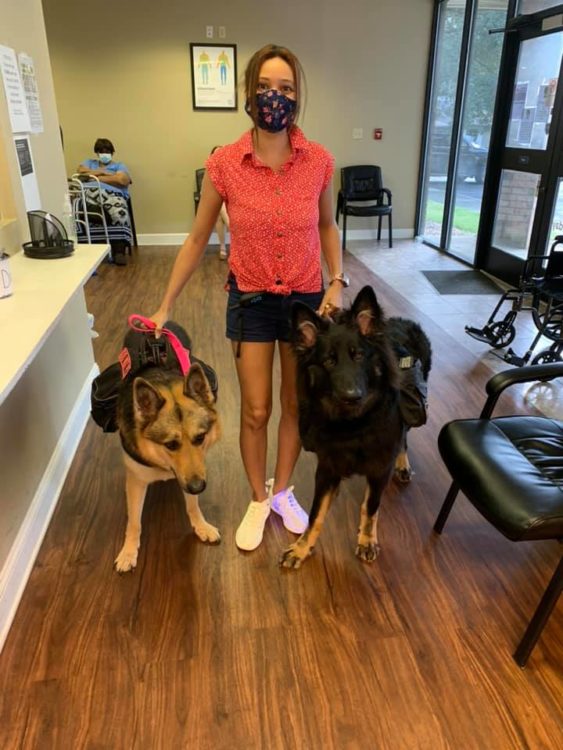 5. "Not a flattering picture but this is my reality. Large, painful bruising in random places with no apparent cause." – Emma P.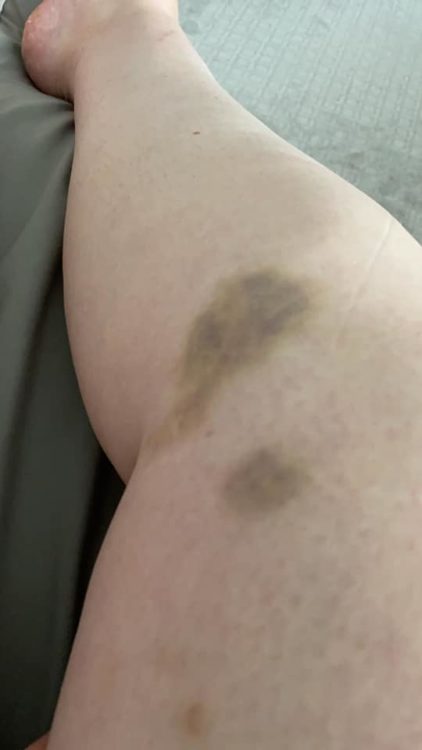 6. "Swollen red wrists and fingers in the middle of the night, even just adjusting my sheets or my position was painful." – Ayca Y.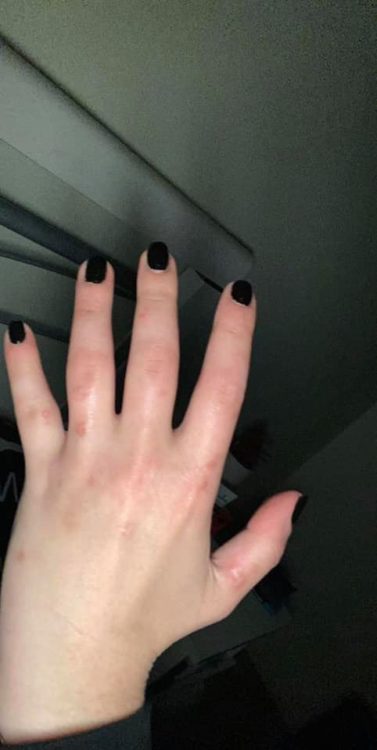 7. "Chest pains which ended up being inflammation in that area from RA, but I wanted to make sure. You just never know." – Kel W.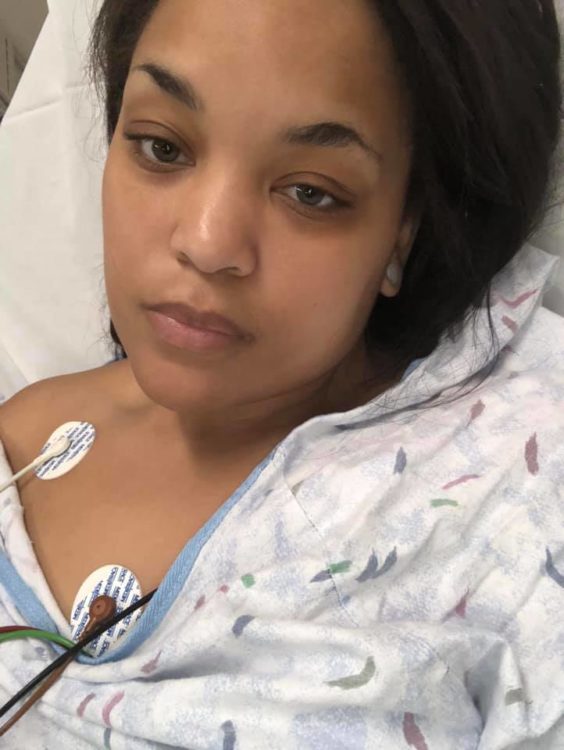 8. "Sitting at the desk during my student teaching instead of standing, because my back and knees can not handle it." – Carina F.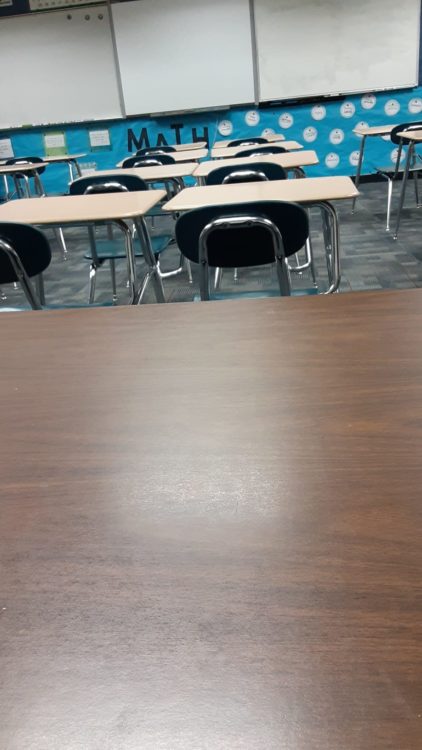 9. "I just came back from a  fishing trip with my parents. My dad helped me get my walker to the water every day so I could fish! My body has been in recovery from all of it, but it was so worth it." – Priscilla G.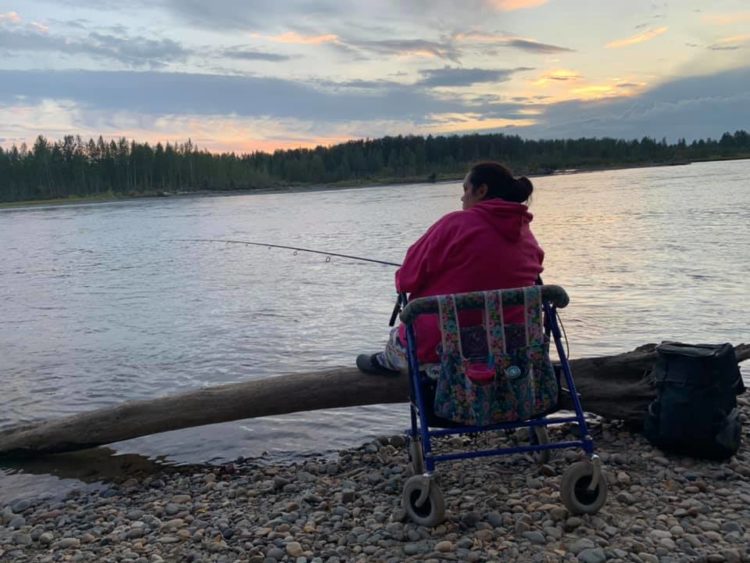 10. "Humid weather or any kind of weather hurts me. My jaws are even hurting today." – Deanna C.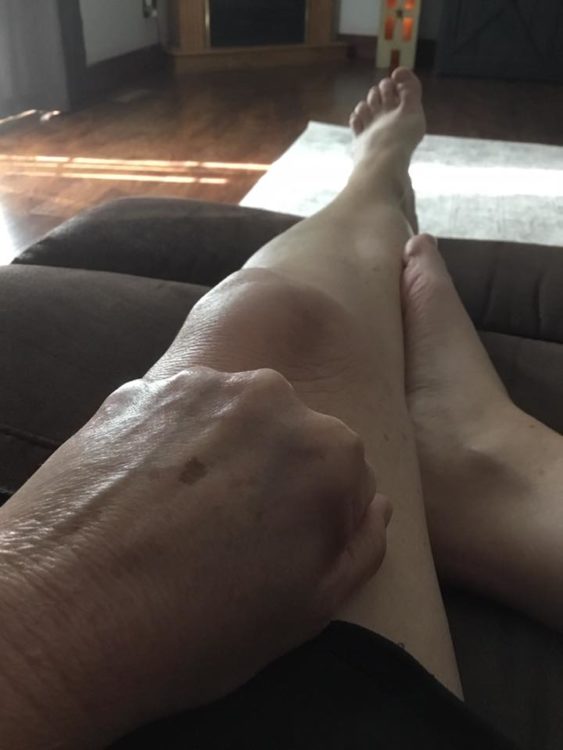 11. "Numerous trips to the ER and days in the hospital. Due to pain, heart-related issues because of meds, swelling, blood clots, severe fatigue." – Alescha M.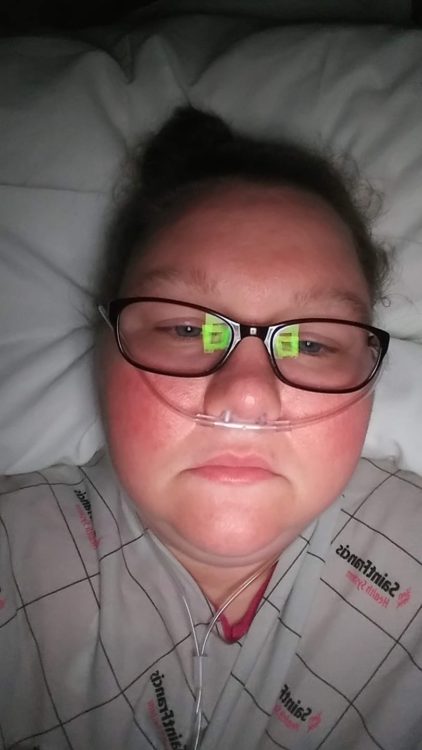 12. "I have my first ever novel deadline coming up but my RA or AS started attacking my eyes 2 months ago. Yup, I was blessed with two forms of arthritis." – Shayla F.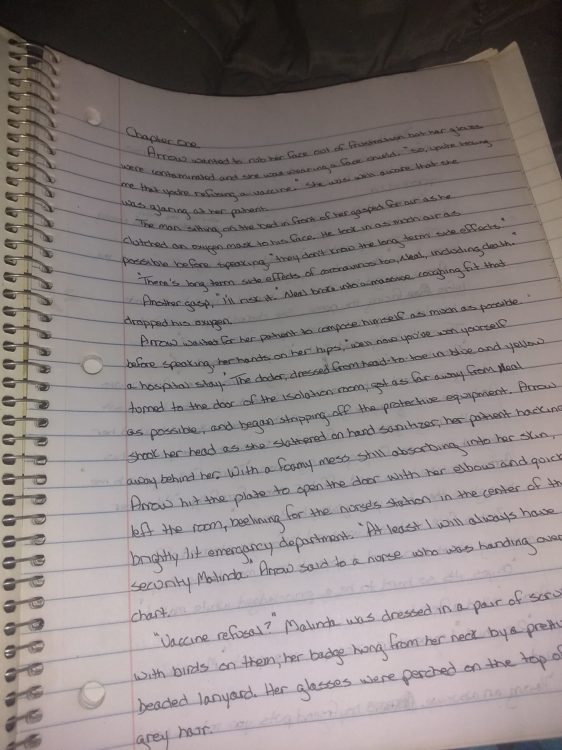 13. "Recently added an outdoor tub to our garden. I soak in Epsom salts to help my joints and relax. Soaking in nature is amazing and relaxing. I meditate a lot to help deal with pain." – April H.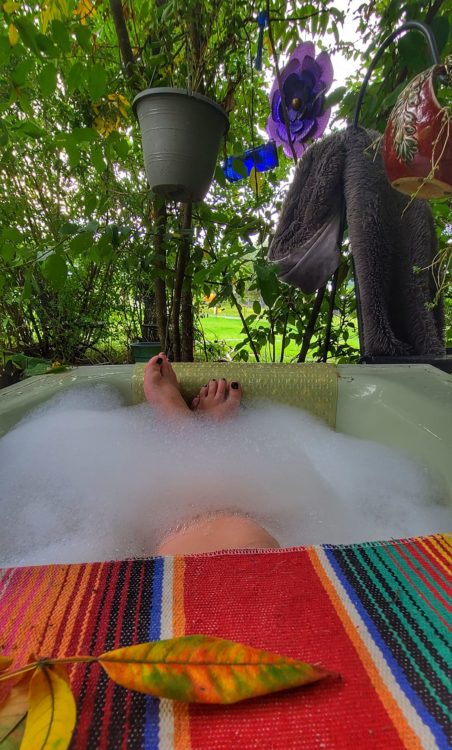 14. "Living with a fused wrist (and a rockstar scar!) and a thumb with limited movement." – Michelle G.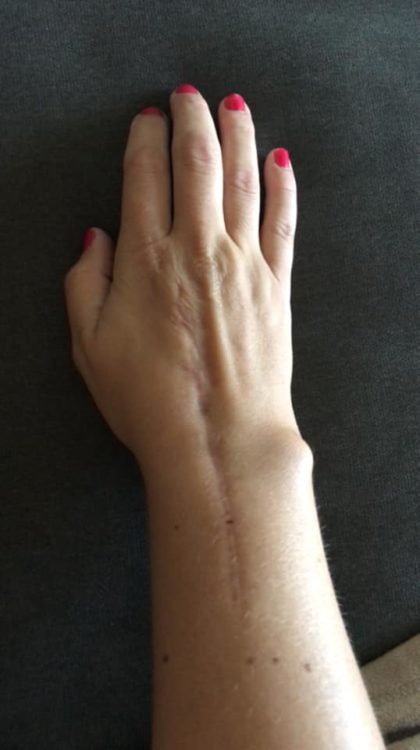 15. "Enjoying a 'walk' beside the sea with my husband (my full-time carer) and our dogs. We're lucky that we live on the coast. It's my relaxation." – Jill C.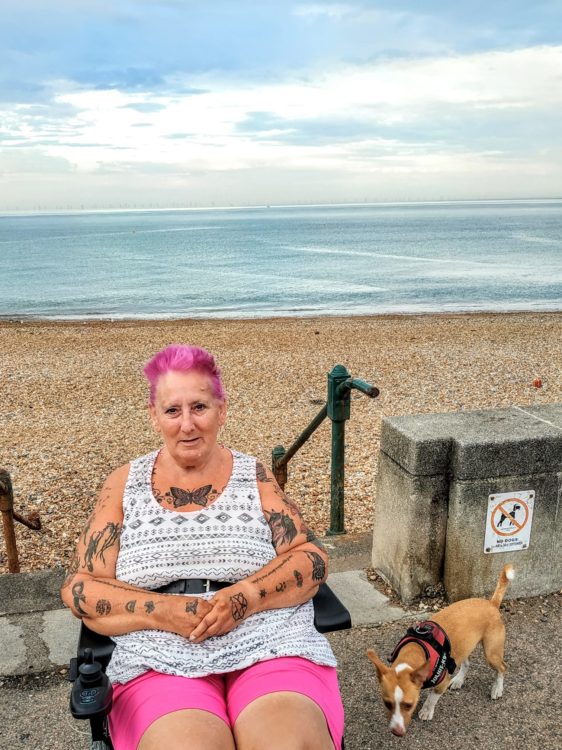 16. "Swelling in both ankles, but the right ankle was much worse."  – Selené A.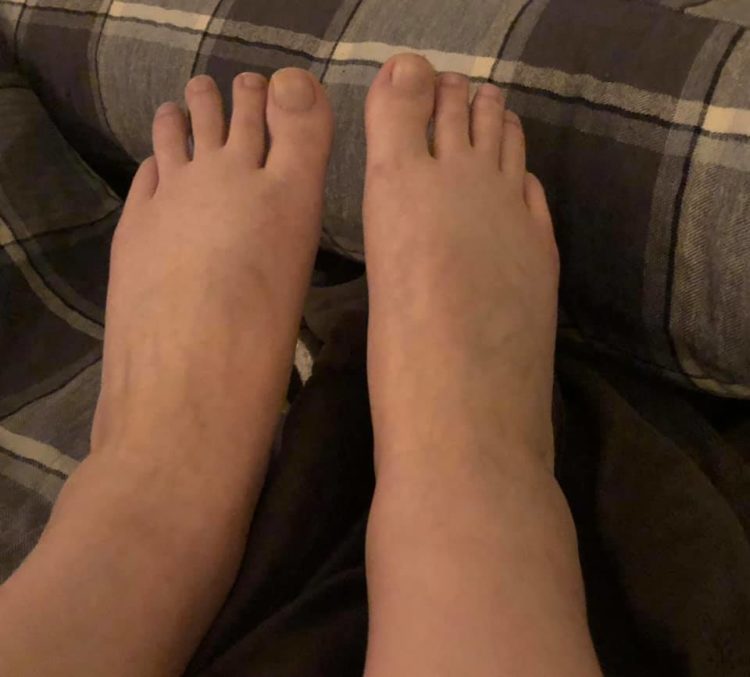 How would you describe what rheumatoid arthritis looks like to you? Share your experiences in the comments below!
Originally published: August 31, 2020