10 Symptoms of Rheumatoid Arthritis – as Shown in Photos
---
Although many people may experience similar symptoms, rheumatoid arthritis (RA), an autoimmune disorder in which the body's immune system mistakenly attacks the joints, looks different for everyone. Whether you're battling largely "invisible" symptoms, such as pain or fatigue, or something more apparent, like swelling or redness, these symptoms can often manifest in a variety of ways, depending on the individual and their unique health situation.
But even though RA symptoms can take on different forms, it is important to raise awareness of these manifestations so those with rheumatoid arthritis can be better understood and have more productive conversations with loved ones, friends and doctors. So, we asked our Mighty community to share photos depicting one of the symptoms they experience. Let's shed some light on how complex and multifaceted RA can really be.
Here's what our community shared with us:
1. Muscle Weakness
"My wrists and hands are always inflamed and they are not strong enough to push down the no-slip shower pads for my toddler's baths. I use shampoo bottles to press them down and she will always come along, grab a bottle and help." – Tess N.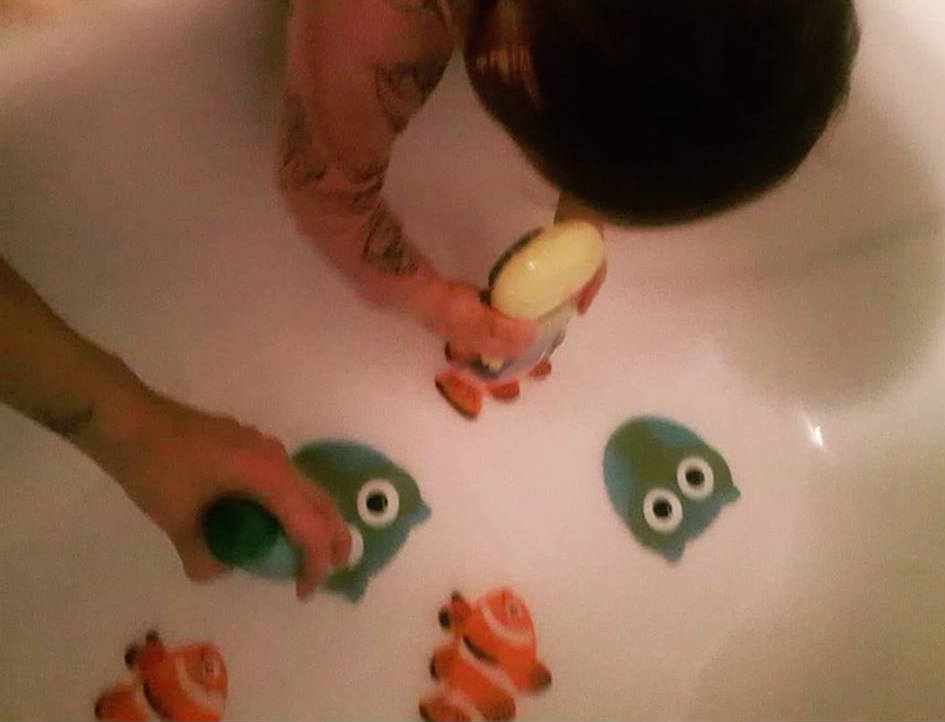 2. Fatigue/Exhaustion
"Trying to be a good mom, but always exhausted." – Mallory S.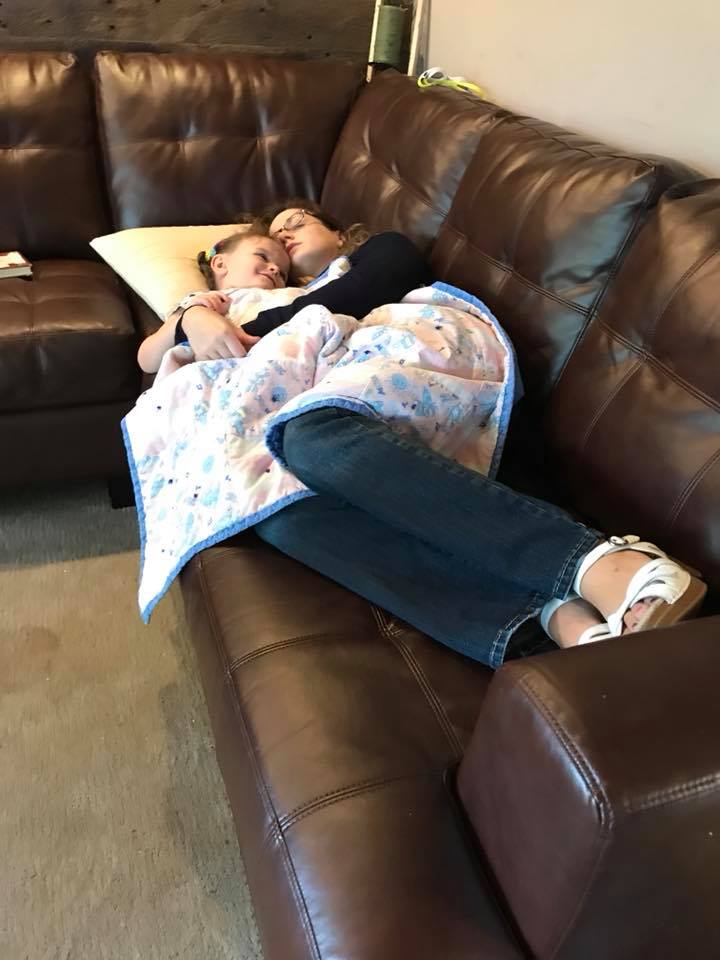 "Tiredness." – Marcee H.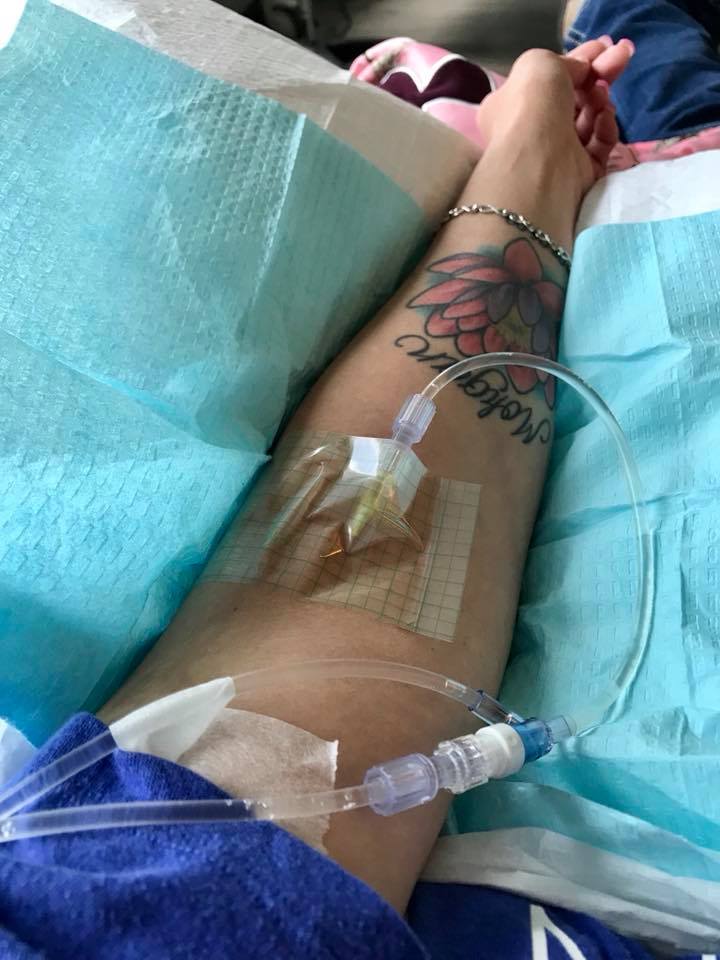 "Fatigue. True face of RA… This picture was taken on my last birthday. I was looking forward to a party with my best friend and a musician friend. But the fatigue was so hard. I couldn't make it to the bathroom… the only thing I could do on this day was sleep. I fell asleep a few times. It made me so sad that I couldn't go to the party. And it made me angry, too. Angry because on days like this, it is so hard to accept that it's not my fault that I can't go out. I was diagnosed with RA at age 17. On my Facebook blog "Diagnose Rheuma – Es gibt kein zu jung" I give my best to raise awareness about the autoimmune disease RA." – Niffi M.
3. Painsomnia
"Painsomnia." – Marina Y.G.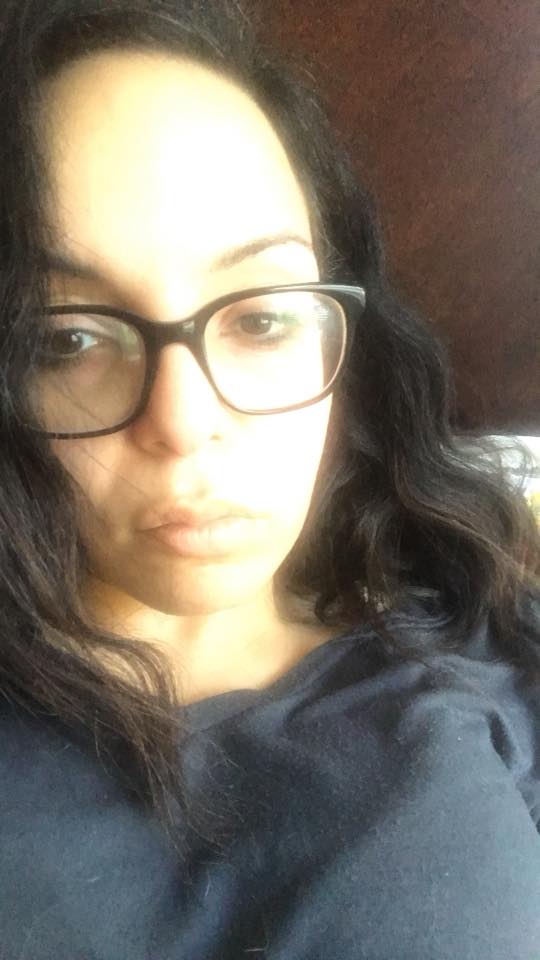 4. Redness
"This is my right hand a week or so ago. The thumb joint is clearly red and was hot. This symptom makes it hard to do anything with my hands and can appear on any joint at any time. This particular morning I went to work with no pain or symptoms and midday this showed up." – Chelsea C.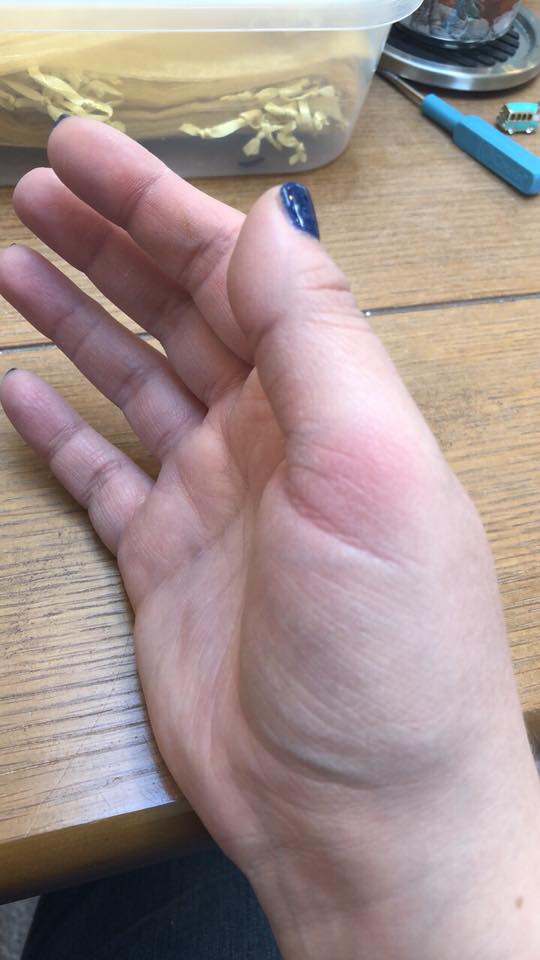 "Swollen ankles, red rash and a face that looks like I have been badly sunburnt. Plus all the usual tiredness and stiff joints…" – Rochelle R.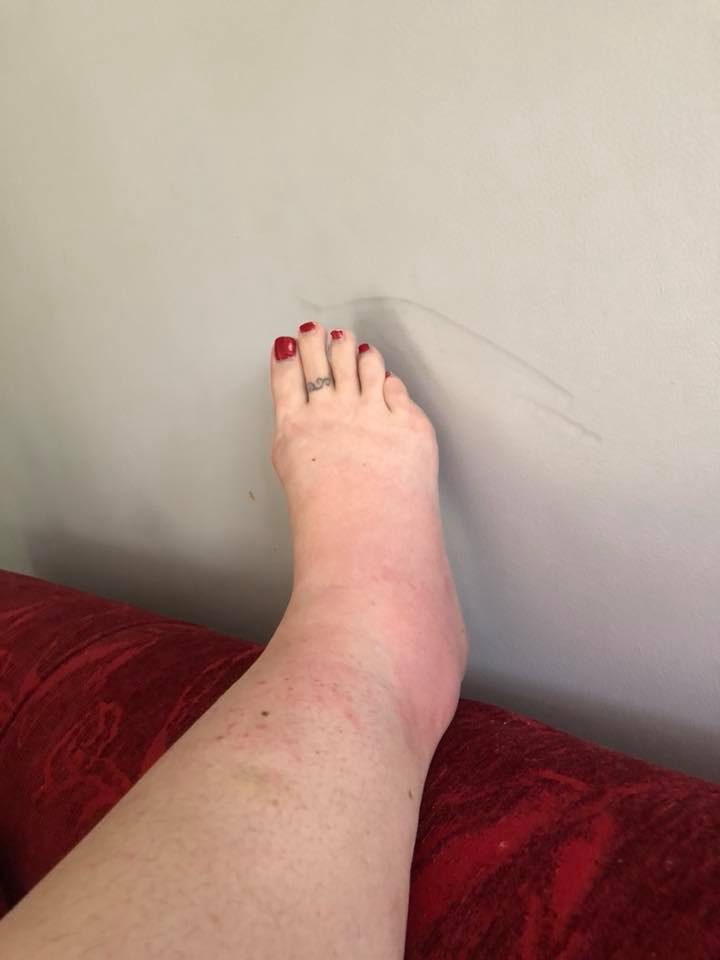 5. Mobility Difficulties
"This is me seeing a movie while walking on a cane. It was too hard to walk unassisted that day and we bought the tickets in advance so I had to do what I could to go." – Shannon S.
"When I have flares, I often use KT Tape to increase my mobility." – Acacia C.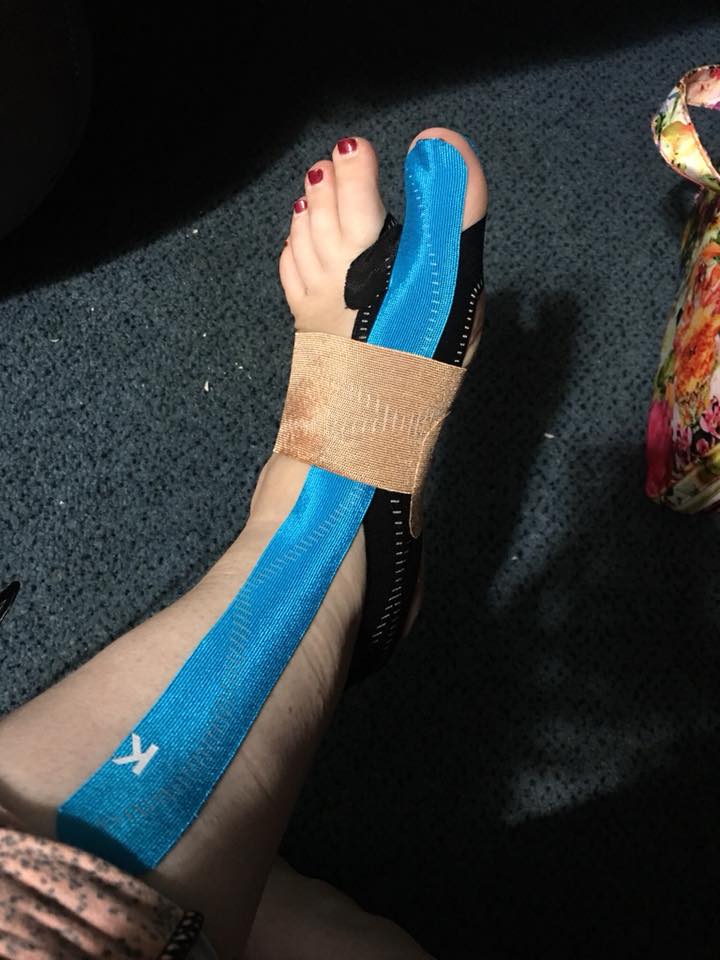 "We have three children, now adults. Due to the severity of my RA I was never able to properly play with them when they were growing up. I'm now repeating the same pattern in never being able to run about with our two dogs." – Jill C.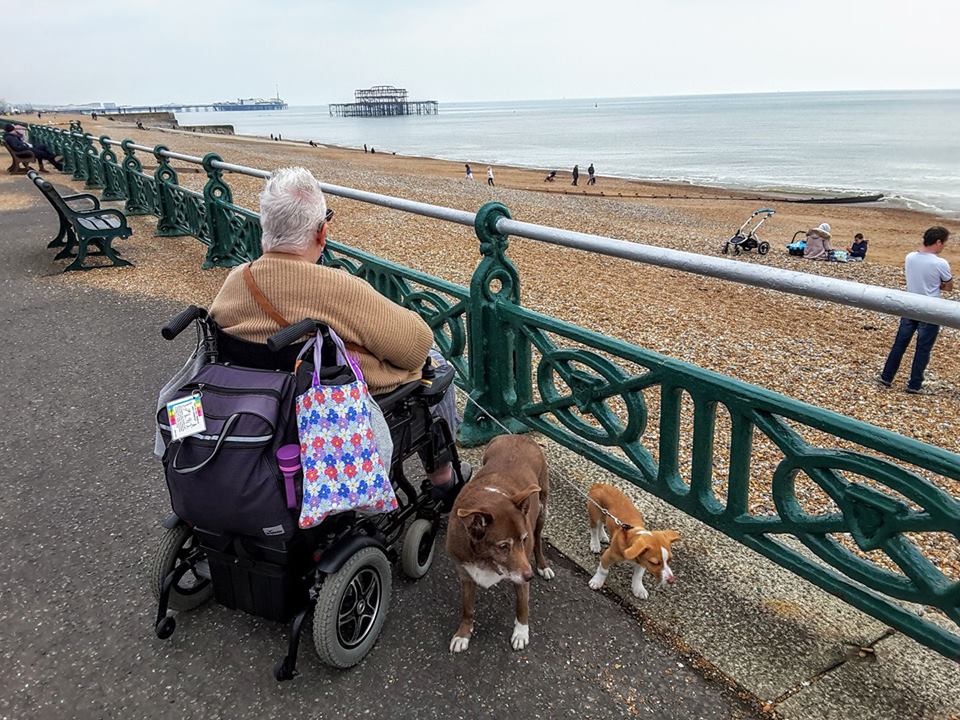 6. Pain
"This is me, hoping the day will end so that I can hide on my bed and cry in my pain and exhaustion. The family and friends never understand what I hide in this painful body… only my Mamma who has RA, too." – KellyAnn C.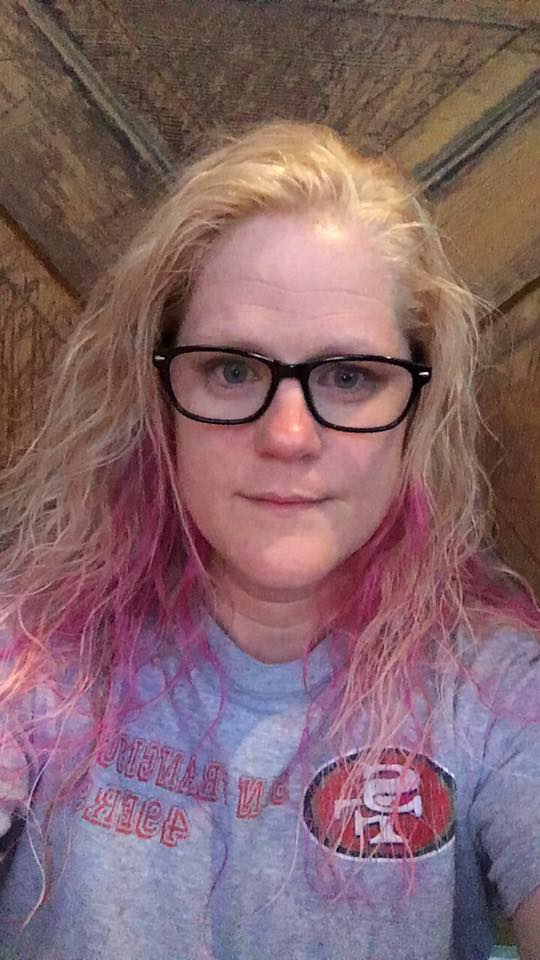 "Lidocaine that I apply to my feet to numb them, allowing me to walk somewhat pain free at work. I do this [three times] a day." – Angela T.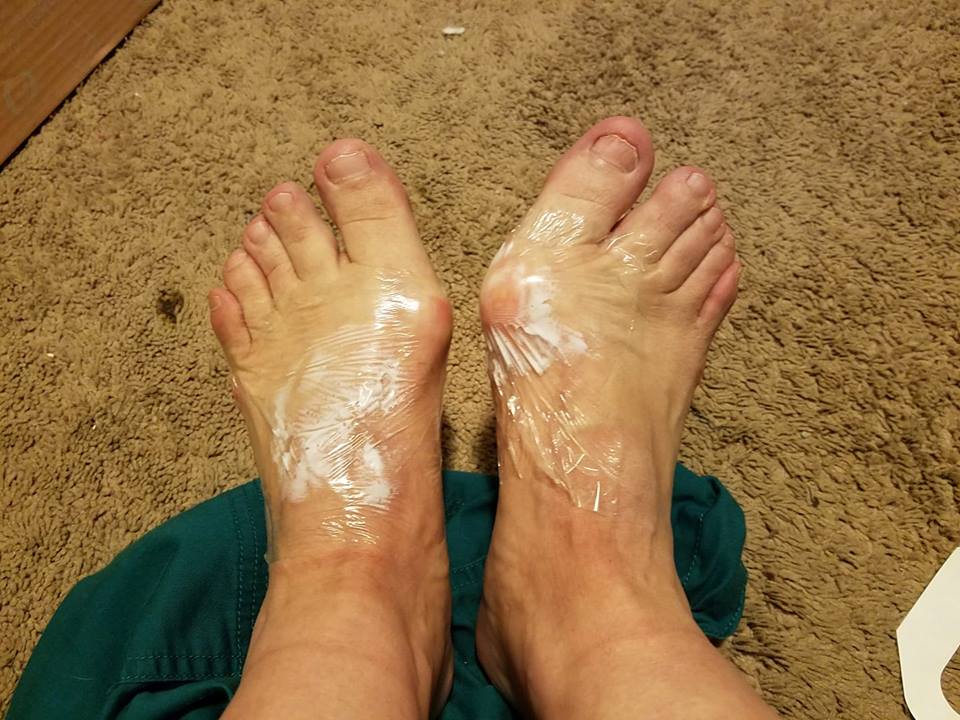 7. Mental Health Issues
"This is the face of RA. There's no physical evidence of the fatigue, anxiety, depression, confusion and chronic pain. Nothing a photo can show. I'm easily agitated, sometimes unbearable to be around. Sometimes I function relatively normal, others I sleep for hours and wake up tired and wishing I didn't wake up at all. This is RA." – Beth L.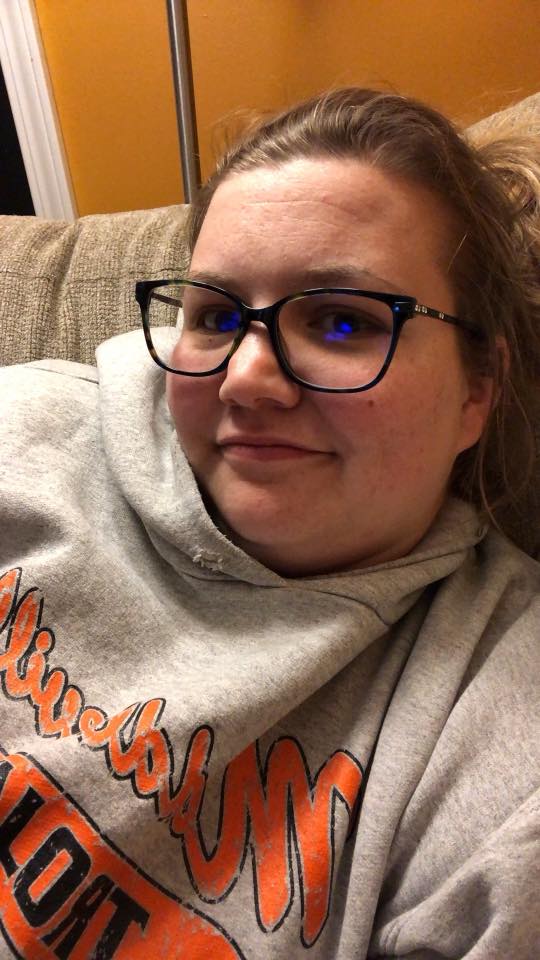 8. Joint Damage That Requires Surgery
"Joint fusion surgery from RA damage." – Michelle G.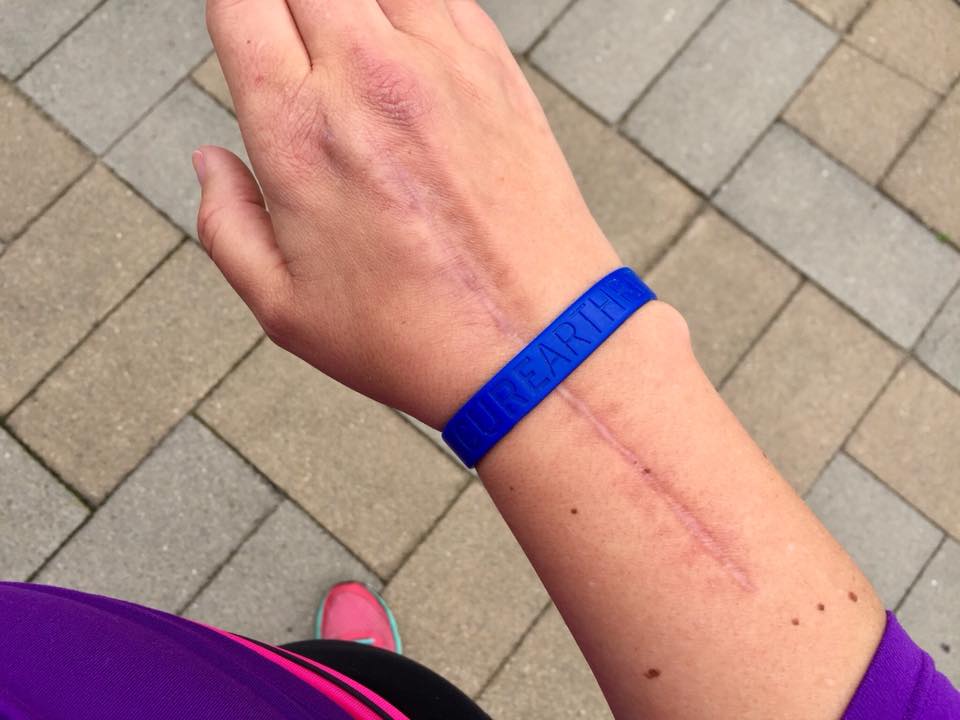 "Total knee replacement at 47." – Mhairi G.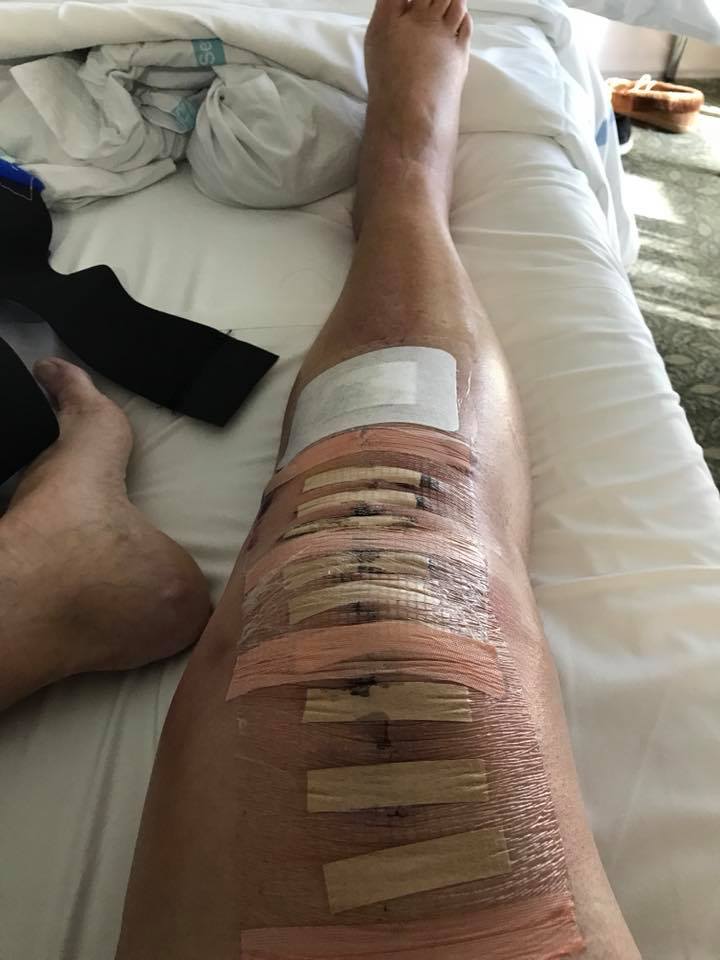 "Total wrist replacement in 2007. Failure of replacement in 2012, following an almost deadly MRSA infection and subsequent wrist fusion… Right wrist is replaced in 2010. I can't wear my engagement ring, hardly ever." – Heidi H.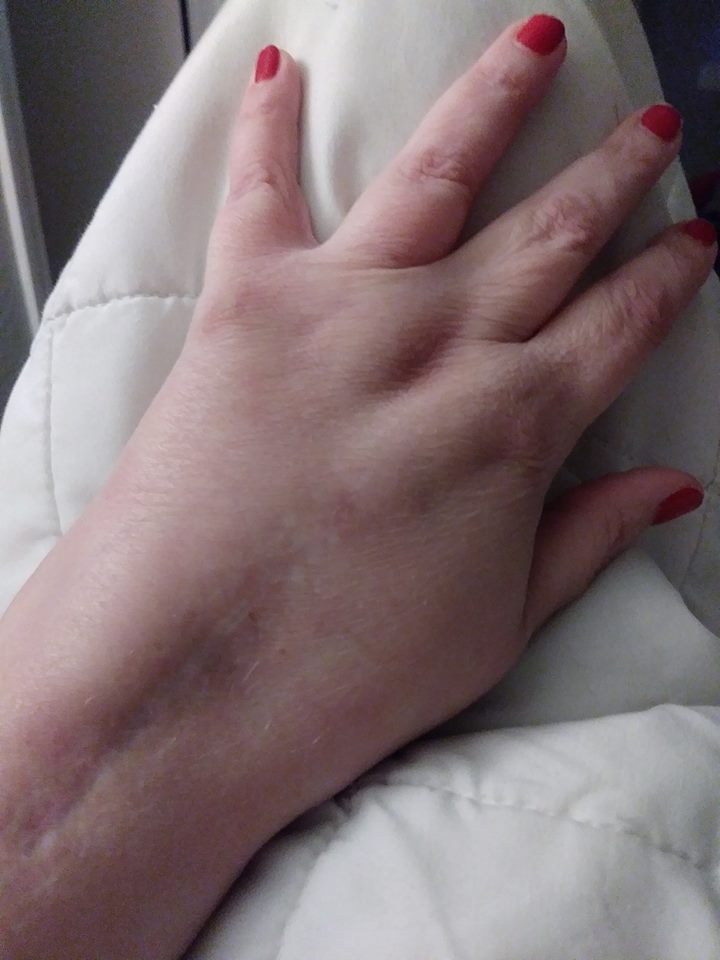 9. Coping With Medication/Infusions and Their Side Effects
"At my lowest but trying to put a smile on my face." – Mariaan C.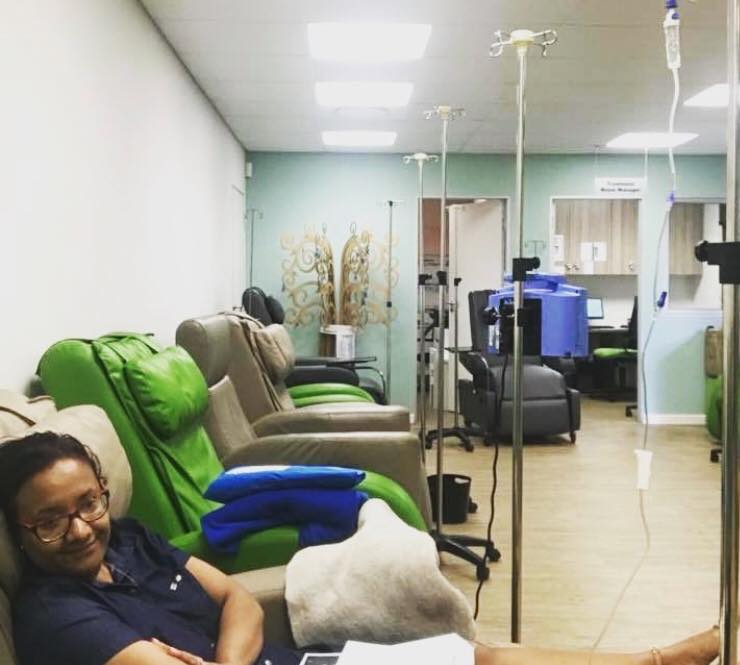 "You know it's methotrexate day when you have to take breaks from walking through the grocery store." – Ashley D.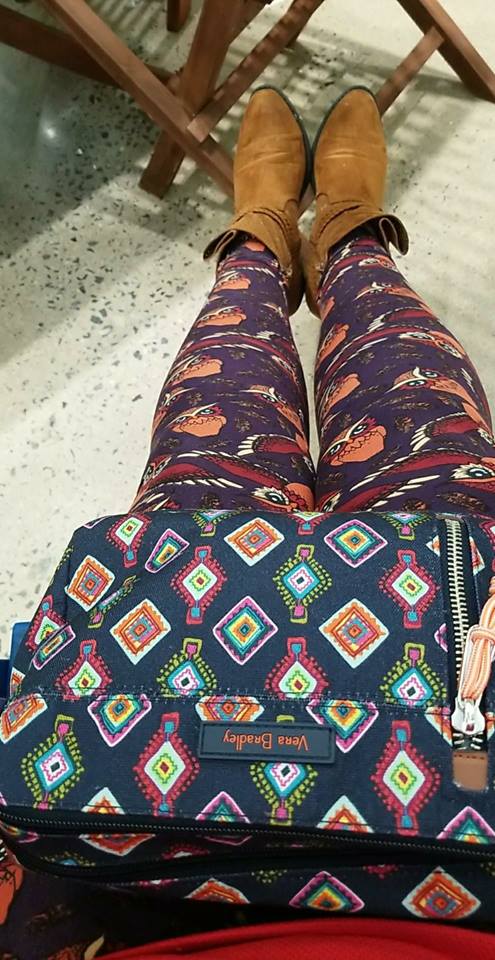 10. Swelling
"This happens to my foot." – Vicky H.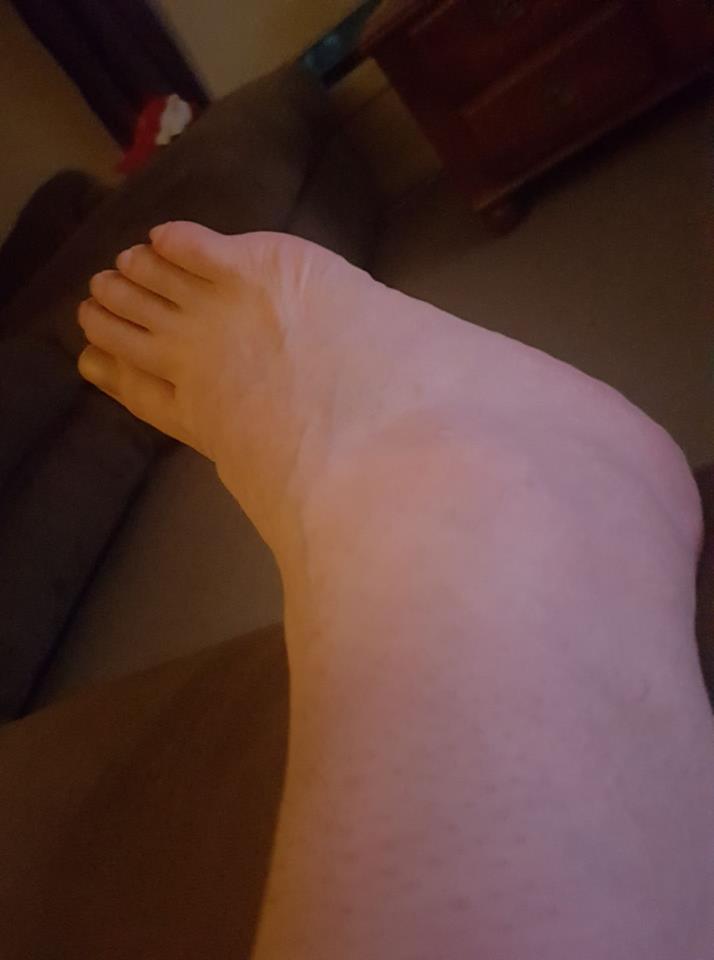 "Swelled finger and knuckles." – Mary R.H.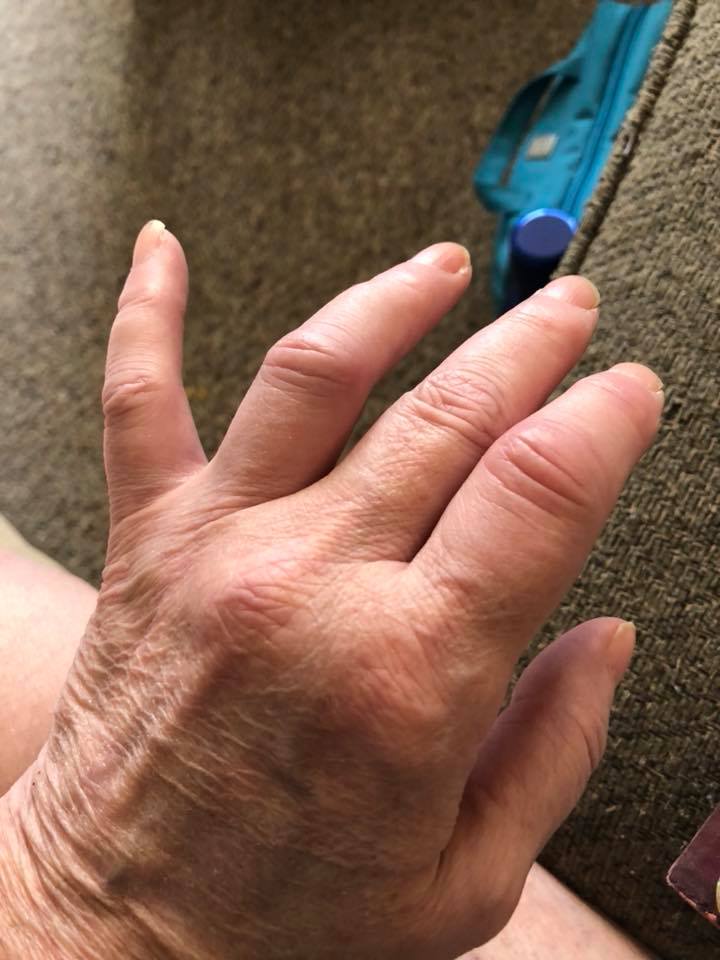 Originally published: May 24, 2018