What I Wish I Knew When My Daughter Was Diagnosed With SATB2 Syndrome
---
It was my sixth time calling the doctor's office that day. I knew he must have the results from my daughter's genetic test, but he had been dragging his feet getting it to me, and my impatience was getting the best of me. Didn't he understand that this one piece of paper was about to change my daughter's life?
After being on hold yet again, I heard the nurse on the other end of the line say, "Yes, yes, I am sending you the report now! Check your email in a few minutes." So I waited, watching my inbox nonstop for the report that would alter all my priorities.
For four years, I had watched my daughter fall further and further behind her peers in all areas: speech, gross motor, fine motor, cognitive functioning. While those around me said things like, "Well, maybe she is just a late bloomer," my gut feeling was that something was wrong. I didn't want to admit it, because I didn't want to think that my sweet girl was anything but perfect.
I needed answers! Was I just a bad mom, unable to teach my child to walk and talk? Or was there an underlying condition that would explain some of the mysteries surrounding Chelsea's development?
When the email finally popped up, I immediately opened it up and scanned for the answer to dozens of unanswered questions like "Why did Chelsea walk so late? Will she ever communicate with me? How can she ever learn to read if she can't even say 'mama?'"
Then, there it was, a short line that made my heart stand still and simply read: "Diagnosis: SATB2-associated syndrome."
I couldn't breathe for a minute. I read the same line about a dozen more times.
All my previous gut feelings had been right, but what on earth was SATB2-associated syndrome? I had never heard of that before in the hundreds of hours I had spent combing the internet and genetic textbooks, searching for an explanation of Chelsea's delays.
I hungrily scanned the rest of the report, desperate for more answers.
At the time, it was a brand new diagnosis, and most of the report said that though there was now a name for the disorder, very little was known about it. Chelsea and I would have to blaze our own trail to find answers.
I knew if anyone would be able to beat the odds, it was Chelsea! Having been in intense therapy since 10 months old, she is no stranger to hard work and never gives up.
When we met with the genetic counselor, we were told to not expect Chelsea to ever speak or communicate with us, be potty-trained, read or function beyond a 1- or 2-year-old level. We were also told that there were only two studies that mentioned this syndrome, and no one was researching it.
Fast forward. It has been almost two years since that day, and our family treated the genetic counselor's prognosis as a challenge to be overcome. Chelsea has some speech and sign, is potty-trained, can read some words and is loving life!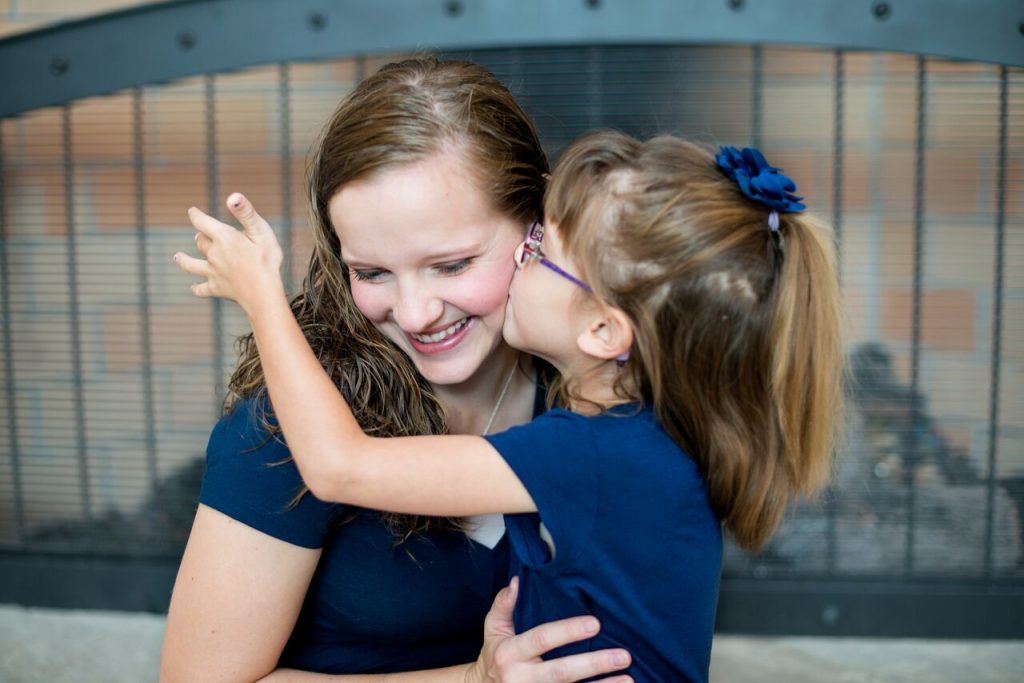 Because of the inspirational team effort of many parents and an amazing geneticist, there are now studies being done on this syndrome, the parents have an incredible Facebook support group, a conference is being planned and, best of all, we are getting answers!
I wished when Chelsea was first diagnosed that there was a manual to tell me about the disorder. While there still isn't a manual, we do have some answers.
Will my child ever communicate with me?
As I meet more and more of the families with SAS kids, I am increasingly amazed at how these incredible kids are able to communicate! There are some kids who speak after multiple years of intense speech therapy, others that use sign language and still others that use an AAC device to communicate. Short answer: There is a huge range, but communication is absolutely possible.
What are the associated symptoms?
Lots of these kids have seizures (and most are non-convulsive), and many have early onset osteopenia/osteoporosis. There are usually some dental/ palate abnormalities, an intellectual impairment and very severe speech problems, nonverbal being most common.
Also, our kids are frequently very thin, despite enormous appetites! There are also behavior problems that are common, particularly starting at ages 5-7. Motor planning is a struggle, so walking is usually delayed, as well as other gross and fine motor milestones.
Just a warning: If you have an SAS child, everyone may be dazzled daily by their smile and bright spirit! These kids also have some of the most beautiful smiles, love being with family, enjoy giving lots of hugs and kisses and can be super silly!
Is there a life expectancy?
As far as we know, it is normal. The oldest person we know of right now is 34! But again, the diagnosis is very new and we don't know yet for sure.
My child has massive tantrums! Is that normal?
Yes! Behavior problems are very common for our SAS kids. Some have responded well to therapies such as ABA (applied behavior analysis), others have not. The behaviors are often compared to "flipping a switch" – the child is calm and happy, then changes and has meltdowns.
Will my child ever be potty-trained?
There are many kids in our group who have potty-trained! Others have not been able to, and very much like communication, it depends on the child. In some ways our children are very similar, and yet they are each unique with different needs and abilities.
How do I explain this to other people?
Remember the acronym SATB2!
S: Severe speech anomalies
A: Abnormalities of palate
T: Tooth anomalies
B: Behavior/ Brain/ Bone Abnormalities
2: Symptoms usually manifest by age 2
Are there resources available?
Yes! We have an incredible geneticist who is working very hard to research this disorder, and launched an official website last year.
We also have a Facebook support group for parents of an SAS child where we ask questions to compare symptoms, celebrate successes, understand the difficult days and, my favorite, SAS smiles, where we share good moments from our children's days. We always love finding new families. It would be a lonely journey without the support of other families who know exactly how you are feeling.
Search for SATB2 syndrome (2q33.1) and Glass syndrome on Facebook, and message us!
This post originally appeared on Fun With SATB2 Associated Syndrome.
We want to hear your story. Become a Mighty contributor here.
Originally published: May 22, 2017