Calm Harm App Is Designed to Help Ease Self-Harm Urges
---
Self-harm urges can be intense and overwhelming. Sometimes, in the moment, there doesn't seem to be any other option but to self-harm. But the moment, and urge, can and will pass, and, with some help and practice, people who self-harm can manage the moment in a more productive manner. An app, called Calm Harm, aims to help people who self-harm by giving them tasks to focus on until the urge passes.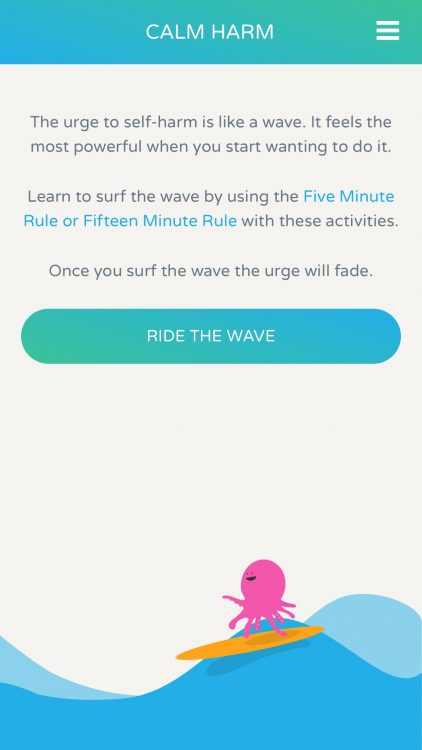 The app helps users "ride the wave" of the urge by being mindful with breathing exercises and other tasks. Users can decide between doing a five-minute task or a 15-minute task. The app also has a "self-monitoring" and logging feature that helps users identify triggers. Hotlines and other sources are available as well.
Calm Harm draws on the teachings of dialectical behavior therapy, which was first used to treat borderline personality disorder. DBT consists of mindfulness, emotion regulation, distress tolerance and interpersonal effectiveness. The app acts as a distress tolerance tool as it is meant to be used in a stressful moment or during a crisis.
"The core message of DBT is that emotions, however difficult they might be, are manageable and that you don't have to act on them immediately," Nihara Krause, U.K. based clinical psychologist and creator of the app, told The Mighty. "This is very liberating because it provides individuals with a sense of control as well as alternative ways to regulate and respond to them."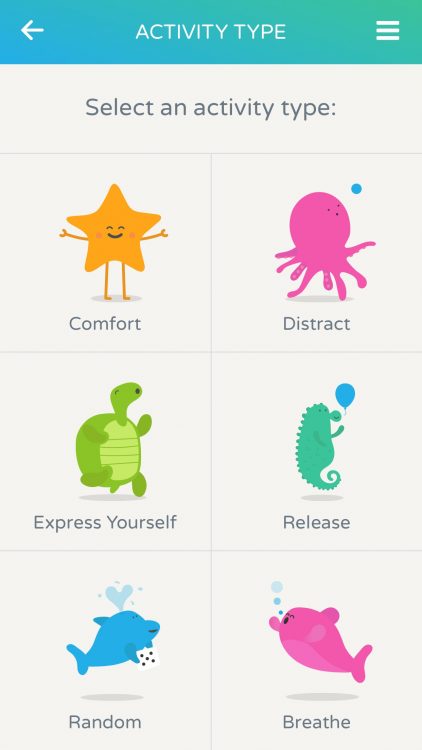 Krause is also the founder of the mental health charity Stem4, which funds the app. Stem4 is geared toward teenagers and works to raise mental health awareness in schools and through conferences.
Self-harm affects about 15 percent of teenagers, 4 percent of adults and  17 percent to 35 percent of college students, according to a report in the Journal of the American Board of Family Medicine. Self-harm is sometimes used to manage extreme painful emotions, though there are many reasons why a person might self-harm.
Self-harm can be habit forming, Krause said, and is a risk indicator for suicide. Help in the form of the app is more accessible, according to Krause, because many young people have smartphones.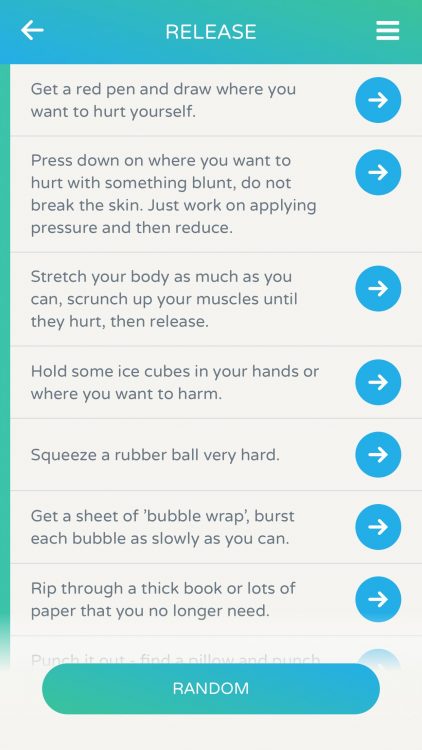 Krause said that the app should not be used as a replacement for therapy and that DBT is much more complex than an app can manage to show.
"It is there as an additional prompt to help users manage their urge to self-harm, freeing them to then focus on underlying issues for which they should seek treatment and support," she said. "Calm Harm can also be used alongside treatment and can provide helpful information to take to a therapy session."
Krause hopes to expand Calm Harm to help other impulse control difficulties such as binge eating. She also hopes to build more apps through Stem4 and is currently working on funding to build an anxiety app for children and young people.
Calm Harm is free and can be downloaded for iOS and Android.
Originally published: February 9, 2018