My 12 Go-To Distractions When I'm Fighting the Urge to Self-Harm
---
The reality of self-harm is it is not always done by a teen, wearing all black and sporting homemade tattoos. The reality of self-harm is that it takes on many shapes and sizes. It affects the young and the older, alike. Self-harm does not care if you are a busy student, a successful executive, unemployed, or a business owner. It doesn't care if you are male or female. Many people struggle with self-injury, and the guilt and pain it can bring.
I was about 12 when the urges to self-injure hit me. I was struggling with depression, and trying desperately to hide it from everyone. My home was not a safe haven for me, and although my parents were kind and I was never abused physically by them, it was not that way when other members of my family came to stay. I was living a life of fear, anxiously hiding my depression and trying to avoid those who would hurt me.
Self-harm became my lifeline, a way to control my life when I felt I had no control. It was also a way to punish myself for not being able to stop what was happening. I had no idea that anyone else in the world felt this way. I don't even know why or how I came up with the idea that to hurt myself would help me feel in control.
It took me 21 years to admit to anyone I was a chronic self-harmer, and had been for so long. It felt shameful and frightening to get help. It took another year to finally have the new coping strategies I was learning to actually help. Spending two weeks in a mental health hospital last year, it was a shock and surprise to me to find out self-harm was actually really common among those who struggle with mental illnesses. It opened my eyes to the fact I was no alone in this and didn't need to feel ashamed of my secret.
After I left the hospital, I felt strong enough to open up and tell my husband about this hidden issue. I was able to talk to my psychiatrist and tell him too, and doing so gave me a lifeline to recovery. They helped me find coping tools, and my husband has often sat with me while I have cried and sobbed my way through a day while trying to ignore the increasing urge to harm myself.
Here are some of my go-to distractions when I'm fighting the urge to self-harm. Remember, different things work for different people. Find what helps you. Most of all, I found it helpful to use my stubborn streak for my own good by refusing to allow myself to self-harm — even though that in itself, hurt. This was the first step for me!
1. Be honest.
Tell your safe person how you are feeling and ask them to help you. If you can't talk to them, write a note or text. Just getting the words out there can often help.
2. Remind yourself of how you will feel afterwards.
I often feel disappointed afterwards. It helps me to think of my support people and how they may feel.
3. Cry.
If you need to cry, allow yourself and don't feel ashamed. It's a natural way to let out emotion.
4. Mindfully transport yourself somewhere you feel safe, calm and happy.
I like to imagine being on the beach, feeling the warmth of the sand under my toes, the gentle breeze against my skin, the smell of the salty air. The more you practice, the easier it is to take yourself away from the situation you are in.
5. Remove yourself from temptation.
Go on a walk or drive, meet a friend for coffee. Just don't take self-harm tools with you.
6. Let your pain out in words by writing in a journal.
If your thoughts are frantic, just scribble down whatever you are thinking. Consider blogging.
7. Keep an art journal and draw or paint your feelings.
Focusing on keeping my hands steady so I can sketch helps me self-soothe.
8. Practice mindfulness.
Put on a guided meditation and follow along, or practice deep breathing and grounding techniques. An example includes, listing five things you can see, five things you can hear and five things you can feel.
9. Do a yoga or pilates session and focus on stretching each muscle.
Slow and steady, there is no rush. Focus your thoughts on the movement.
10. Take a hot shower or bath.
Imagine it washing away the painful feelings.
11. Use peppermint oil.
I rub pure peppermint oil on my wrists. It stings a little, which helps when I'm feeling numb and would have used the pain from self-harm to "feel." Plus the smell is very soothing and calming.
12. Sit with your feelings.
Remember, you don't have to hurt yourself just because you're thinking about self-injury.
Making a list of things to help you to distract yourself if you are experiencing self-harm urges is the best advice I could share with anyone. Have it handy and practice it when you are feeling stronger too, so that it is second nature in the hard times, on those hard days. Don't wait until you are trying to get through a crisis to practice your strategies.
Remember this though, you are worth so much more than your scars and bruises. You are worthy of love, both from yourself and from others.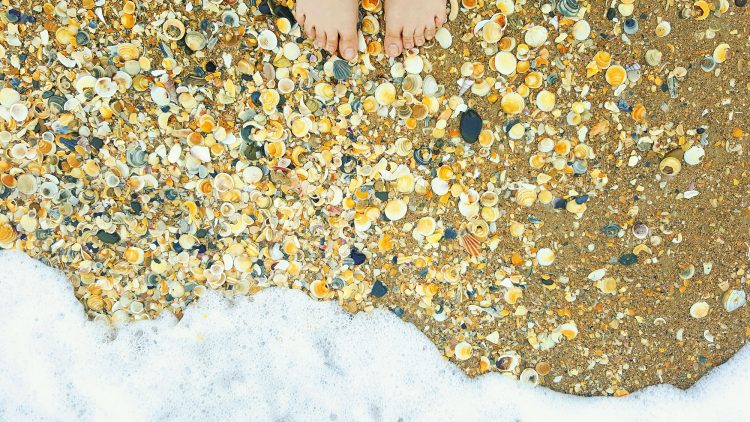 If you or someone you know needs help, visit our suicide prevention resources page.
If you struggle with self-harm and you need support right now, call the crisis hotline at 1-800-273-8255 or text "START" to 741-741. For a list of ways to cope with self-harm urges, click here.
We want to hear your story. Become a Mighty contributor here.
Thinkstock photo via isaxar.