Why We Need to Keep Pushing Newborn Screening for SCID
---
"David the bubble-boy" whose life in isolation first graced our screens in the 70s, was kept alive for 12 years. Babies born today with the same immune disease are dying before their first birthday as authorities falter over newborn screening programs.
As soon as David Vetter entered the world, he was diagnosed with Severe Combined Immunodeficiency (SCID). His parents had already lost a child to the genetic immune disorder, so they were bracing themselves for the worst. SCID became known as "bubble-boy disease" because David was born in sterile isolation at Texas Children's Hospital, and thereafter grew up inside a plastic bubble at home.
Jamie Thorndyke was also born with SCID, but unlike David, he was not diagnosed at birth. Jamie spent most of his short life blind, brain damaged, immobile and on life-support. But this was not February 1984, when the realms of science fell short of saving David, it was February 2017, when bone marrow transplants and pioneering gene therapy were available.
If Jamie had been diagnosed at birth like David, chances are he would still be alive today. However, Jamie was born in the United Kingdom, where babies don't get such chances. The simple $3.20 blood test that could have prevented his death is not mandatory in the UK. With several states in the United States, and most countries around the world still to adopt the test, countless lives are hanging in the balance.
SCID affects approximately 1 in 58,000 babies. The disease is caused by a faulty gene, IL2RG, which provides instructions for making a protein which is necessary for our immune system to function. Specifically, T-cells and natural killer cells do not develop properly, therefore, affected babies are defenseless against the slightest germ. Without early diagnosis and treatment, babies rarely make it to their first birthday. Yet, it has taken five years of campaigning for SCID to be seriously considered for screening in the UK.
On Friday August 4, the UK National Screening Committee launched a public consultation on whether a pilot program
should be run in the National Health Service to test the waters. "This is a step in the right direction, but such trials in other countries have resulted in full scale implementation so it appears to be taking the long route," Jamie's mother, Susie sighs.
With the consultation running until early November, Susie has fired up a petition to garner worldwide support. "It makes no sense that parents continue to go through this agonizing ordeal when it can be prevented by such a simple test," Susie
implores, "I understand money is a consideration, but when I think of the months of round-the- clock care Jamie needed, the sums just don't add up."
When a plump 8-pound baby squealed his way into the world in February 2016, Susie Ash and her fiancé Justin Thorndyke, from Norwich, were overjoyed. Jamie soon became the centre of attention at home, with his brothers, Ollie and Ethan, fascinated by the new arrival. But after Jamie's first vaccinations at 5 weeks old, he instantly developed a cough which quickly led to pneumonia. The next few weeks saw Jamie in and out of the local hospital and doctor's surgery. Despite numerous tests, doctors assured Susie and Justin that Jamie had a chest infection which would eventually clear. So, when Jamie started having seizures, it was a real shock. With Jamie rapidly deteriorating — he was on oxygen, a feeding drip and had become totally lifeless — Susie and Justin asked for him to be transferred to the renowned Addenbrooke Hospital.
When Jamie was eventually moved, a battery of tests showed the full extent of his condition. Jamie's body was so riddled with infections that he had lost most of his sight and scarring from the seizures had left him with irreversible brain damage. "All of a sudden we went from worrying about a baby with a chest infection to having a severely disabled child in a critical condition," Susie recalls, "they finally told us that Jamie had SCID but it had taken over three crucial months to get this diagnosis. I started having flash backs of all the life-threatening situations he'd been in. He had even shared a room with a baby who had meningitis."
Jamie was urgently transferred to Great Ormond Street Hospital in London where they specialize in pediatric genetic disorders. Months with no immune system had taken its toll on Jamie, and therefore the usual treatments for SCID — a bone marrow transplant or gene therapy — were no longer an option. Nevertheless, the doctors even tried to kick-start Jamie's defense system by injecting him with his father's T- cells. "The doctors at Great Ormond Street Hospital did their upmost for Jamie. All together we were there for nearly five months and they were so lovely."
By the end of July, Jamie had stabilized and was discharged back to the local hospital. "Jamie was such a fighter. He so wanted to be here," Susie reflects. "He started holding his head up, sucking his fingers and he was even drinking from the bottle. Over the summer the weather was great and he really enjoyed being taken outside with his 4-year-old twin brothers. We even started to think that he might get strong enough to have a bone marrow transplant."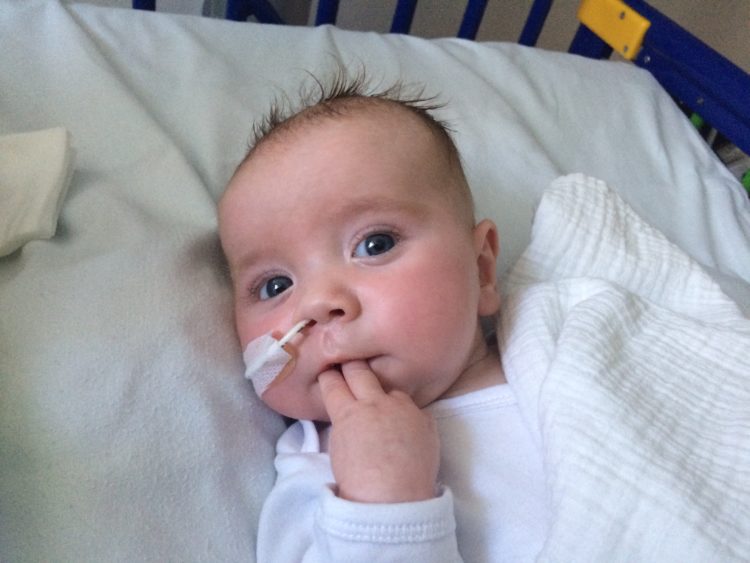 The next few months were touch and go, but by Christmas, Jamie had taken a turn for the worse. When it was clear that Jamie's father's cells had not taken, the seizures were reoccurring and his body had become resistant to medication, Jamie's family and doctors discussed palliative care. "I could see Jamie was rapidly deteriorating and with no hope of treatment, I wanted him to be at home with us," Susie says. Three weeks later, snuggled up on the sofa with none of the hospital paraphernalia that bleeped during his life, Jamie died peacefully in his mother's arms. "Jamie's gone to join the stars," Susie explained to the twins. "They asked if we had seen his body floating up and even today they still ask about Jamie. I'm glad they do, but it is very upsetting and I don't want anyone else to have to go through this," Susie says.
On the other side of the pond, Levi Looks was born at the start of 2015 with the same immune disease as Jamie. The outcome, however, could not have been more different.
Levi and his fraternal twin, Colton, had only been in the world a few days when they were screened for SCID. "It was just a simple heel prick. At the time, I didn't think anything of it," his mother, Kala, recalls.
In Michigan, SCID is identified from the same drop of blood that is already taken to test for other diseases. In the lab, scientists look for something called TREC. T-cells are defective in SCID and when a T-cell develops it produces a TREC circle. Therefore, if there are no TREC circles in the baby's blood, scientists know there is a lack of T-cells, which alerts them to the possibility of SCID.
Having spent three weeks at home with the boys, Kala and her husband Phillip received a phone call from the hospital. "They had spotted something amiss from Levi's sample and they needed us to come straight away for more blood work," Kala recalls. "After a battery of tests, they told us that Levi had SCID. We had never even heard of the disease so my first reaction was, 'how can we fix this?'"
As Levi would not be strong enough for treatment until he was 3 months old, the Looks were instructed to quarantine both boys at home. "Everything had to be sterile clean. We ordered our groceries online and the only visitors we had were my mother and sister and we all had to wear face masks at all times," Kala explains.
Kala realized she would not be going back to her job as a medical assistant any time soon, so she got down to some serious research. "The more I read, the more I realized how serious this was." Kala says. At only 23 and 24 years of age, Kala and her husband, Phillip, a diesel mechanic from Coopersville, had only just gotten used to the idea of having twins. All of a sudden, Levi's situation presented the first-time parents with a totally daunting responsibility.
Levi's twin, Colton, was not a match for a bone marrow transplant, and when no one else in the family was either, Kala became very distressed. "We didn't know whether Levi would live or die, so this was definitely the lowest point for us," she recalls. "When we were told about the possibility of Levi receiving gene therapy, even though it was an experimental trial, it was the boost we needed."
At Dana-Farber/Boston Children's Cancer and Blood Disorders Center they are treating children like Levi, who have no matched donor, with their own bone-marrow cells. The doctors withdraw the patient's cells and in the lab they use a disabled virus to insert a corrected gene into the cells, which they then infuse back into the patient.
Dr Sung-Yun Pai, who is the Principal Investigator for the trial, explained the procedure to the Looks over the phone. "The concept seemed logical so at this point we became really excited. Finally, we had a plan in place and it felt like the right one," Kala recalls.
The family found the trip to Boston — ensuring Levi was covered up in the airport and on the plane — more stressful than the treatment itself. "The entire process was so straightforward," Kala remembers. "They first operated on Levi to take out his bone marrow cells; then a few days later, I pressed a button to release the altered cells back into him. It was so simple it felt a bit like an anti-climax, but obviously it was a huge relief," she adds.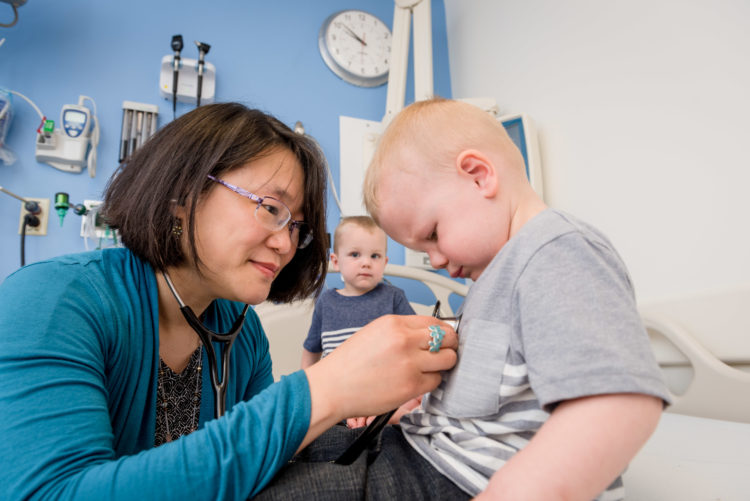 The Looks spent the next few weeks in isolation waiting for Levi's immune levels to creep up. Less than a month later, they were homeward bound, feeling a lot happier about the journey this time around.
Back at home, they were back to total seclusion, but very gradually the restrictions have been lifted. It is only now that Levi and the Looks family are verging on normality. "Levi can pretty much do everything and he's very talkative," Kala says. "Out of the two, he's definitely the boss. At the moment, they are having great fun learning to ride their bikes, and funnily enough Levi tells Colton when to be cautious."
Caution is something that has been hard leant for Kala and Phillip, so they are in no hurry to send the twins to nursery. "I keep a watchful eye over the boys," Kala admits. "Seeing them playing together gives me such a warm feeling, they look almost comical. No one would ever know what we have been through. They get along so well and it makes me think how terrible it would've been to have had Colton without Levi — that early blood test has meant everything to us," she stresses.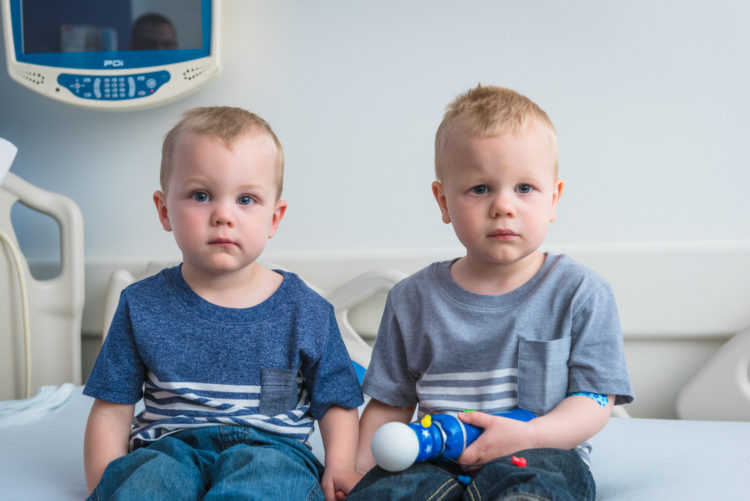 In the lab, Dr. Pai sees the big picture having analyzed a decade's worth of data. "Typically, the children who are diagnosed by new-born screening have a 95% chance of survival. But that drops to 50% when a child is not treated before they are 3 ½ months-old and has had an infection. It really is a race against time for these patients, an early diagnosis re-gains us some of that precious time," she emphasizes.
Newborn screening was first introduced in 1960 in the US and has since been rolled out worldwide for various diseases. Today, the American government says that all states should screen for at least 30 conditions, but as with other countries, this largely depends on prevalence, politics and resources. "The UK committee will be following the international criteria when deciding on whether to add SCID to the list," says Dr. Patricia Roberts from the Save Babies Through Screening Foundation. "Broadly speaking, this includes evidence that the test is effective, affordable, will do more good than harm and priority is given to conditions where early detection improves treatment outcomes," she adds.
Alongside 44 US states, countries such as Israel, New Zealand and the Netherlands have screening for SCID and others, including France, Italy, Spain and Sweden, are well underway with pilot studies. "It's ridiculous the UK is so far behind. Babies are dying every year," Susie Ash implores. "In the months since Jamie's death, another baby in our town was born with SCID. He went to the same hospital and was treated by the same doctors and the same thing happened: it was three months before he received a diagnosis." This baby's life is now hanging in the balance because he was not strong enough to have the regular treatment. Unfortunately, he is not alone.
To compound the issue, the UK has invested millions to ensure their scientists are leaders in the research needed to treat SCID and other genetic diseases. At Great Ormond Street Hospital, they have pioneered bone marrow transplantation and gene therapy; whereby they end up curing children who have been tested in the previously mentioned countries, whilst battling to keep British babies alive. Furthermore, recent wave of successful gene therapy trials for a range of rare diseases calls for a global push to extend newborn screening.
"No baby should end up battling for their very existence when a simple test could mean a happy and healthy life," Susie Ash asserts. "Doctors, as well as families, need to know about SCID, so I am hoping by telling Jamie's story it makes a difference."
It has been 33 years since the death of "David the bubble-boy," yet his life continues to make a difference. Most recently his mother, Carol Anne Demaret, helped US Rep. Kevin Brady in his proposal for the Medicare Part B Improvement Act. The bill, which was passed on July 25th, will enable patients to receive better home care. David's high profile meant that extraordinary attempts were made to give him a comfortable and stimulating home life, complete with a custom made NASA spacesuit, and Brady recognizes the importance of extending this to patients today.
Carol Anne was overwhelmed to see the legislation pass but admitted that whenever something positive comes from David's name, there is a mix of both sorry and joy; which is something Susie Ash can relate to.
"When Jamie's consultant asked me to go to Parliament and tell Jamie's story for the campaign, I was so ripped by grief that I hadn't left the house in months. But as I looked at Jamie's photos and saw the strength in his eyes, I promised him that I would speak up for babies with SCID."
Discover the heroic story of the SCID patients and scientists behind a historic scientific breakthrough in the concise 5000 word e-book, "Cracking Gene Therapy: from the first patient to the first product," available for $2.99 on Amazon. 
We want to hear your story. Become a Mighty contributor here.