How a Child Seeing Past My Illness Has Helped Me
---
The other night I was thinking about the relationship and bond formed between me and my former neighbor and her son, Max. I thought about how the relationship began, and how the relationship became what it is today. They have never looked at me any differently because I live with a chronic illness and more specially short bowel syndrome.
Family can mean many different things to different people. While my neighbor and Max are not my blood family, over the years of getting to know them, I have considered them family overtime. More importantly – they have never abandoned our friendship. They have always just understood and don't judge that aspect of my life, and they have never thought else wise. That is one of the greatest gifts I have received, in any of my friendships. A true understanding of me, and who I am as a person, both positive and negative traits. After we moved away we kept in touch and remained friends.
I have always had a hard time making and then maintaining solid friendships. Ever since I can remember, people have told me I am defensive, closed-off, cold, angry, crass, and this list goes on. It leads me to believe I am an unlikable person, or someone not meant to have friends. Don't get me wrong, I have friends and friends who like me for me, but they are far and few in-between. I work like a second full-time job to maintain those good relationships with those people. It can be exhausting.
Though as exhausting as it can be, I know those people will still be there in the end if I need them. Most of the friends I have today, made me a better person, than the closed-off, defensive person I once was.
My neighbors have never looked at me any differently because I have an illness. They have always been supportive and ready to help in any way they could, and I did the same for them. If they needed help, a sitter, or anything, I would offer if I could. It is the altruism in me. Though sometimes with other friends I have had in the past been too selfless and wanting to be a people-pleaser, which can get me into trouble.
Anytime I have been sick, or in the hospital, I knew I could always talk with them, and they would come visit me in the hospital if they could. Or If I needed help in general, like around my house. They have always been there to help, even though they didn't have to be. Because of my condition, I feel I can be a burden on others. It's a sinking feeling to have.
I am an outgoing and social person, but also reserved. Though, many of my healthy friends often fail to realize is that my illness takes a bigger toll on me than I let on. I don't want to be viewed as the person who bails all the time or doesn't want to participate in this or that because I tired and don't have it in me. Though I know my limitations. I have goals, and ambitions to fulfill in life. I want to make a difference in the lives of others, and I have with the career I took on. Supporting and advocating for patients with the same condition I live with allows me to do that, and I am good at it.
Kids are unique people growing up, there are so much curiosity and questions. I have known my little friend since he was 2 years old, today he is 9, and since then we developed a strong relationship over the years. Max, while he has seen my scars and a hole in my stomach has never asked questions or gets grossed out by it. He never asks why I am so skinny, why or how I use the bathroom so often. He just doesn't care, and in return it makes me feel more "normal" and I can completely forget I have short bowel syndrome for those eight to 10, sometimes more hours, once to twice a month.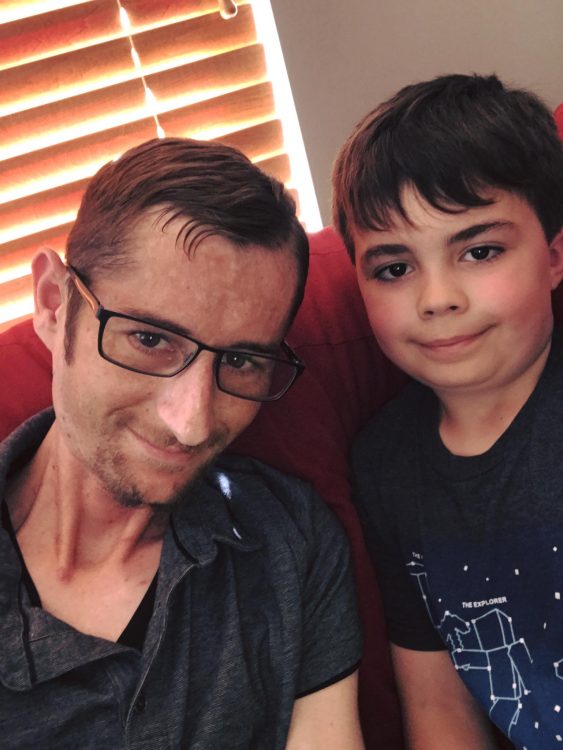 Max doesn't ask why we sometimes need to just chill inside for a bit, or why I got worn down. If anything, he has always asked if I am OK. He is one of the most caring kids I have gotten to know, and there is so much to ask but he doesn't care – as long as I am the same guy he has always known. I don't think it had ever been a second thought. Even after I got septic, he knew his limits. He was much more careful around me and more sensitive for months after I returned home – even though I didn't say a word about being more careful. He just automatically knew his limits.
Even though my house looked like an infusion pharmacy at times, Max never batted an eye. When I did total parenteral nutrition, he was more self-conscious on his own, making sure he wasn't too rough with me or hurting me, because he saw the line from my backpack go into my chest. For me, he and his goofy antics, or sayings make me laugh – that is the best medicine, as it is often said. He,  his mother, and step dad are the most consistent friendships I have had that had never been broken in any way. Max and the friendship we have can never be replaced.
These, among many other things, is what I love about Max as a person. It shows me he will become an understanding and emphatic person towards others as he grows older.
Having Max in my life has allowed me to be a kid again, and explore the things that make me happy, and not always trying to please others around me. I haven't touched a soccer ball since PE class in high school, but then I met Max. I found out I still like soccer, and not all sports are lame. I came to realize not all animated cartoons are for kids, and adults watch shows like "Justice League" on Netflix too. More than anything, these three people in my life, him, and his parents have been one of the most therapeutic things in my life as an adult living with a chronic illness. I feel like a "normal" person who is not defined by his illness. Even if it is just for a few hours, it means everything to me, and I will forever be thankful for that.
We want to hear your story. Become a Mighty contributor here.
Thinkstock Image By: Grandfailur